On February 15, 2015 by JBS
Happy Valentine's Day!
Yes, I like Valentine's Day.  I know there are those of you that think it's just a corny Hallmark holiday, and I used to be that way too.  A couple years ago that all changed when I had a love like no other.  I was not about to let a special day for celebrating love together go by.
The first Valentine's Day I had with my husband was one of shock and awe as I dazzled him with personalized items, homemade goodies and sweet sentiments on pretty printed paper.  It was a simple expression of love and admiration that moved him so much and made us appreciate each other on a sweet level we all often take for granted.
Valentine's Day doesn't need to be about getting dressed up and paying a small fortune for a restaurant bill.  Actually, it should not be about that at all.  It is about showing those you love that you love them.  It doesn't get much simpler than that.  And I'm no philosopher, but it is the little things that count.
By doing some small, simple things for someone it not only expresses your love, but it makes them truly feel it.  Years from now they'll have forgotten the chocolates and the dinner, but the way you made them feel will remain.
Below is the latest installment of magical Valentine sentimental gifts I left for my darling husband.
"To me you are perfect."
This favorite Zone Perfect Nutrition
protein bar of his made it perfect-ly easy to fit in a sweet sentiment.
"I love you…Naked."
Am I the only one who feels myself blush when perusing the Naked juice section of the store?  I knew I had to get him his favorite orange variety.  In the years to come I might have to rethink this suggestive sentiment once the kiddos can read.  After I wrote this one I thought that I could have put, "I love it when you're…Naked."  Either one will get the point across.  ;o)
"You are devilishly handsome."
We did need another pair of tongs around the kitchen, and the Joie Devil Tongs
here were just right.  They added that tone of naughtiness to my Valentines gifts with the perfect touch of cute.
"You are so sweet."
Any of his favorite sweet treats here.
"I'll be blu without you."
My husband and I are facing an upcoming time apart from each other where we will be in a temporary long distance marriage (thank you Air Force).  So sending him off with a new copy of a movie I know we've needed in our collection worked with the farewell wish.  For the average Valentine though, "Without you I'd be blu" attached to a new bluray would work just right too.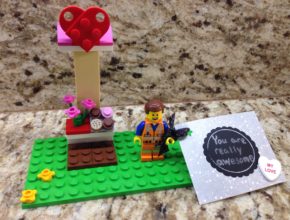 "You are really awesome!"
If you've seen The Lego Movie
, you understand this.  If you haven't, you need to, only then will this make sense to you and you'll be awesome too.
These exact items may not work for you, but hopefully they inspire you to adopt the idea for your own ideas and make it personal.  If it is a love worth expressing, trust me, it will be easy.
Please follow and like us: