Delicious Pesto Chicken Recipe
Delicious Pesto Chicken Recipe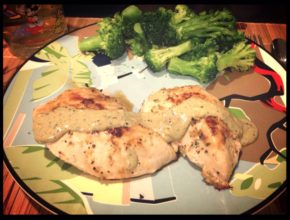 For a while now I've been in the mood for a different kind of chicken dinner.  We all get in the rut of making chicken the same few familiar ways.  Not only was I tired of serving my family the same chicken variations I have ingrained in my cooking memory, but I felt I was doing all stay at home moms a disservice.  Surely there's a little bit of time that can be spent on being  more creative with what we feed our family.  I finally realized I spent more time looking up and reading recipes than actually making any.  (Hanging head in shame.)  Finding recipes was no problem, with the 8+ breast feeding sessions for my son per day I am guaranteed some time on my iPhone to find something.  I can prop him and get comfortably situated to use one hand to search on my phone where a world wide web of new dinner possibilities awaits.
I knew I was craving something new and delicious.  Something saucy would be nice.  Let's cook something saucy*.  Sauces are a craft I would like to improve on.  My husband is a total condiment king, or sauce boss as he prefers to be called, so a saucily smothered chicken of some sort is just what I needed to find.  I came across a pesto cream chicken idea.  The recipe had everything made from scratch, including the pesto.  Oh please.  If I learned anything from Sandra Lee's Semi Homemade Food Network series it is to take help where you can.
Store bought pesto here I come, and I know just where to find you: Fresh and Easy.  Fresh and Easy has been invaluable to me as a busy mom, student, business woman, etc for years.  Their name couldn't be more perfect.  Many things are made fresh in their hundreds of stores and I have found them all delicious.  I've had other prepared pestos, but Fresh and Easy has the best by far, and for $1.79 it can't be beat.  Follow my own version of this delicious chicken entree below and you'll be happy and full after.
Delicious Creamy Pesto Chicken
Ingredients: 4 boneless, skinless chicken breasts, seasoning of choice (I use McCormick Montreal chicken), 2 tablespoons olive oil, 4 oz cream cheese (I used greek yogurt cream cheese for a healthier version), 1/3 cup water with 1 packet chicken bouillon dissolved in it (or 1/3 cup chicken stock), 2 heaping tablespoons prepared pesto, 1/4 teaspoon fresh cracked pepper (I used McCormick pepper medley grinder)
Directions: in a large skillet heat the olive oil on medium heat.  Prepare chicken breasts by seasoning both sides with choice seasoning or just salt and pepper.  Add to pan and cook 7 minutes on each side.  Once cooked through, remove from pan to a plate and keep warm.  Keep warm by covering with tin foil, or as I do, stick the plate in the microwave.  Add cream cheese to the pan.  Whisk around to melt and add the chicken stock and pepper.  Add pesto and whisk to combine.  Heat sauce through and it's all done!
The chicken can be served on the plate and the sauce poured over top or replace the chicken to the pan of sauce and toss to coat.  I like the presentation of the sauce over the top of the chicken better, but no matter how it looks it is scrumptious.  My saucy husband served himself a small bowl of the sauce on the side for extra dipping.  For a side I steamed some broccoli and tossed with a little butter and garlic salt.  The sauce is really creamy and rich and for us it was enough.  If I felt another side was needed I would go with a wild rice.
This was so easy and used ingredients I already had in the house, except the pesto.  The container I bought has about a cup of pesto.  The leftovers can be easily frozen in an ice tray and thawed anytime.  I plan to use the rest to make this meal again this week and maybe even some pesto pizza.  Yum yum!
*Now, if you're a mom and your child has a collection of talking toys then you know sometimes you find yourself repeating their phrases or songs.  The Cook and Play Potsy has a number of catchy phrases my whole family finds ourselves repeating in everyday life.  It's a great toy that inspires little chefs and chef-ettes alike and will last years.