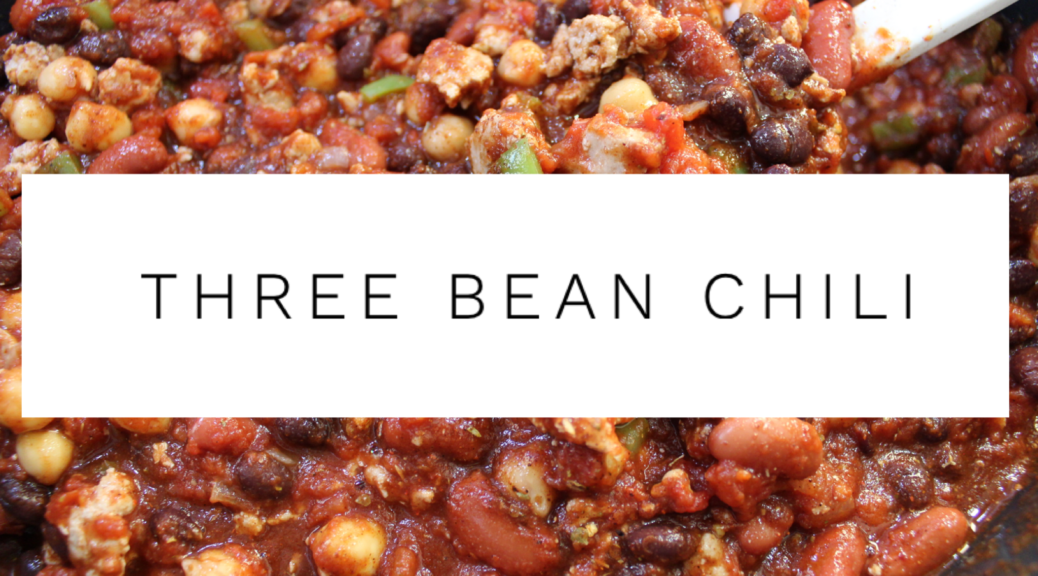 Three Bean Crockpot Chili
Three Bean Crockpot Chili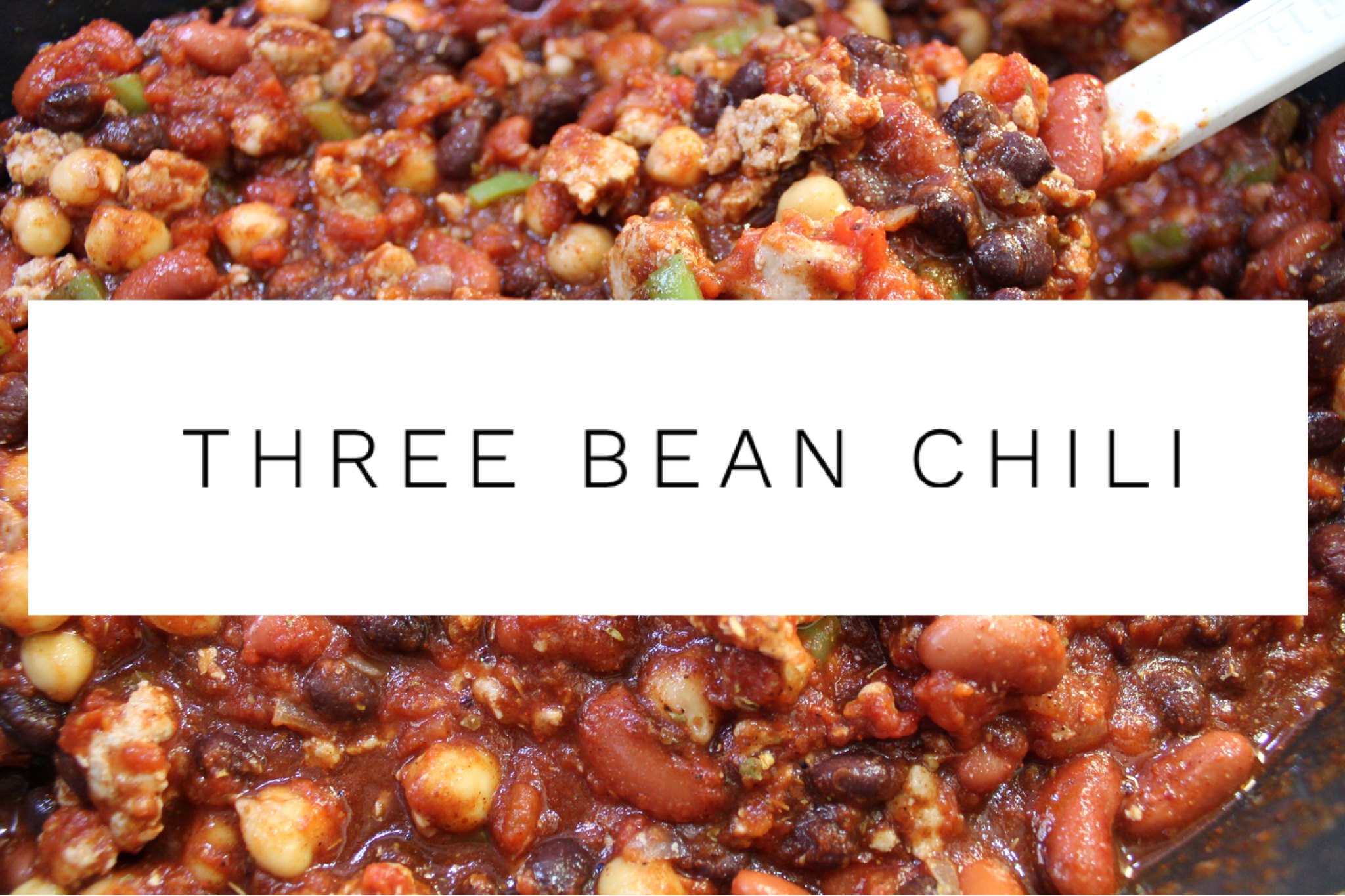 My three bean crockpot chili recipe is long overdue for posting here. I've made chili this way for probably six years now because it is easy, delicious, and everyone loves it. If you've been searching for a perfect chili recipe, this three bean crockpot chili is it!
I used to think the only way to make a good, flavorful chili was to use the seasoning packets at the store. It seemed like way too complicated and flavorful a dish for me to pull off on my own. Well, like my homemade taco seasoning epiphany, I finally realized it could be done. Haven't touched a chili seasoning packet since, and let me tell you—it isn't as difficult as I thought.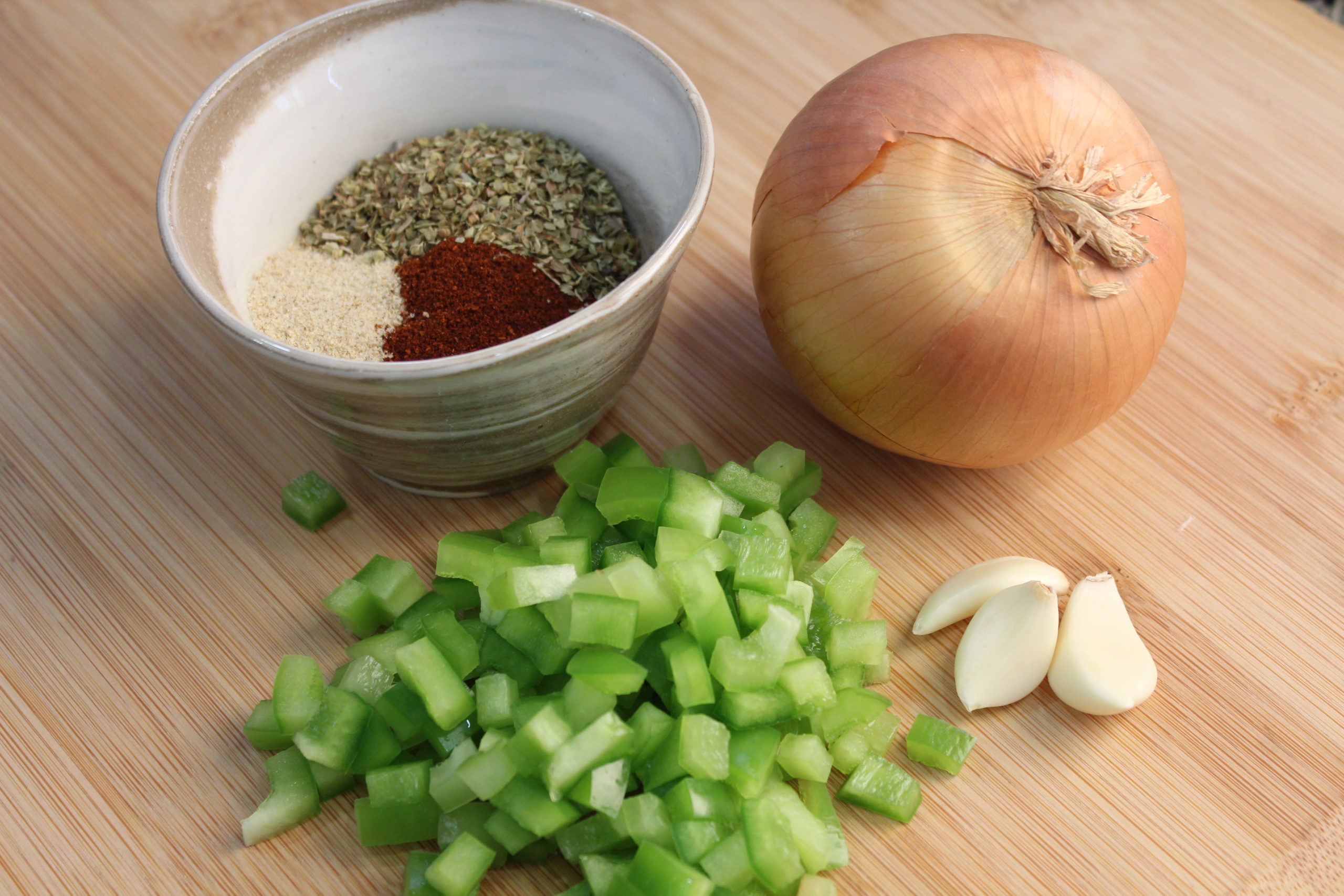 Chili Flavoring
Behold in the photo above the flavor profile for this perfect chili. Six basic ingredients. Best part is: you probably have them in your kitchen already. Before I get into them (or you scroll right to the recipe), let me call myself out on dicing my green bell pepper before taking a photo. Ugh. Not what I had in mind, but yes that is a green bell pepper and yes I dice the onion and garlic eventually too.
Anyway, the six key flavor ingredients are: chili powder, oregano, seasoned salt, green pepper, onion, and garlic. Super simple ingredients lend themselves to big flavor when treated properly for this three bean crockpot chili. More about that in the directions below.
So let's get into making this yummy chili!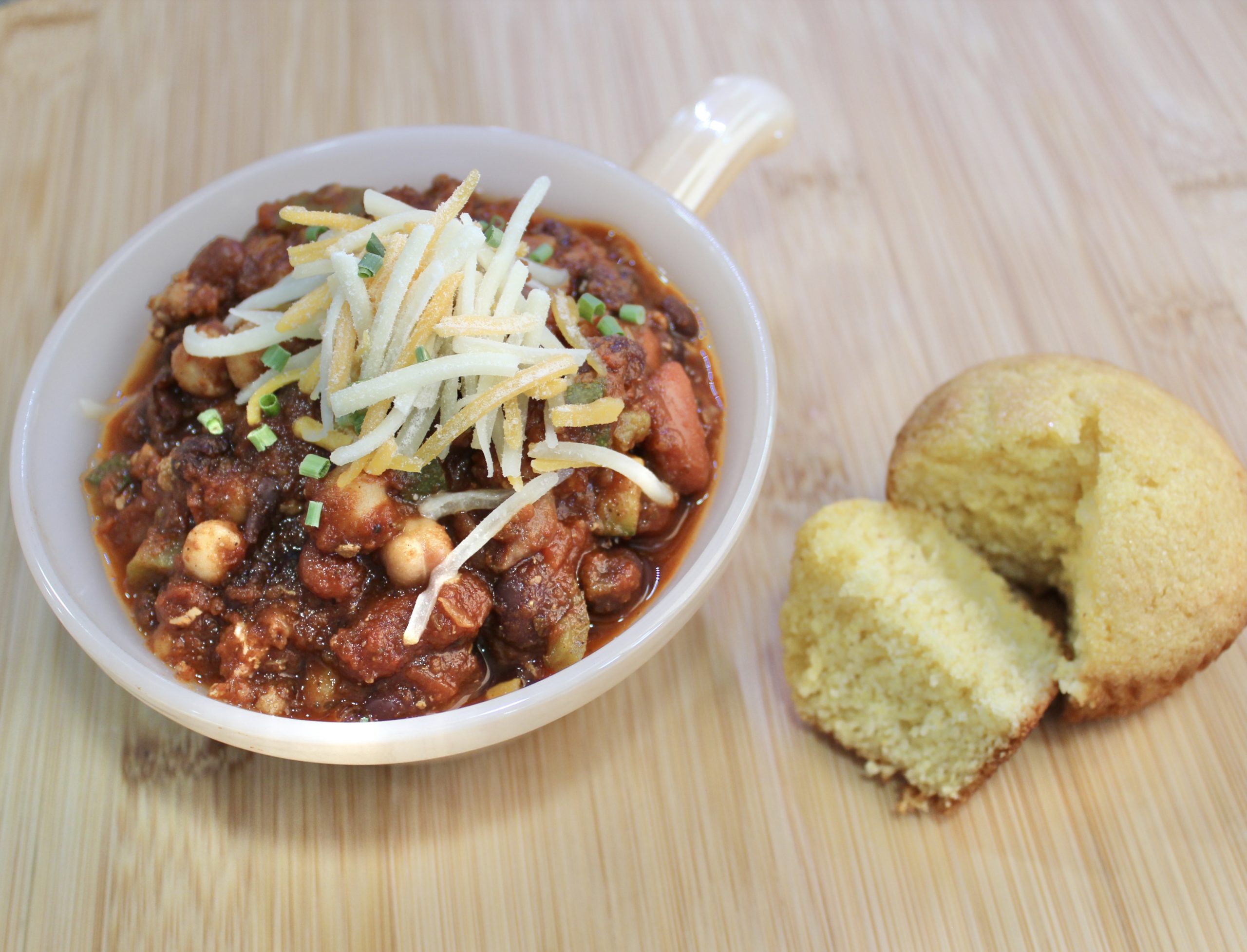 Three Bean Crockpot Chili Recipe
1/2 pound ground meat
1 medium onion diced
1 green bell pepper diced
3 cloves garlic diced
26 ounces diced tomatoes (I like Pomi)
1 can kidney beans drained
1 can black beans drained
1 can garbanzo beans drained
3 tablespoons chili powder
1 tablespoon oregano
1/2 tablespoon seasoned salt
salt and pepper to taste
optional water and tomato paste if desired for consistency
optional 3/4 zucchini if desired (see variations below)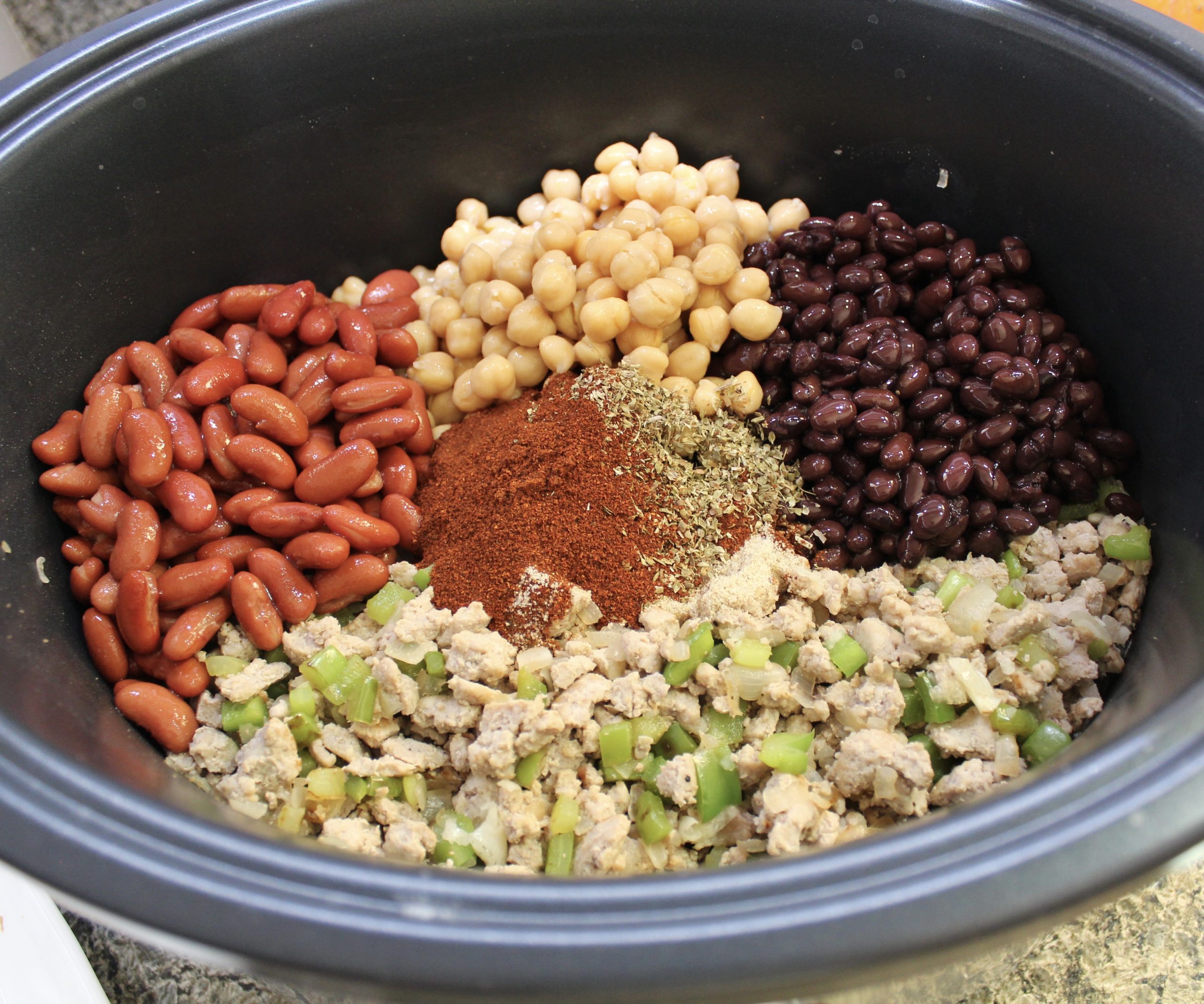 Saute pepper and onion on medium heat in a dry skillet until they have some browning on them (approximately 5 minutes). Cooking these veggies first allows for flavor development that really elevates the chili overall. Add meat with salt and pepper to taste and cook while breaking up into small bits until browned. Add garlic, chili powder, oregano, and seasoned salt and saute until fragrant for a minute or two. (I forgot to cook my spices as seen in the photo above.) Cooking spices before simmering makes them more pungent in any dish. These tiny but mighty ingredients can really deliver their full potential that way.
Transfer skillet contents to crockpot. Add tomatoes and beans. The three bean medley here is key for color, texture, visual interest, variety, and taste. Stir to incorporate everything together. This is a chunky chili recipe, but you can add water and tomato paste if a soupier consistency is desired. Cook on low for 4 hours. Serve topped with your choices of sour cream, cheese, chives, and a side of cornbread (our favorite cornbread muffin recipe can be found here).
Enjoy!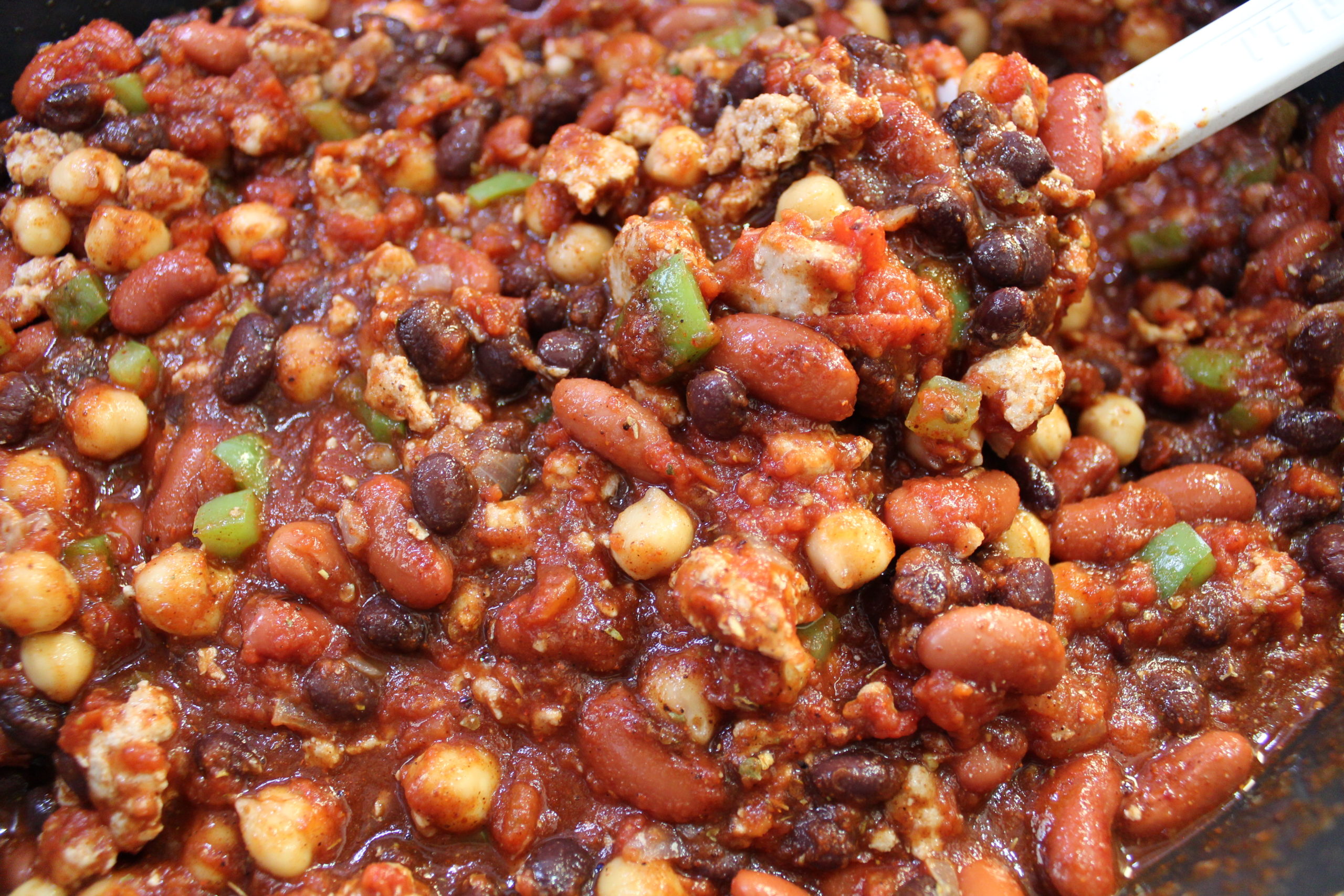 Chili Variations
Now here's a little tip for any parents wanting to sneak some extra veggies into dishes that kids won't notice. Or even if you just want to add some healthy veggies for yourself. I snuck almost a whole zucchini into my latest batch of three bean crockpot chili and no one noticed! Talk about a mom win!
Zucchini is praised as a low calorie, nutrient rich vegetable and is super versatile when adding to dishes since its own taste is mild. I had nearly a whole one leftover from a pasta dish the night before so I decided to throw it in the chili. It cooked down so well and was virtually undetectable that it may just be how I make this from now on. If adding zucchini to your chili, simply dice and add to the crockpot with the tomatoes and beans.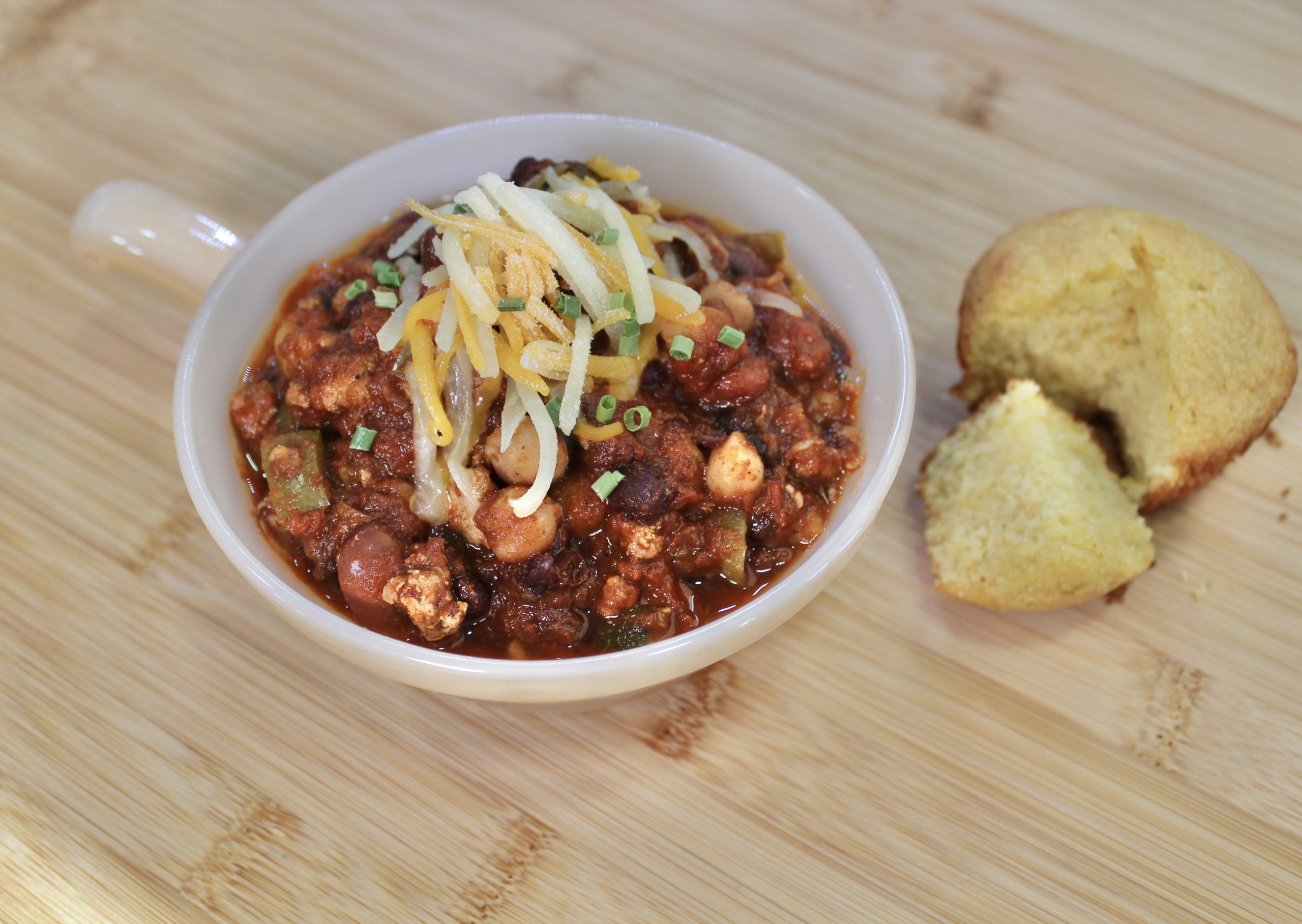 This chili can easily be made vegetarian as well. You can substitute the ground meat in the recipe for a meat-free alternative. Or simply replace with an additional can of beans. We've tried both and prefer the all bean option since we haven't landed on a meat substitute we really enjoy yet.
We are currently on a journey to eat more responsibly for the sake of the planet and animals and eat vegetarian options as much as possible. Part of our effort is to reduce how much meat we use (so instead of a whole pound used in a recipe, we will use half to make it go farther), and omit it where we can.
If on the flip side of this discussion, you desire more meat, go for a whole pound of ground meat in this chili. It is just as delicious and is the way I made it for years upon years before. Would definitely add a half cup of water and 3 tablespoons of tomato paste if going that route to make sure your chili isn't too dry.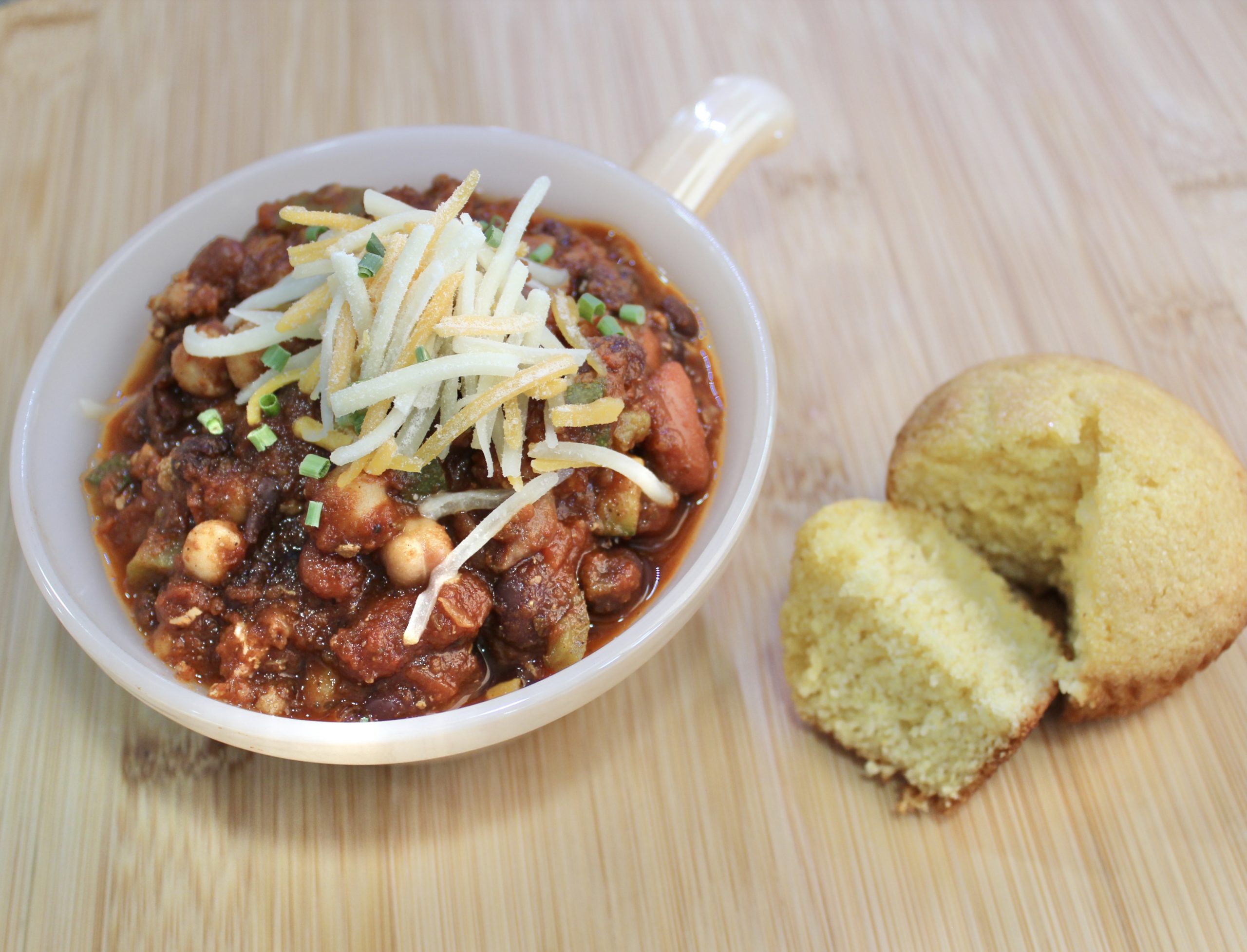 Already glad I've shared this recipe here. It is incredibly perfect and on top of that allowed me to document my hidden veggie success story.
If you're looking for more crockpot recipes see our other posts Creamy Italian Chicken, and Crockpot Chicken Cacciatore. For our favorite vegetarian meal check out Vegetarian Green Pitas.