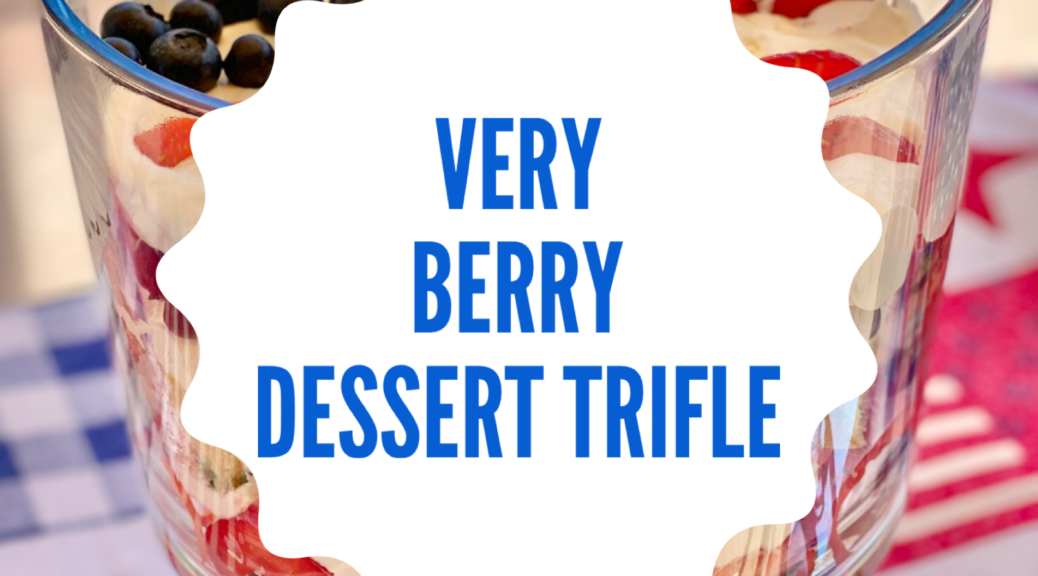 Very Berry Trifle Dessert
Very Berry Trifle Dessert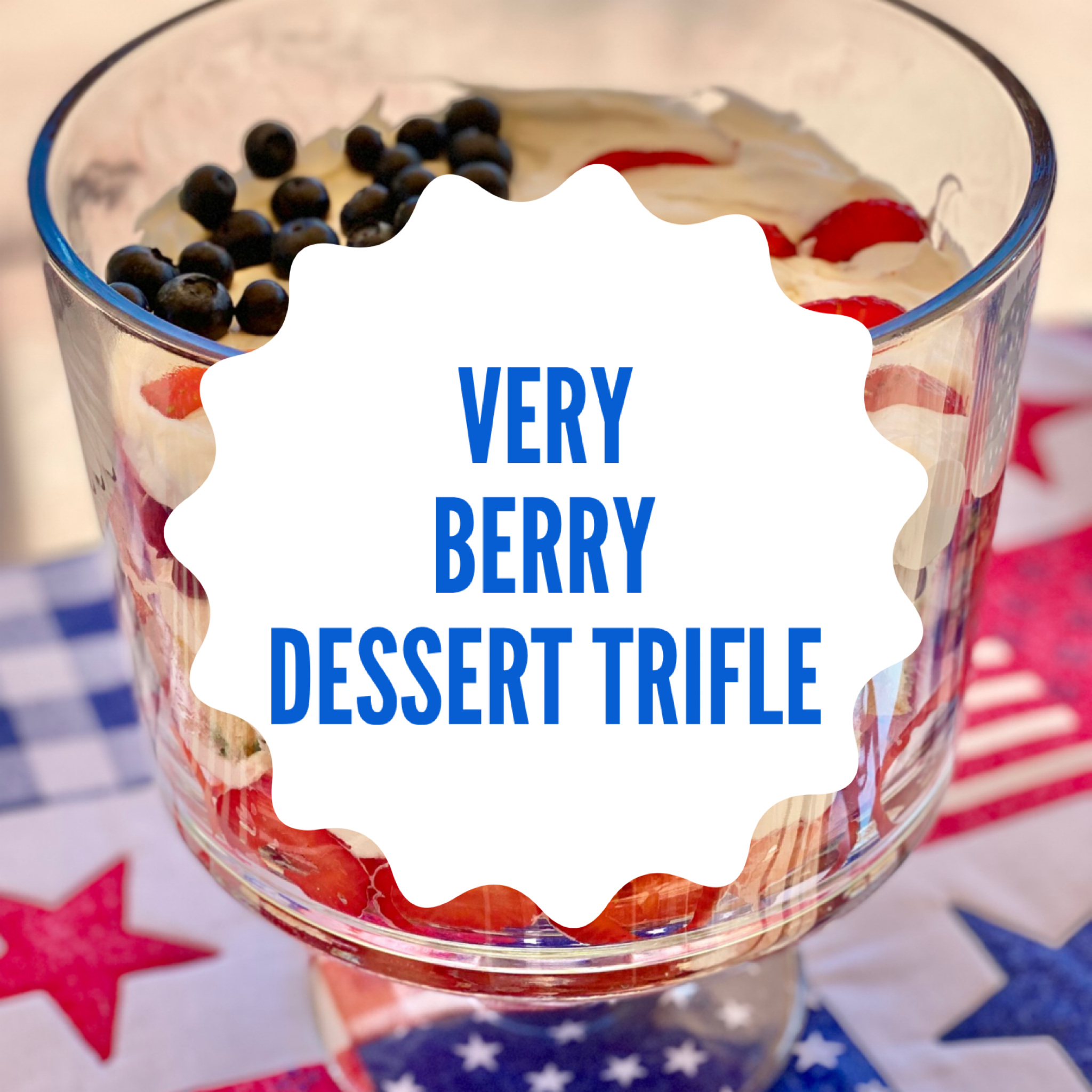 If you're looking for an easy, light, and impressive dessert to put together for your next summer BBQ, you need to make this very berry trifle dessert! This is so simple, so yummy, and so pretty. It goes together quickly and can even be customized to your specific taste.
A trifle is a dessert made of cake, berries, and cream. Trifles are typically served in clear cylindrical bowls making a showcase of their layered ingredients. With this very berry trifle dessert, we make it in a large trifle bowl. This large-scale trifle makes a perfect centerpiece and tempting preview for dessert!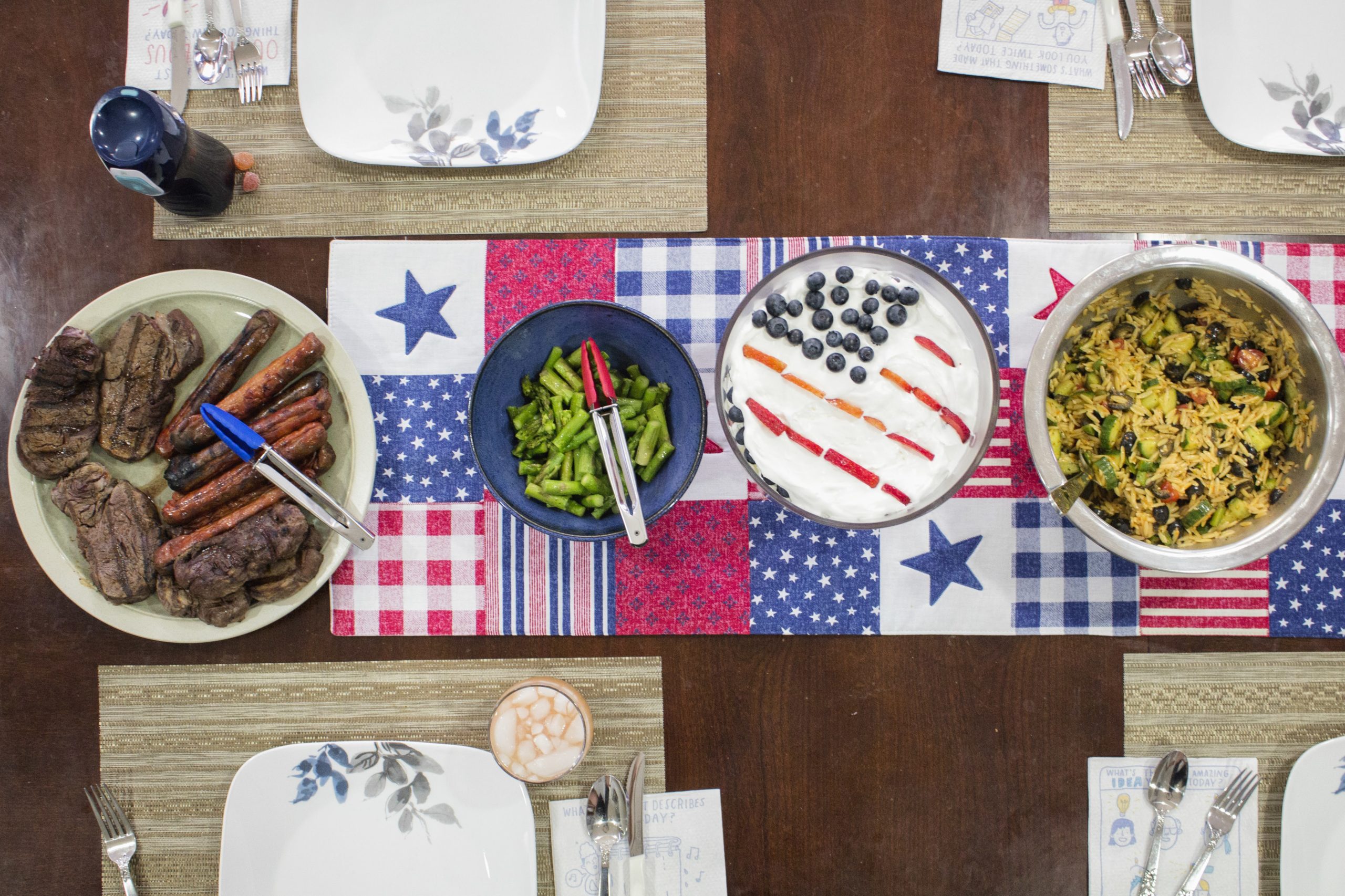 I've been making this very berry trifle dessert since the early 2000s when I bought an amazing trifle bowl from Pampered Chef. It does not look like they carry this specific one anymore, but you can find similar items on Amazon or most stores that have a wide variety of kitchen wares. Look for a deep bowl with straight (or mostly straight) sides, made of clear glass. Having the right vessel for this dessert is key, and the rest just falls into place.
Very Berry Trifle Dessert
2 pounds strawberries

2 pounds blueberries
1 prepared white cake (You can make your own, or purchase from your grocery's bakery. I like to use the Sara Lee frozen pound cake most of the time.)
24 ounces Cool Whip, or your preferred whipped topping
Prepare Ingredients
Thaw whipped topping if using frozen. Dice cake into bite-sized pieces. Wash and prepare all berries removing any stems. Slice strawberries about 1/4 inch thick.

Plan and decide the desired decoration for the top of your trifle. You can leave plain with a cream topping, sprinkle a variety of the berries, or make a pattern that is red, white, and blueberry for a patriotic look. Estimate the amount of berries needed for decoration of the top of your trifle and set aside.
For best side-view results, you'll want to plan out your berries for the edges of your layers. Separate the largest blueberries, and find enough similar-sized strawberries to rim the bowl.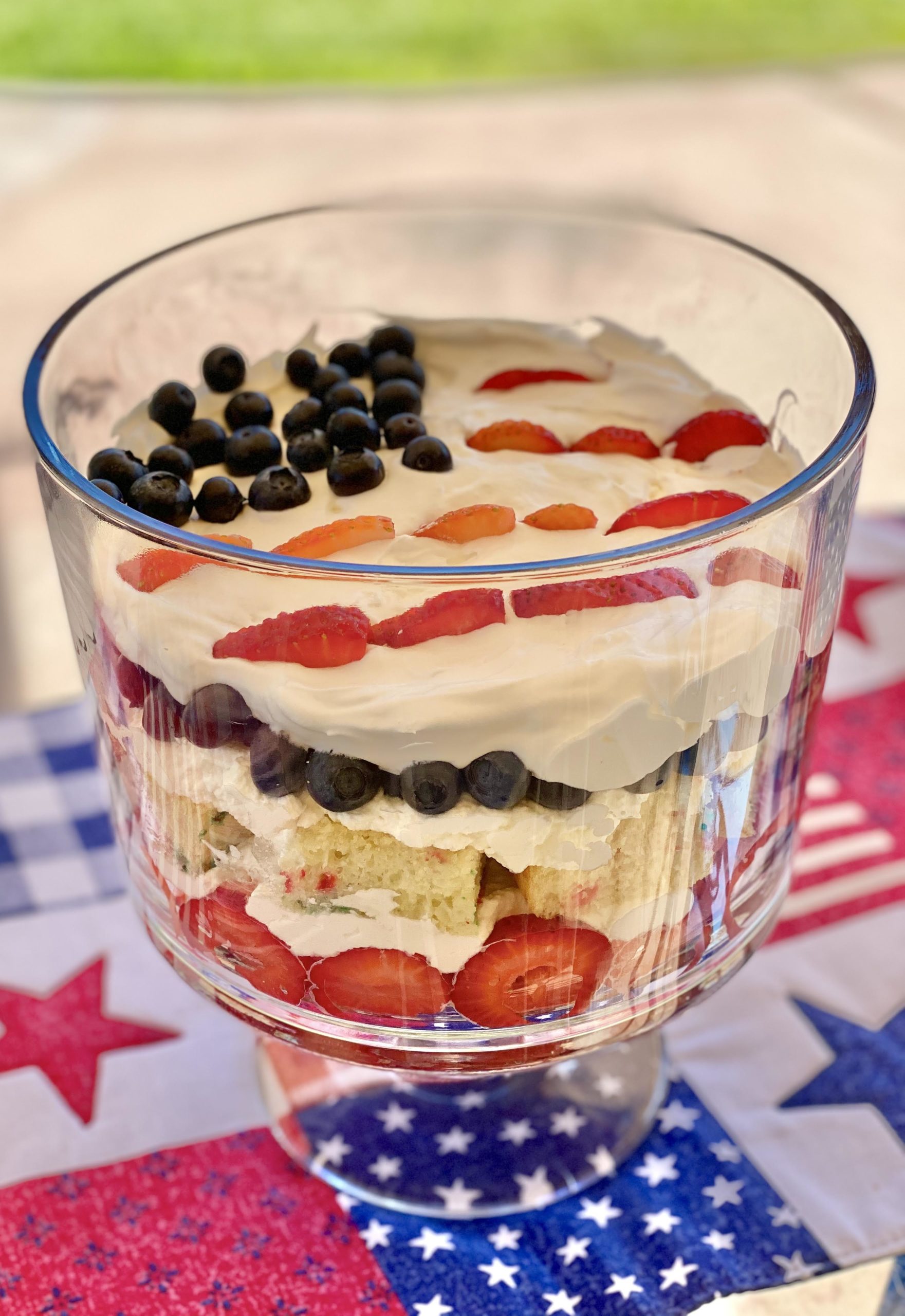 Very Berry Trifle Dessert, Assemble!
Line the rim of the bottom of trifle with strawberries pointing upwards. Once the edge is complete, fill with more strawberries to create a level strawberry layer. Cover strawberries with a layer of whipped topping. Use a spatula or the back of a spoon to smooth out and create an even layer out to the edge of the trifle. Careful not to smash downwards, you want the separation of the layers as much as possible. Next, arrange cake pieces on the outside of bowl. Fill center with cake into an even layer. Top and smooth out more whipped topping. Now line the edge of the trifle with the largest blueberries. Fill in the blueberry ring with more blueberries creating an even layer, similar to the strawberries. Repeat another layer of whipped topping.
Continue this layering until trifle bowl is full, or to your desired amount. Decorate the top as desired. Refrigerate until ready to grace your table and enjoy!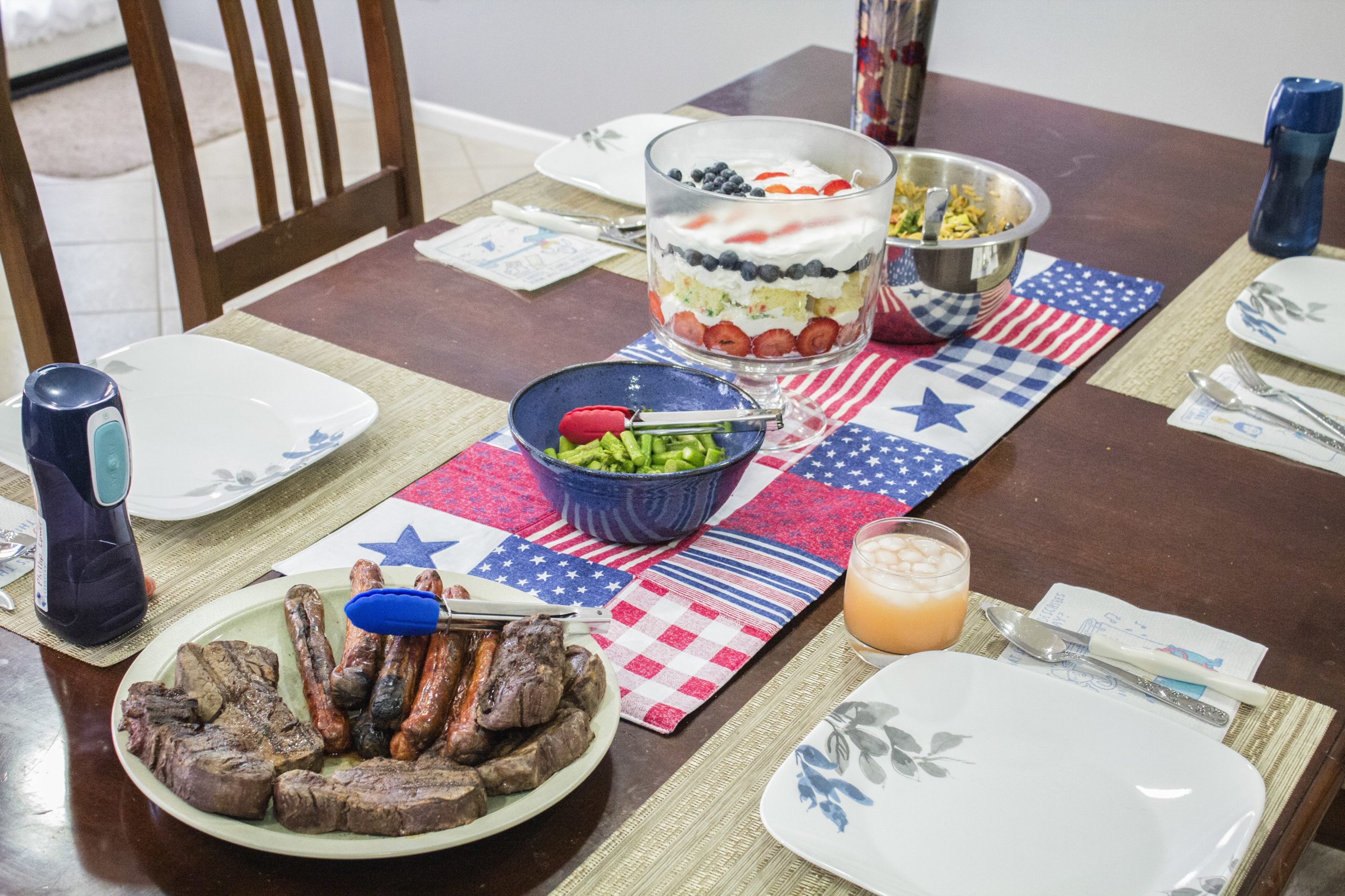 Berry Easy
It may look and sound a little complicated, but it certainly isn't. Basically as long as you have these basic ingredients and assemble in a pattern of layers, you have the general idea.
This dessert is one of our favorites for Spring and Summer. Very berry trifle is the perfect combo of light, chilled, refreshing, and easy to sweeten up any warm-weather shindig. Once the cutting and preparing of ingredients is done, it is a dessert that can be put together quickly. And did you notice all the ingredients are store-bought? Sure you can make the cake and whipped cream from scratch, but if you need the ease of the store doing it for you, go for it!
Very berry trifle can be customized with any cake, berry combo, or other ingredients you choose. My kids like raspberries, so sometimes I mix them in with the strawberries in the center. You can change up the cake to brownie bites even! Most bakeries in large grocery stores have those containers of little sugar-coated cubed brownie bites that would be absolutely perfect and delicious in this! That may be the next variety I make now that I thought of it! Guess I'll be barbecuing sooner than I thought. 🙂
Find more ideas for more gorgeous trifle desserts from Pampered Chef. There really is no limit for these beautiful bowls, and so many foods go well in layers.
For more of our favorite desserts, see Perfect Peach Cobbler, Triple Berry Cobbler, or my ultimate favorite that could even go in this trifle Whipped Cream Cream Cheese Frosting.