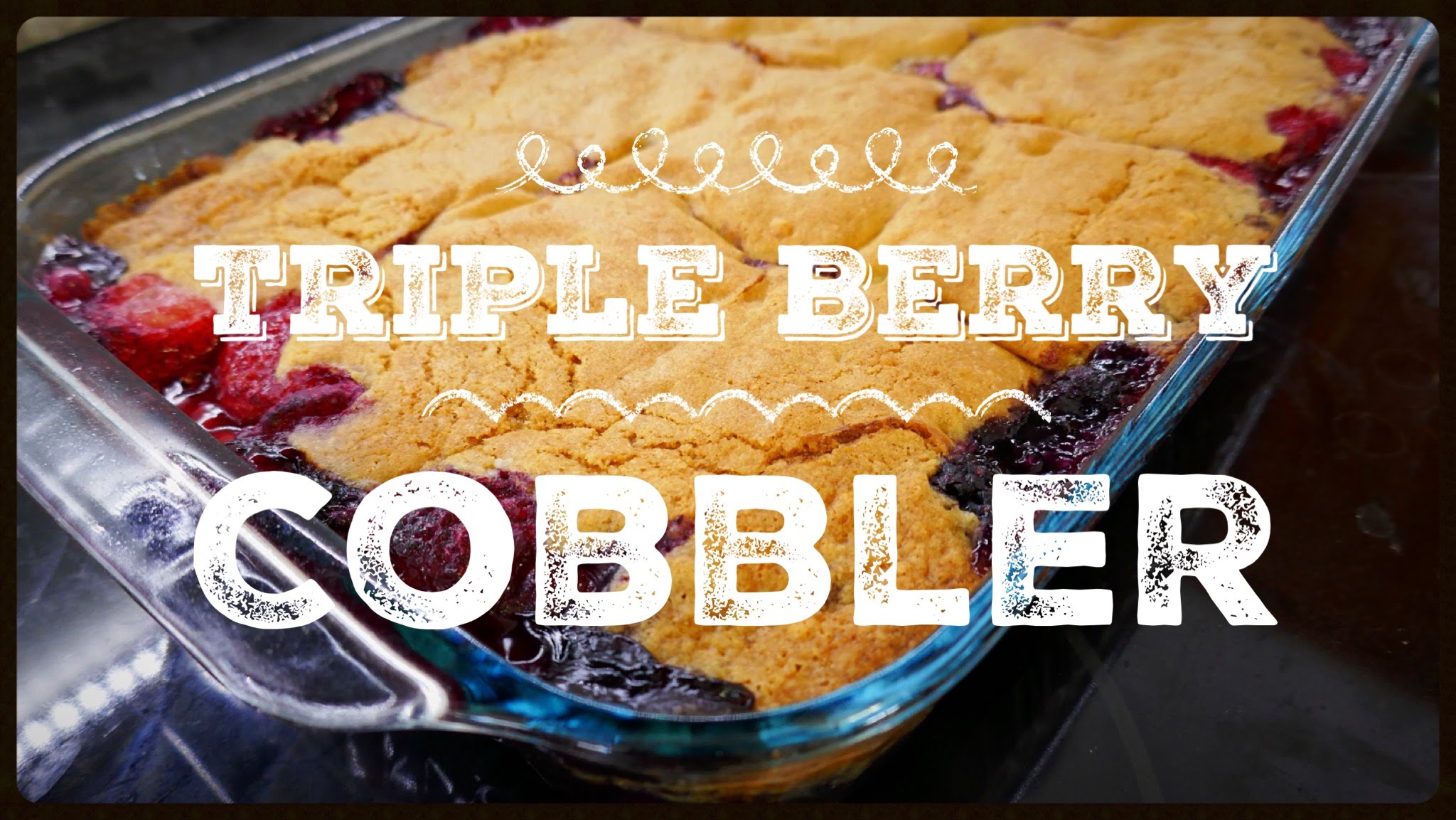 Triple Berry Cobbler
Triple Berry Cobbler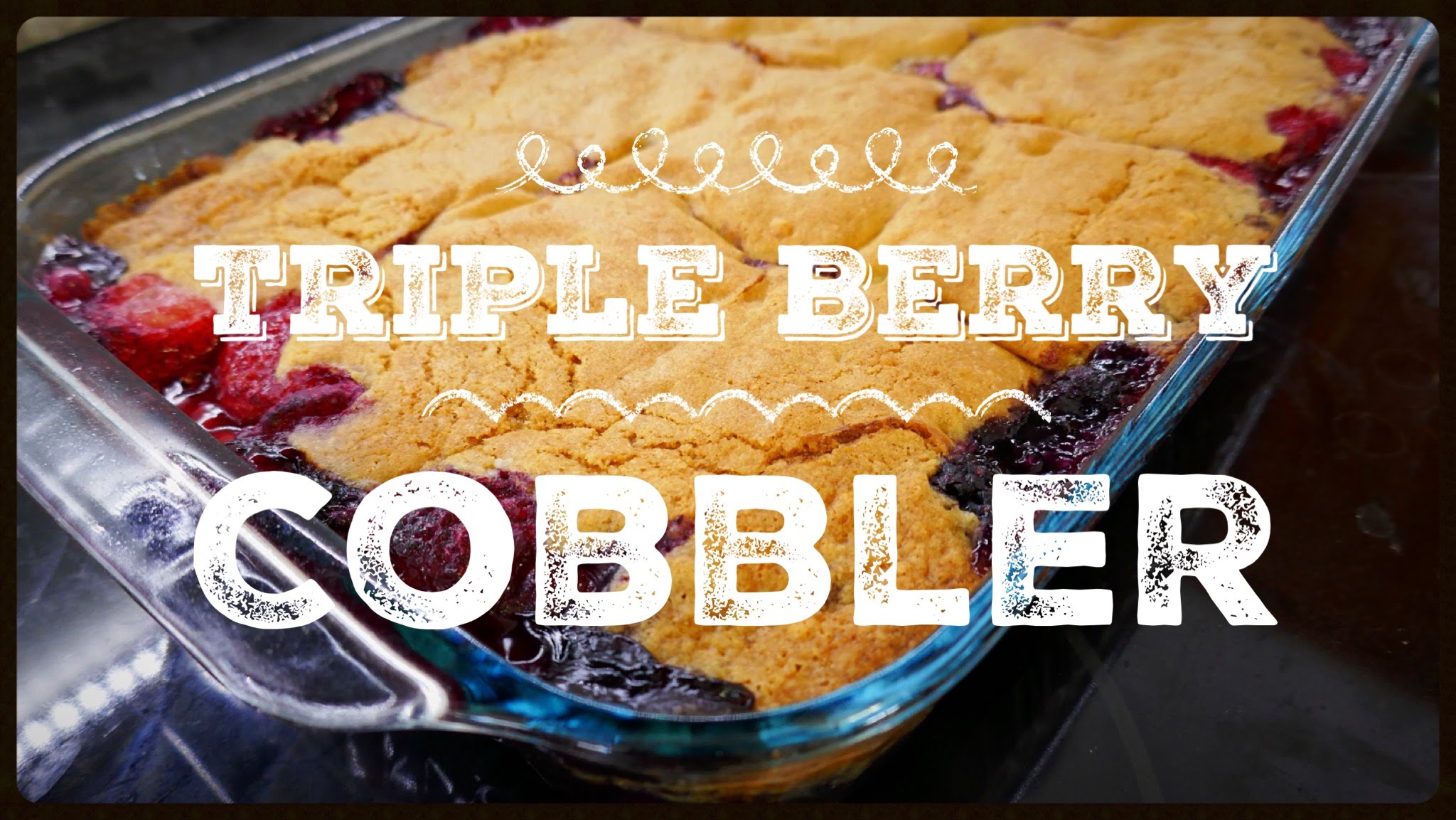 Triple Berry Cobbler is so delicious it is one of my most requested dishes for parties and potlucks. My Perfect Peach Cobbler was posted a couple years ago with the fruit substitution mentioned. After all this time (and some photo upgrades) it was time to give triple berry cobbler its own post.
Joanne Fluke's murder mystery series gave me the original recipe and the idea for variations. Since then, the surprise I see from people that this recipe comes from a paperback novel is as good as the reveal of who-done-it in each installment of the series. There's no surprise twists or complicated culinary clues to sort out this cobbler. Make it once and you've solved the mystery of your go-to dish for parties and potlucks.
Filling:
2.5 pounds frozen triple berry mix
1/8 cup lemon juice (2 tbsp)
1 1/2 cups white sugar
1/4 tsp salt
3/4 cup flour
1/2 tsp cinnamon
1/2 cup melted butter
Crust:
1 cup flour
1 cup white sugar
1 1/2 tsp baking powder
1/4 tsp cinnamon
1/2 tsp salt
1/2 stick softened butter (1/4 cup)
2 beaten eggs
Preheat oven to 350. Spray a 13 by 9 inch cake pan with non stick spray.
Measure berries and put them in a large mixing bowl. Let them sit on the counter and thaw for 10 minutes. Then sprinkle with lemon juice and toss.
In another smaller bowl combine white sugar, salt, flour, and cinnamon. Mix them together with a fork until they're evenly combined.
Pour dry mixture over the berries and toss them (your hands are best). Once most of the dry mixture is clinging to the peaches, dump them into the cake pan you've prepared. Sprinkle any dry mixture left in the bowl on the top of the berries in the pan.
Melt the butter. Drizzle it over the berries. Then cover the cake pan tightly with foil.
Bake the berry mixture at 350 for 40 minutes. Take it out of the oven and set it on a heat-proof surface, but DO NOT turn off the oven.
Now for the crust.
Combine the flour, sugar, baking powder, cinnamon and salt in a smaller bowl you used earlier. Cut in the softened butter with a couple of forks until the mixture looks like coarse cornmeal. Add the beaten eggs and mix them in with a fork. You can also do this with a food processor with chilled butter.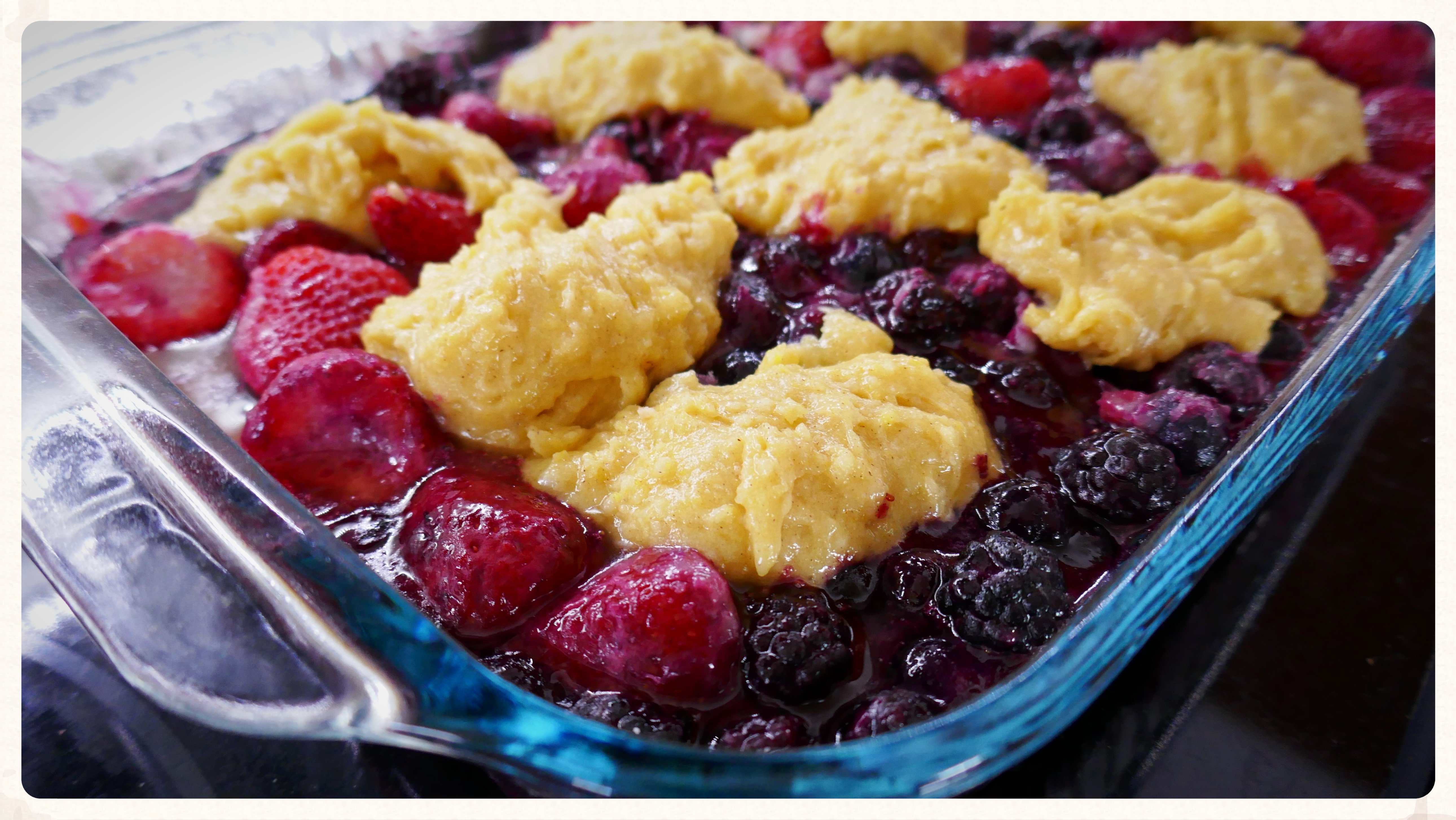 Remove the foil cover from the berries and drop on spoonfuls of the topping. Because the topping is thick, you'll have to do this in little dibs and dabs scraped from the spoon with another spoon, a rubber spatula, or with your clean finger. Dab on the topping until the whole pan is polka dotted. (Will spread out when baking).
Bake at 350 degrees, uncovered, for an additional 50 minutes.Whip up some sweetened whipped cream, ice cream or go all in and make my favorite frosting to dress it up. I've eaten with each of these toppings and have to say whipped cream is my favorite, but most people go for the ice cream. Serve it warm, but it is just as delicious cold. Store in the fridge covered, if there are any leftovers that is. I make this all year long and it suits any occasion. It is much simpler for me around the holidays than making a fruit pie. Next time I might try to make an apple variation.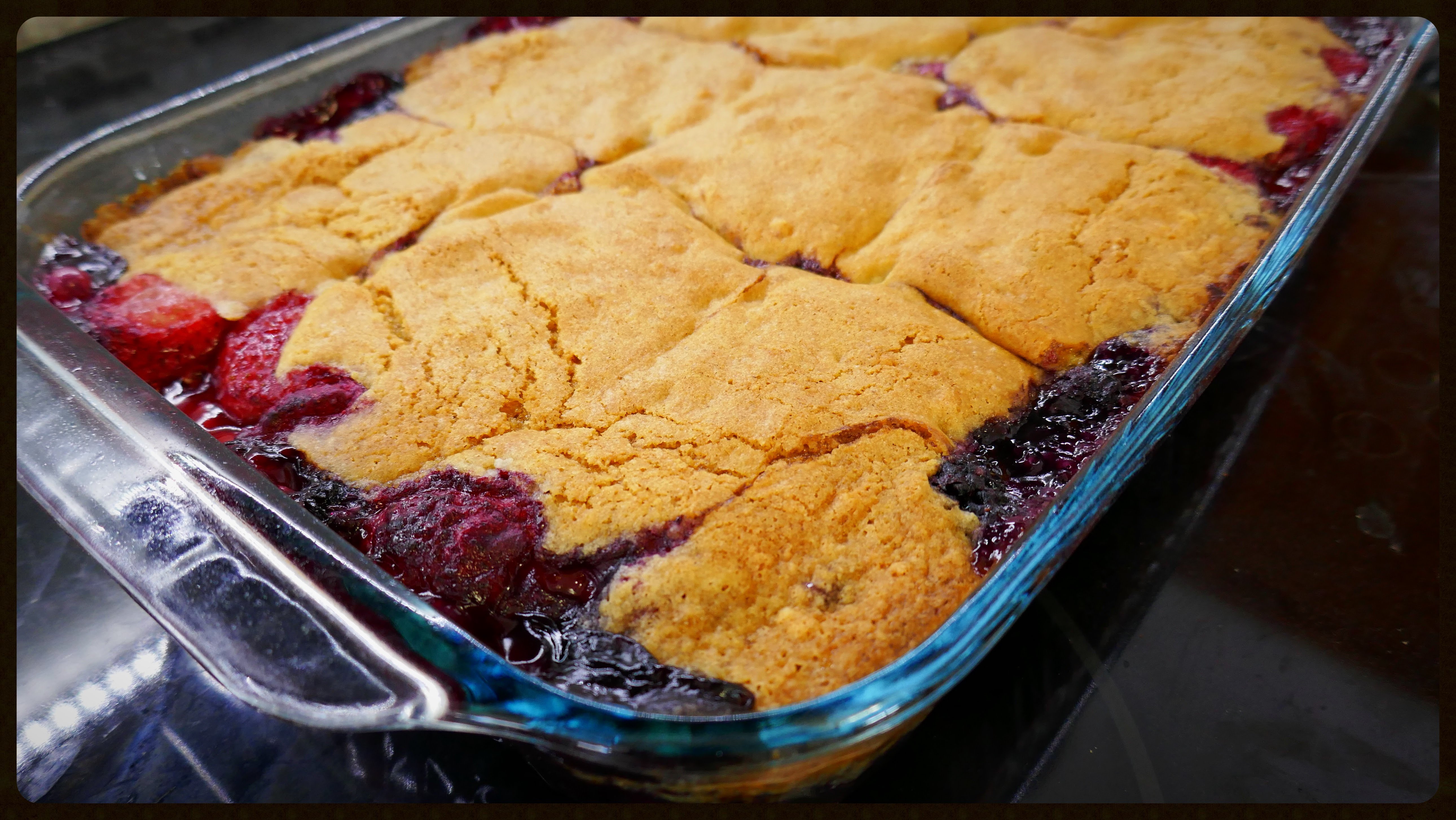 Today I bought a premade mix from Costco with strawberries, blueberries and raspberries. I've also bought small bags of individual berries that works well to achieve the custom berry mix you like. My favorite is blackberry, strawberry and blueberry. Try triple berry cobbler with your berries of choice, the original peach cobbler, or your own fruit substitute variation and let us know which is your fave!