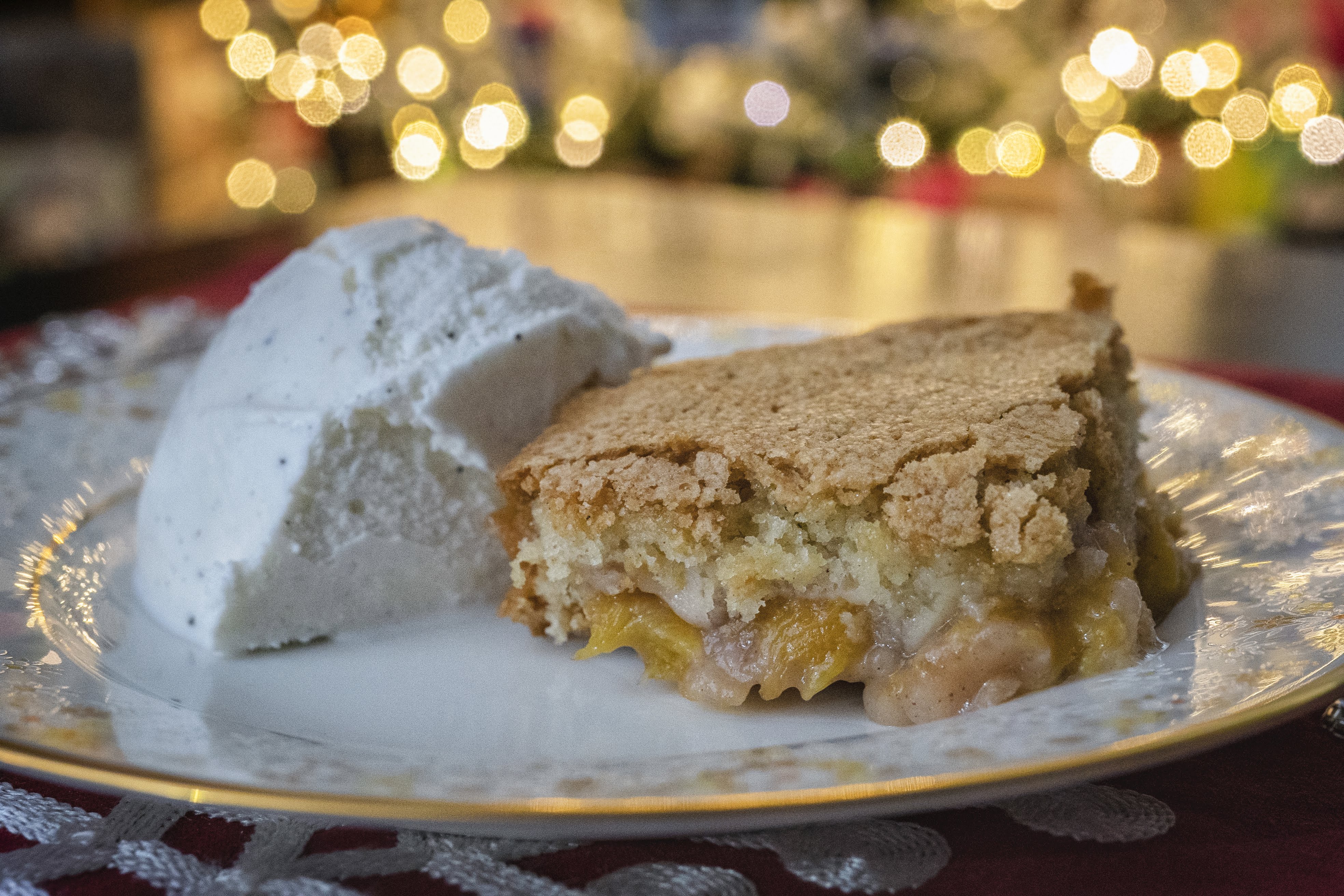 Perfect Peach Cobbler
Perfect Peach Cobbler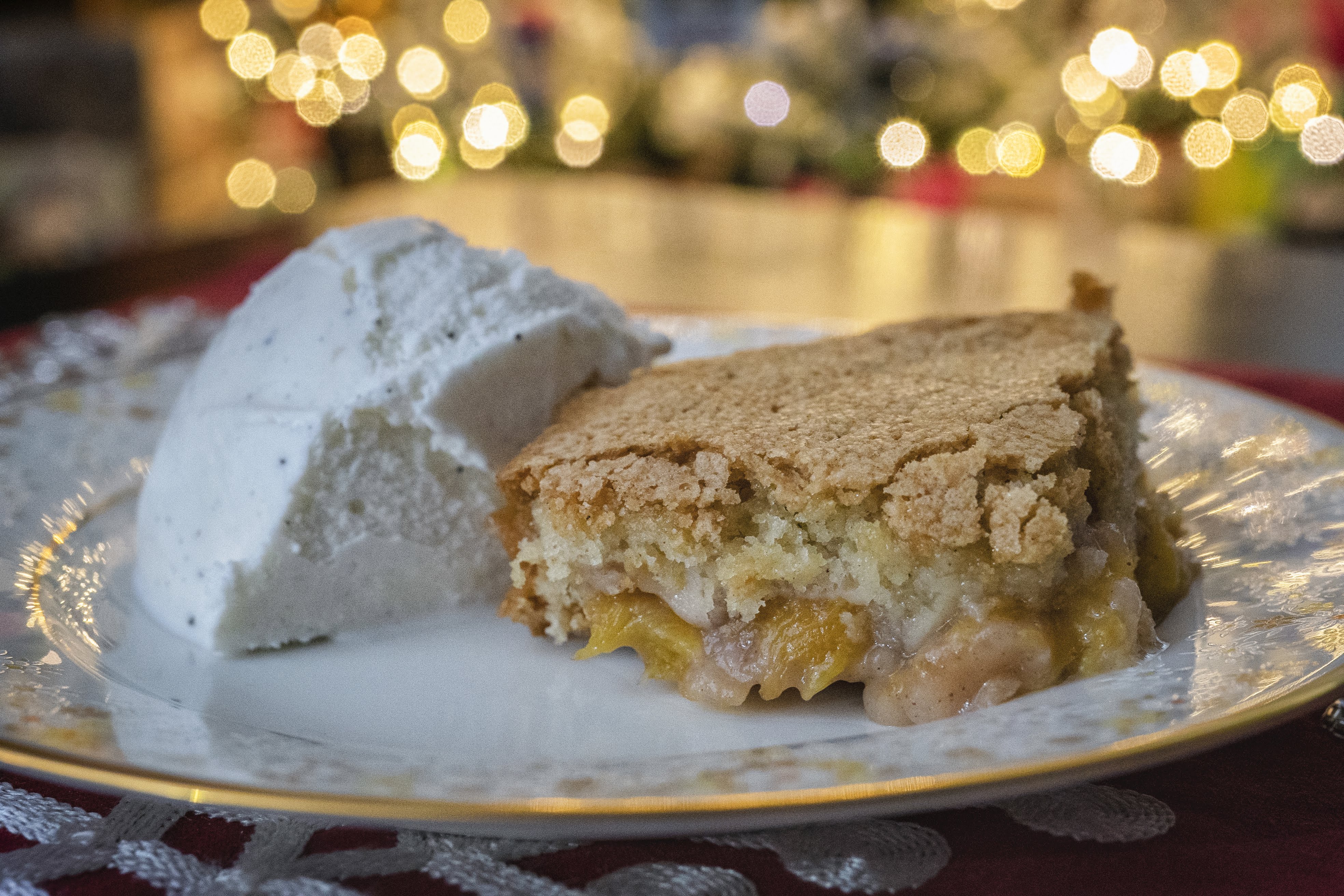 Peach season may be nearly over, but that is no reason to put away the peach recipes!
Fall is prime kitchen time!  Time to dust off those special holiday recipes, get the groceries and preheat the oven!  Yes, now is the time to brush up on baking skills in preparation for the holidays.  Holiday treats come in a wide variety of confections.  Cookies and cakes, and pies, oh my!  Pie is a definite staple on many tables over the next few months, but have you ever considered cobbler?  Much easier to prepare and equally delicious with the same basic filling/crust components.  This perfect recipe is what I've used for years and it is as easy as pie (or cobbler) to bake.
The recipe I use is from my favorite book series by Joanne Fluke.  The Hannah Swensen series she writes is a large collection of sweet, savory, spicy murder mysteries all done in good taste.  Literally, good taste too.  Each book contains recipes the characters prepare and eat.  I read her books every night before bed, which helps me relax and want to whip up some newly read recipe in the middle of the night.  Many of the recipes I have tried, but the best was in Peach Cobbler Murder.  I have made the titled dessert countless times.  My parents even called me their best friend when I made it for them and they had me make it twice in a week!  The last time I made it was with my prized Palisade Peaches.  For more on that see my other post: Life's A Peach, but now for the recipe: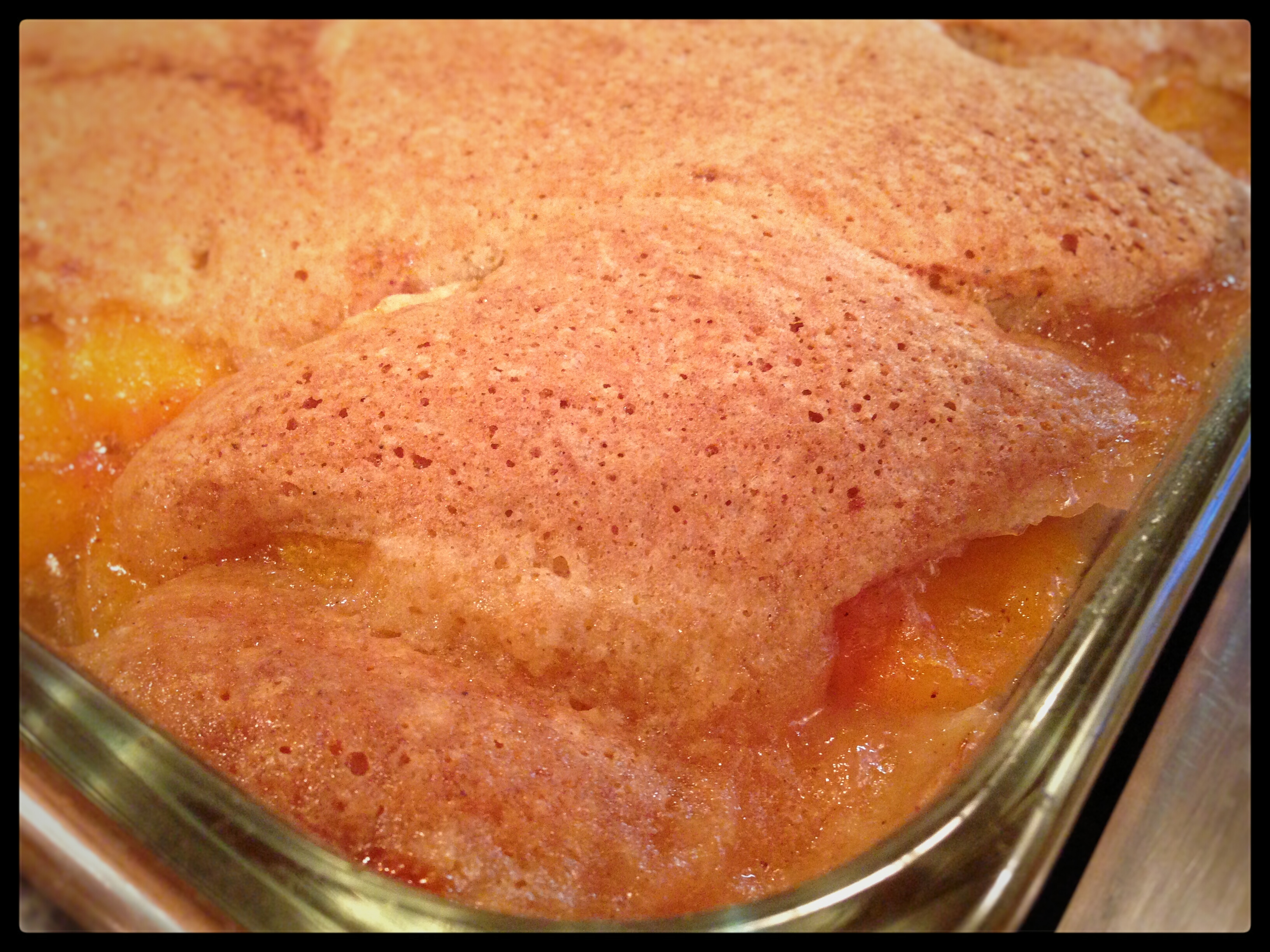 Minnesota Peach Cobbler
via Joanne Fluke's Peach Cobbler Murder
***Do NOT thaw peaches***
Filling:
10 cups frozen sliced peaches (2.5 pounds, sliced)
1/8 cup lemon juice (2 tbsp)
1 1/2 cups white sugar
1/4 tsp salt
3/4 cup flour
1/2 tsp cinnamon
1/2 cup melted butter
Crust:
1 cup flour
1 cup white sugar
1 1/2 tsp baking powder
1/4 tsp cinnamon
1/2 tsp salt
1/2 stick softened butter (1/4 cup)
2 beaten eggs
Preheat oven to 350. Spray a 13 by 9 inch cake pan with non stick spray.
Measure peaches and put them in a large mixing bowl. Let them sit on the counter and thaw for 10 minutes. Then sprinkle with lemon juice and toss.
In another smaller bowl combine white sugar, salt, flour, and cinnamon. Mix them together with a fork until they're evenly combined.
Pour dry mixture over the peaches and toss them (your hands are best).  Once most of the dry mixture is clinging to the peaches, dump them into the cake pan you've prepared.  Sprinkle any dry mixture left in the bowl on the top of the peaches in the pan.
Melt the butter.  Drizzle it over the peaches.  Then cover the cake pan tightly with foil.
Bake the peach mixture at 350 for 40 minutes.  Take it out of the oven and set it on a heat-proof surface, but DO NOT turn off the oven.
Now for the crust.  
Combine the flour, sugar, baking powder, cinnamon and salt in a smaller bowl you used earlier.  Cut in the softened butter with a couple of forks until the mixture looks like coarse cornmeal.  Add the beaten eggs and mix them in with a fork.  You can also do this with a food processor with chilled butter.
Remove the foil cover from the peaches and drop on spoonfuls of the topping.  Because the topping is thick, you'll have to do this in little dibs and dabs scraped from the spoon with another spoon, a rubber spatula, or with your clean finger.  Dab on the topping until the whole pan is polka dotted.  (Will spread out when baking).
Bake at 350 degrees, uncovered, for an additional 50 minutes.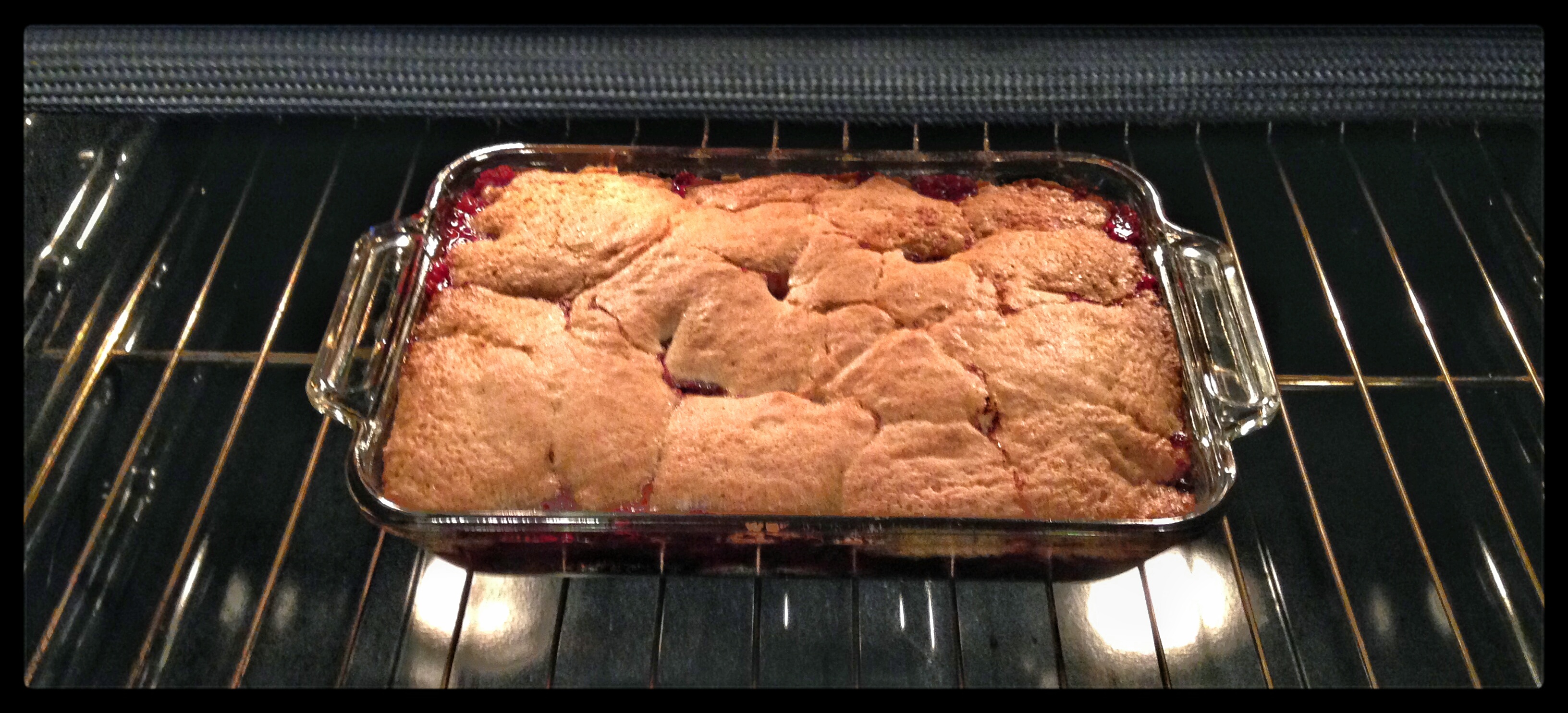 There it is.  I serve with vanilla bean ice cream or cool whip.  Purely delicious.  Sorry I don't have better pictures of a prepared plate of it, it gets eaten too quickly!
My favorite part of this recipe is the versatility.  This exact recipe can be used for any variety of cobbler, just swap the fruits.  I made a mixed berry that was delicious!  (photos above and below)  I used a mixed bag of frozen berries and even added some fresh blueberries.  My mom had her freezer stocked with all sorts of fruits from her post gym smoothie days so I made her a blackberry/raspberry cobbler as well.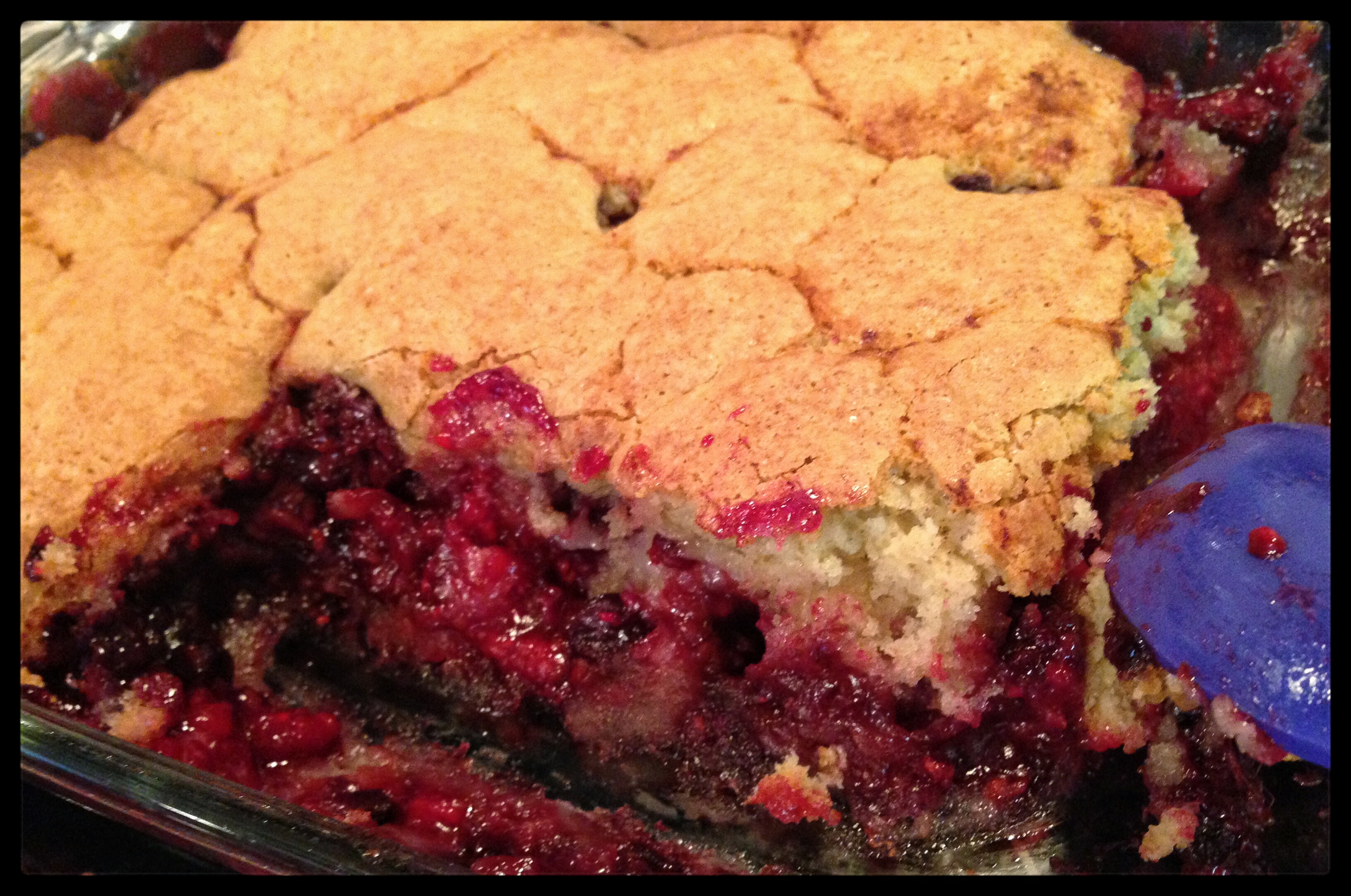 Except for maybe the fruit, I'm sure you have the rest of the ingredients already.  Give it a try and soon you'll be adding it to your holiday menu and volunteering to bring it as dessert for a dinner party.  Enjoy!