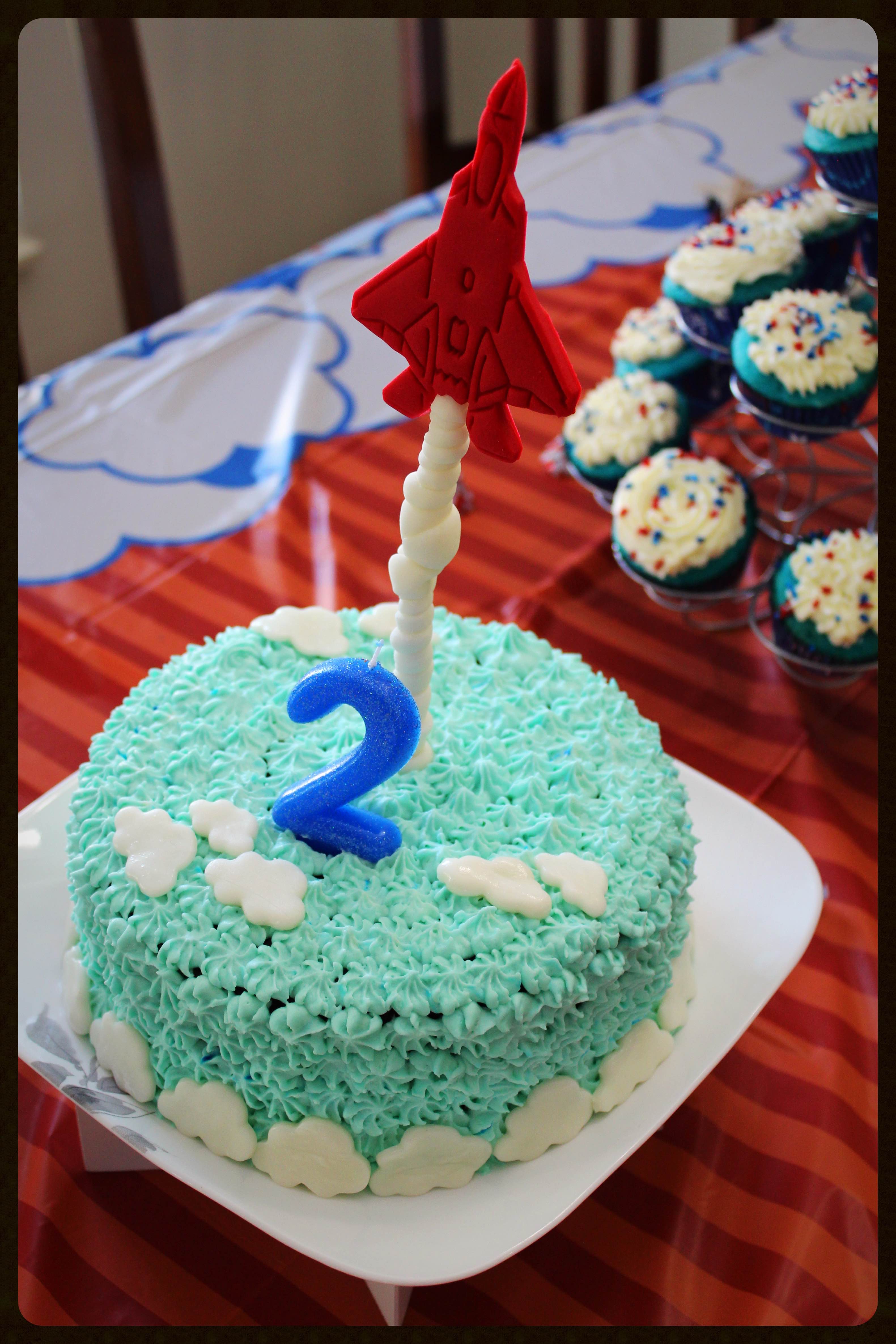 Airplane Birthday Antigravity Cake
Airplane Birthday Antigravity Cake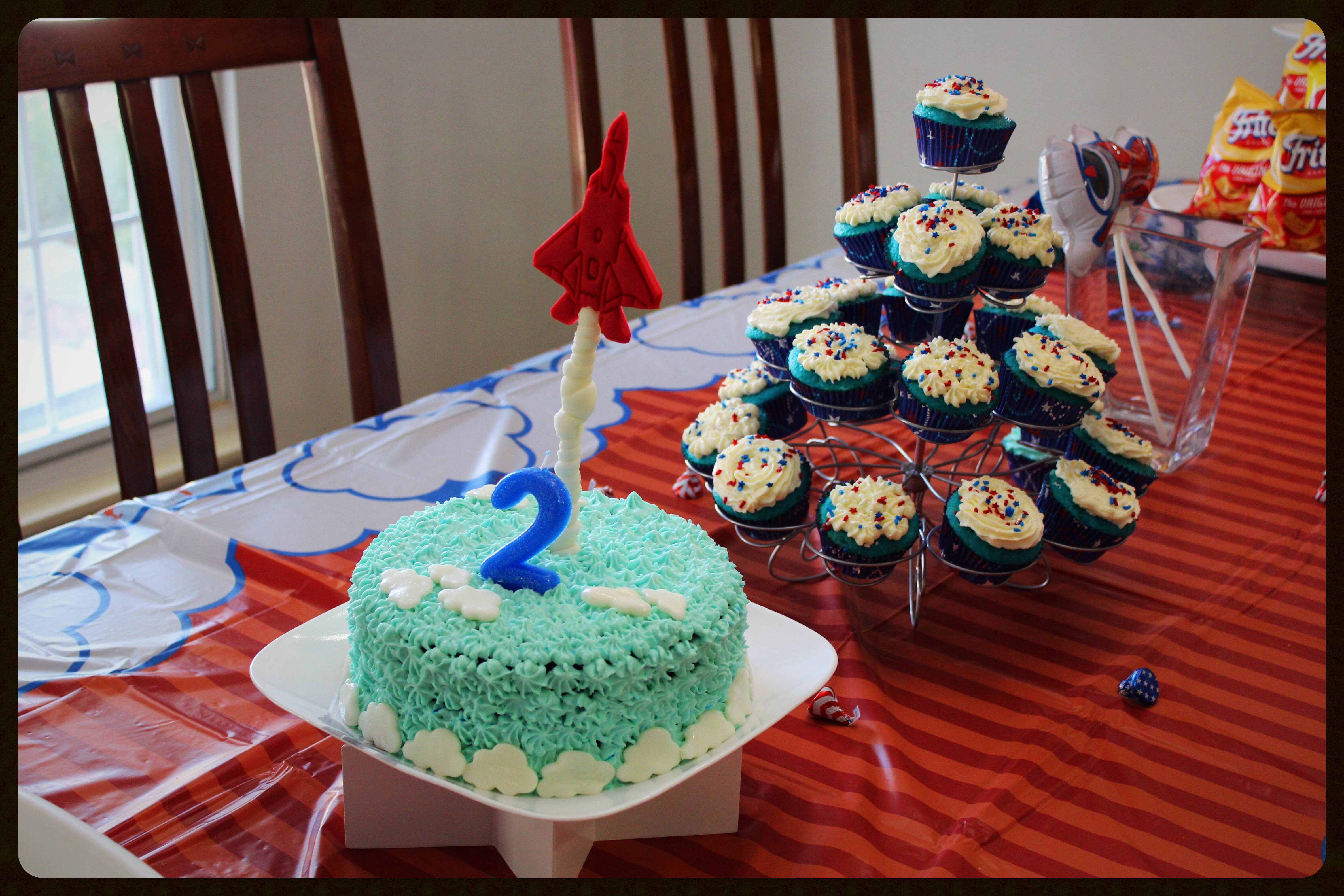 Just landed! A few high flying ideas for your kid's next airplane party. An Airplane Birthday Antigravity Cake!
Fly on by for some high flying fun and fresh ideas your little Maverick (and everyone else) will marvel at. So simple you won't even need a wingman to pull it off.
An airplane birthday party was no doubt the popular choice for out newest 2 year old. He is so in love with planes he will shush us when he thinks he hears an engine above. His little eyes pan the sky until he finds it and declares, "PLANE! Zoom zoooooom!"
I always make my kids cupcakes for their birthdays and make it as themed into what they love most as best I can. This airplane cupcake was going to be quite the aerial stunt to pull off. My first idea was that the frosting would serve as the sky background and I'd have to put a plane and some clouds perhaps on top. Seems like an awful lot for the surface of a cupcake though; it was going to have to be a cake. For something as big and incredible as a plane, I wasn't going small this time.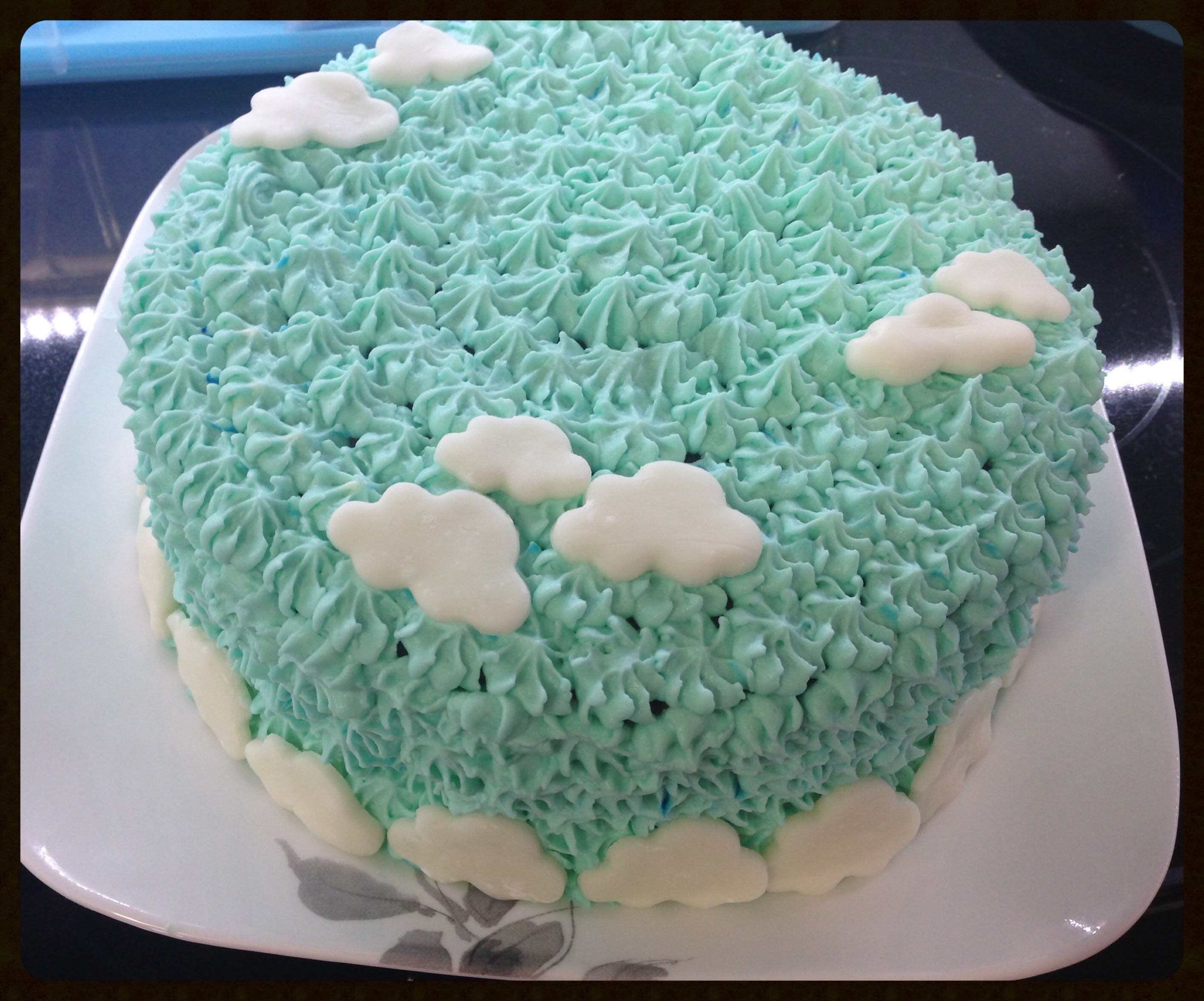 Now the size of the job was multiplied ten fold, and it seemed daunting. Now to come up with the rest of the idea. How to do a plane? Molding a plane out of fondant or gum paste is not within my artistic abilities. I thought of buying a small toy plane and just setting that on top, but it didn't seem to have enough of an impression. Then I found this video on YouTube. An anti-gravity cake. Oh my goodness, that's it! ….but how on Earth do I do that?! Once again, not a artist here.
Countless searches were conducted trying to solve my airplane cake topper problem. Taking on an anti-gravity airplane cake was now seeming as tough as trying to fly an airplane. I mean, have you seen all the gauges, buttons, controls, switches and levers in a flight deck? I have to figure this out, it's an airplane cake, not rocket science. A search through Etsy got me thinking of making a plane cookie and using that as my topper. Then it hit me! The cookie cutter can just cut fondant and save the steps of baking and decorating. The idea came and was my final decision the instant I saw this listing on Etsy. This cookie cutter looked too amazing to pass up and it sure held up to it's first impression on me! It was super simple to use with the tips provided by the seller and the detail is true and lasting. The thickness of the fondant was perfect for not only getting the right impression, but being able to insert the wire to hold it up as well.
The ooohs and awes I heard when I carried the cake out were only dimmed by my son's sparkling eyes seeing his amazing airplane cake.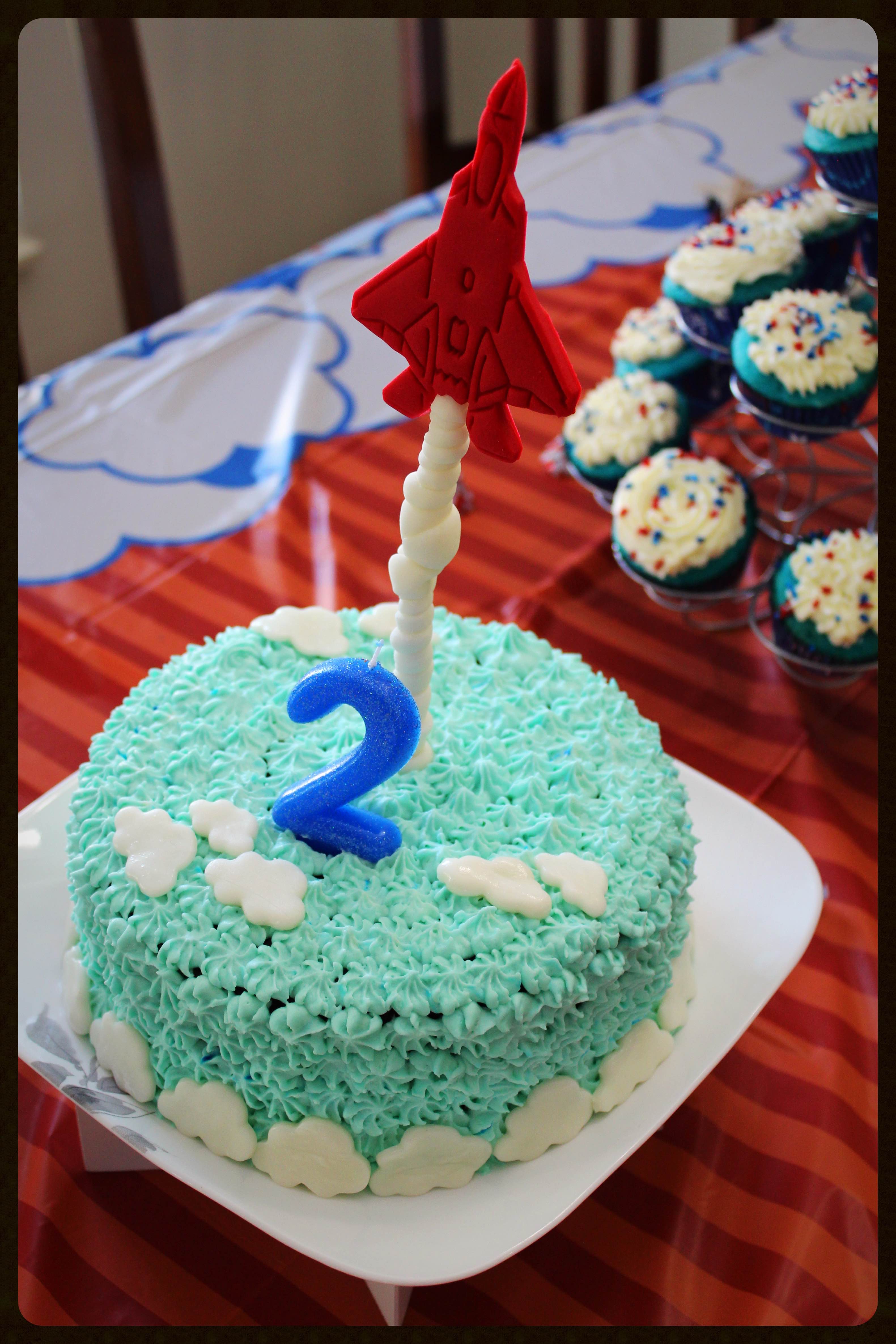 To set the scene for the party I ordered all the decorations from Oriental Trading. Their supplies are always well themed with plenty of variety and reasonably priced in one fell swoop. Their collections enhance the ambiance of any party and take it to the next level, even sky high!
Going simple and practical on party favors is my style. Sending kids home with little bags of candy is not ideal for little tummies after party food, cake and ice cream. Once again Etsy was my stop for a unique and themed party favor. I ordered these crayons and their popularity soared at the party. Download some coloring pages to suit the theme and up up and away they go for some coloring fun! Seeing my son's little hands using these plane crayons is too cute.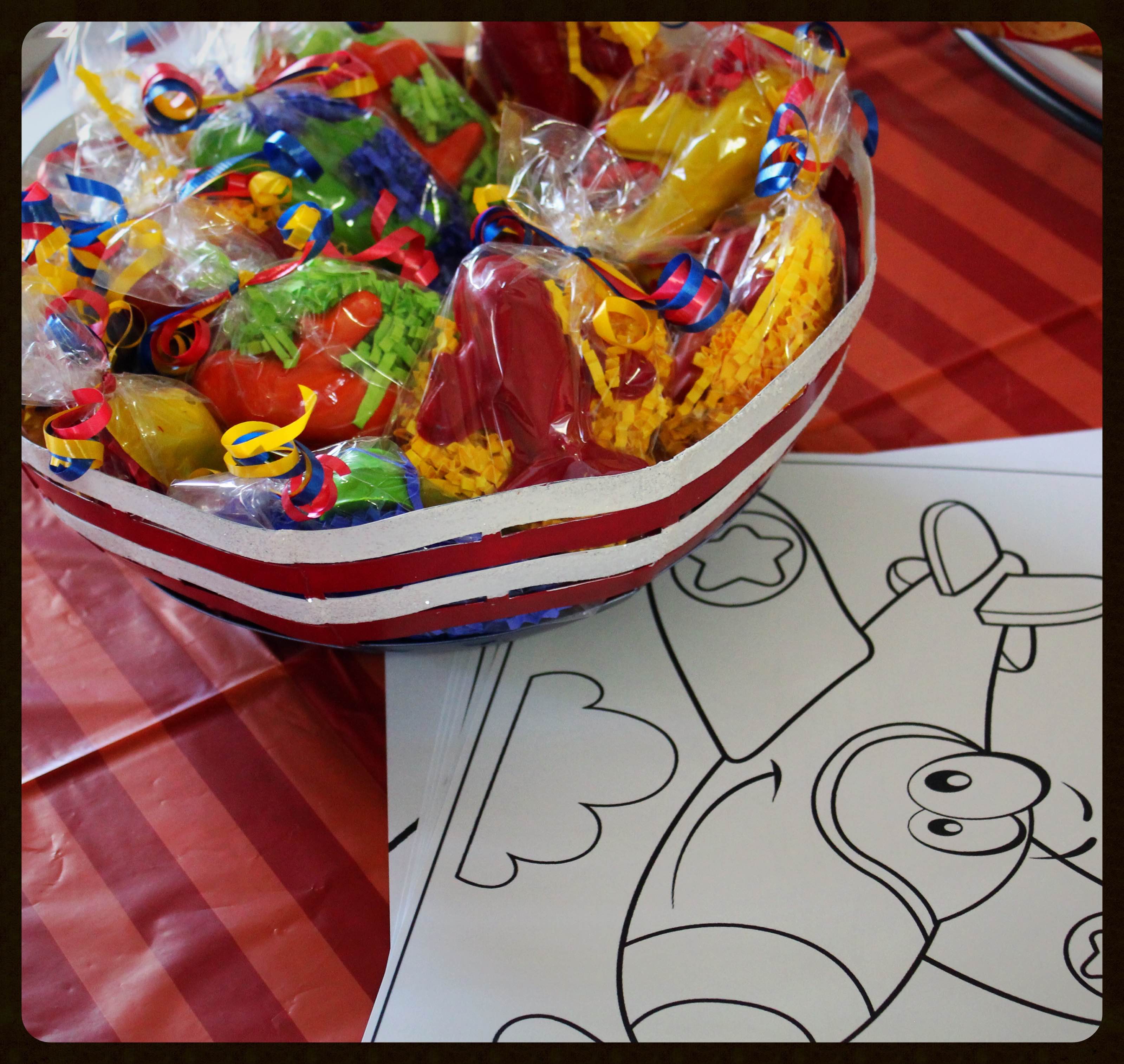 This party was a soaring success! I was so proud to have tried new cake techniques and make his party just plane perfect.
What are your favorite party themes? Any challenging ones current or past? Share with us these and any cake ideas. It would just make our day!