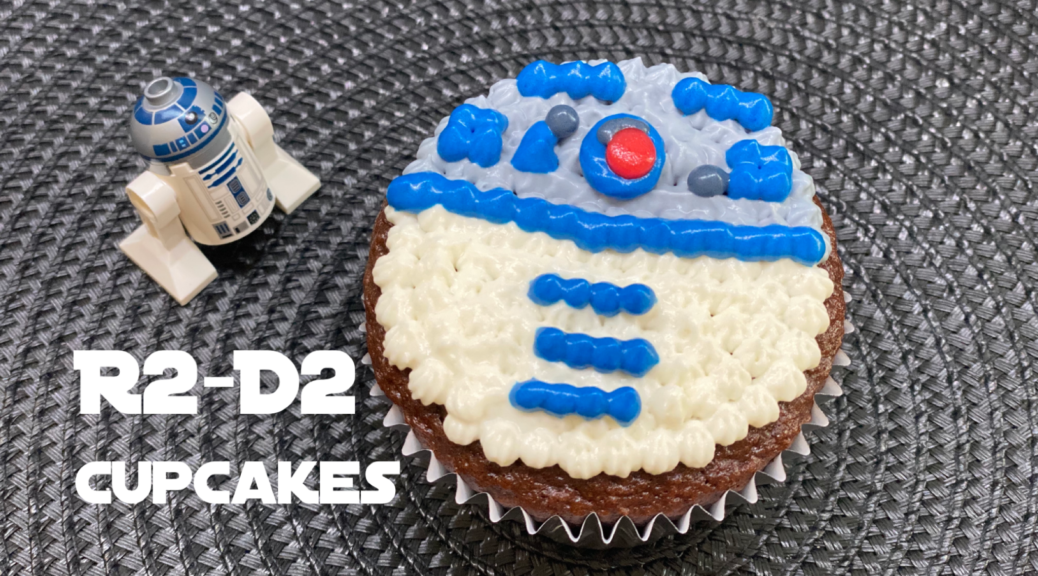 Easy R2-D2 Cupcakes
Easy R2-D2 Cupcakes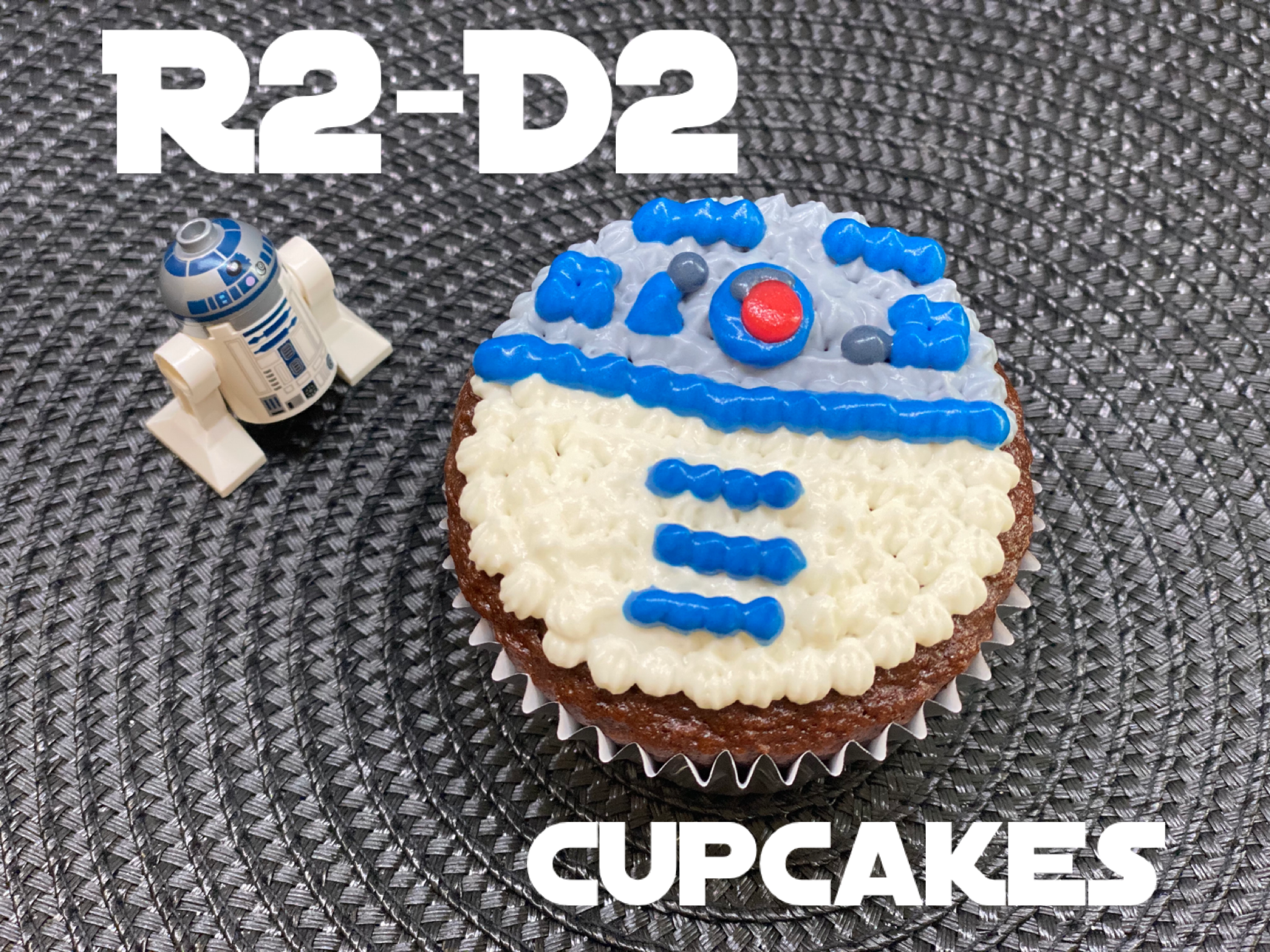 The force is strong with this one!  R2-D2, everyone's favorite astromech droid since 1977.  When I was commissioned by the little man to make some Star Wars cupcakes for his birthday, this handy droid rolled right right up to the challenge.  Now I'm no cake-decorating-master, but I knew this cute little droid's likeness would lend well to a cupcake.  So today I'm sharing how I did it, so you can make these Easy R2-D2 Cupcakes too!
R2-D2 cupcakes start off super simple, by making your own cupcakes whatever flavor you'd like.  I had to go with chocolate, as requested, so I made some rich chocolate cake.  For more on this delicious recipe, see our original Mountain Bike Birthday Cake here, or the source of the recipe from Nerdy Nummies here.  If you're going for a chocolate cake, I could not recommend that recipe enough.  If you're after a cake more in line with R2-D2's color scheme, maybe go with a white cake recipe.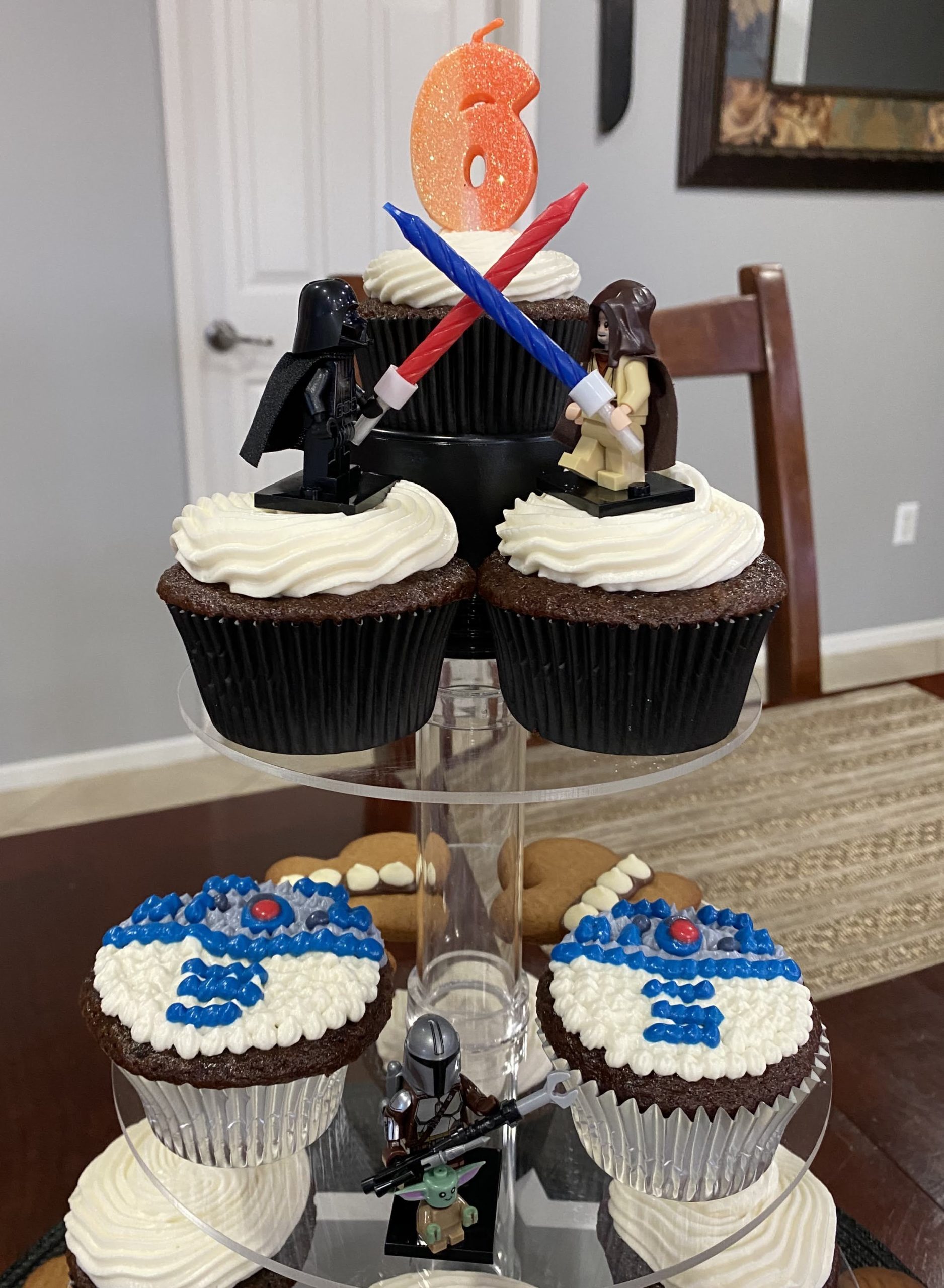 Whatever cake you choose, be choosy with your cupcake wrapper.  Cupcake wrappers can make or break the look.  Go for dark-colored, foil, or foil-lined wrappers whenever possible.  These wrappers will not show the baked/soaked lines from the wet batter to the finished cake.  <– that may be a little hard to describe, but if you know what I mean, you know what I mean.  Anyway, for these easy R2-D2 cupcakes, I went with standard silver foil liners.  These are so easy to find just about anywhere!
Easy R2-D2 Cupcake Decoration
Easy R2-D2 cupcakes are super simple because they use simple frosting, a simple piping tip, and a dotted pattern to make the details.  No fondant or unusual tools required!  Now that's just like R2-D2 himself isn't it?  Super simple solutions to otherwise daunting problems.  So let's get into making these!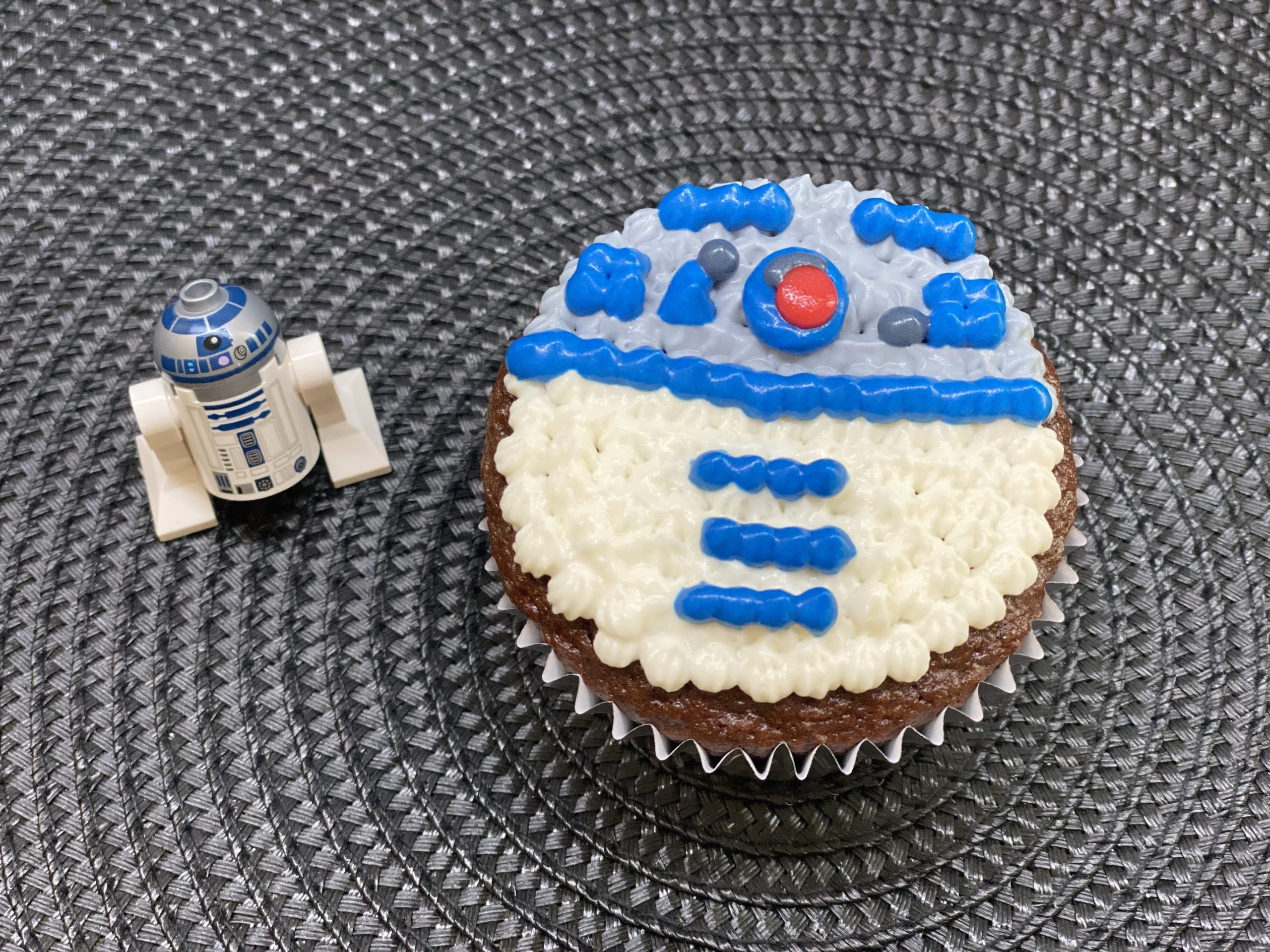 Frosting
There is no better frosting than our very own Whipped Cream/Cream Cheese frosting.  If you're not new here, you're not surprised by this at all.  😉  It is super simple to make, tastes delicious, colors well, and pipes well.  Prepare this or your frosting of choice.  Separate into 4 small bowls to dye different colors.  For the most accurate colors, use the Wilton Color Right system.  That food coloring kit comes with an array of all colors and really takes the guess work out of how to achieve specific shades.  You'll need white, dark blue, light grey, and dark grey.  Dark grey uses the least amount of frosting, so no need to mix up a ton of that color.
Prepare your frosting colors by placing them in a piping bag, each with very small open star tip.  I used the K27 from this kit from Amazon.
To decorate, we are going to make tiny dots or stars close together.  Going in a small dotted pattern allows for ease of measurement and lining up the details later.  Begin by hovering the piping tip just above the top of the cupcake.  Do not touch the cupcake with the tip.  And gently squeeze a small amount.  Release the pressure and pull away.  This will be the technique for the whole cupcake.  See, easy huh?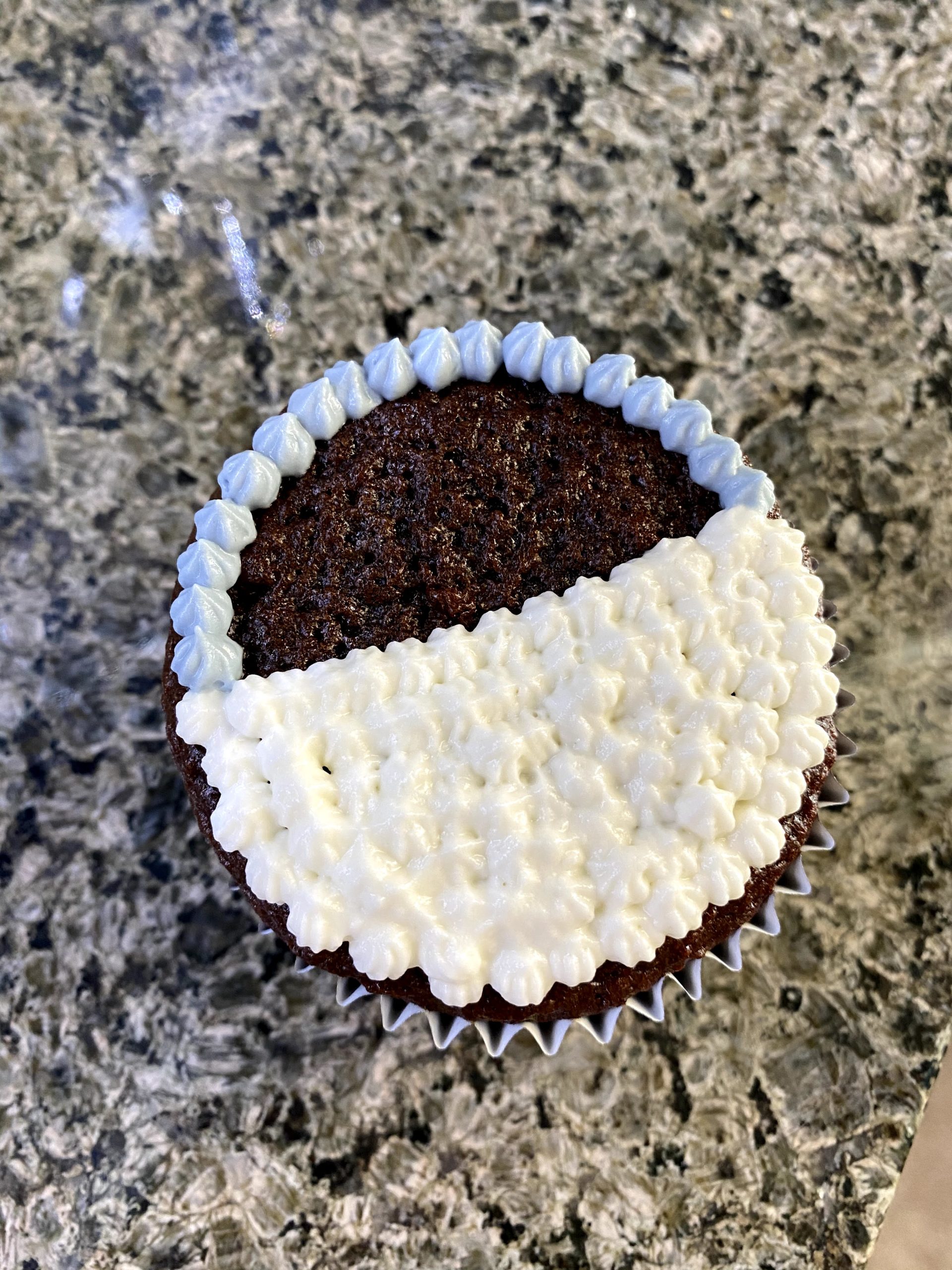 Start with white.  Pipe a line all the way across the cupcake slightly above the half circle mark.  Then pipe in rows filling in the entire top of the cupcake below the line you started with.  If you're using a white cake, any holes between frosting dots will look a little more forgiving than my chocolate one.  Fill in where needed.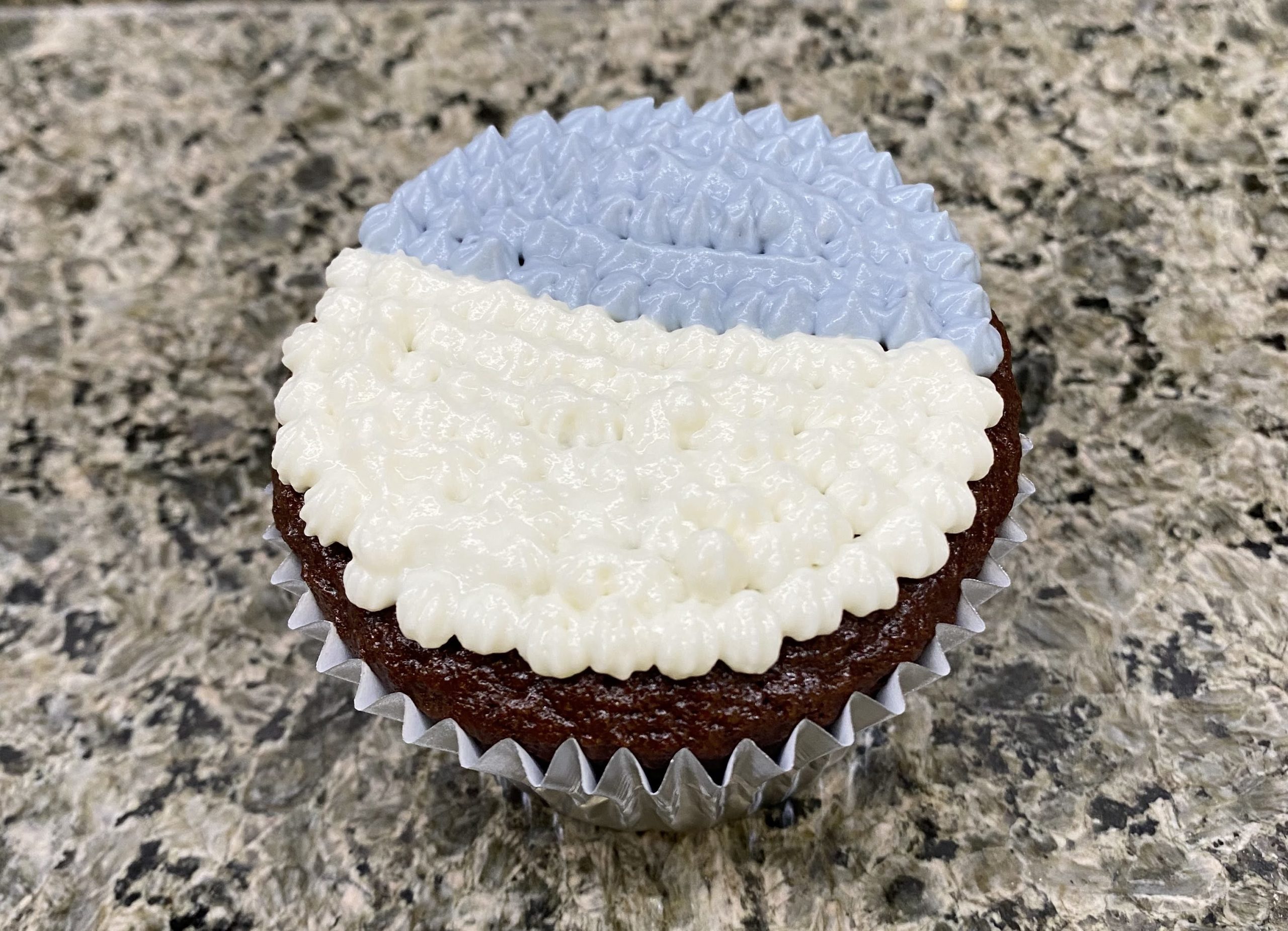 Next, outline the rest of the top of the cupcake with the light grey.  Fill in all the way to the white.  Fill in any holes between frosting dots as needed.  Complete coverage of the light grey is slightly less important, due to a lot of blue details coming up, but it will set a good frosting base if you do.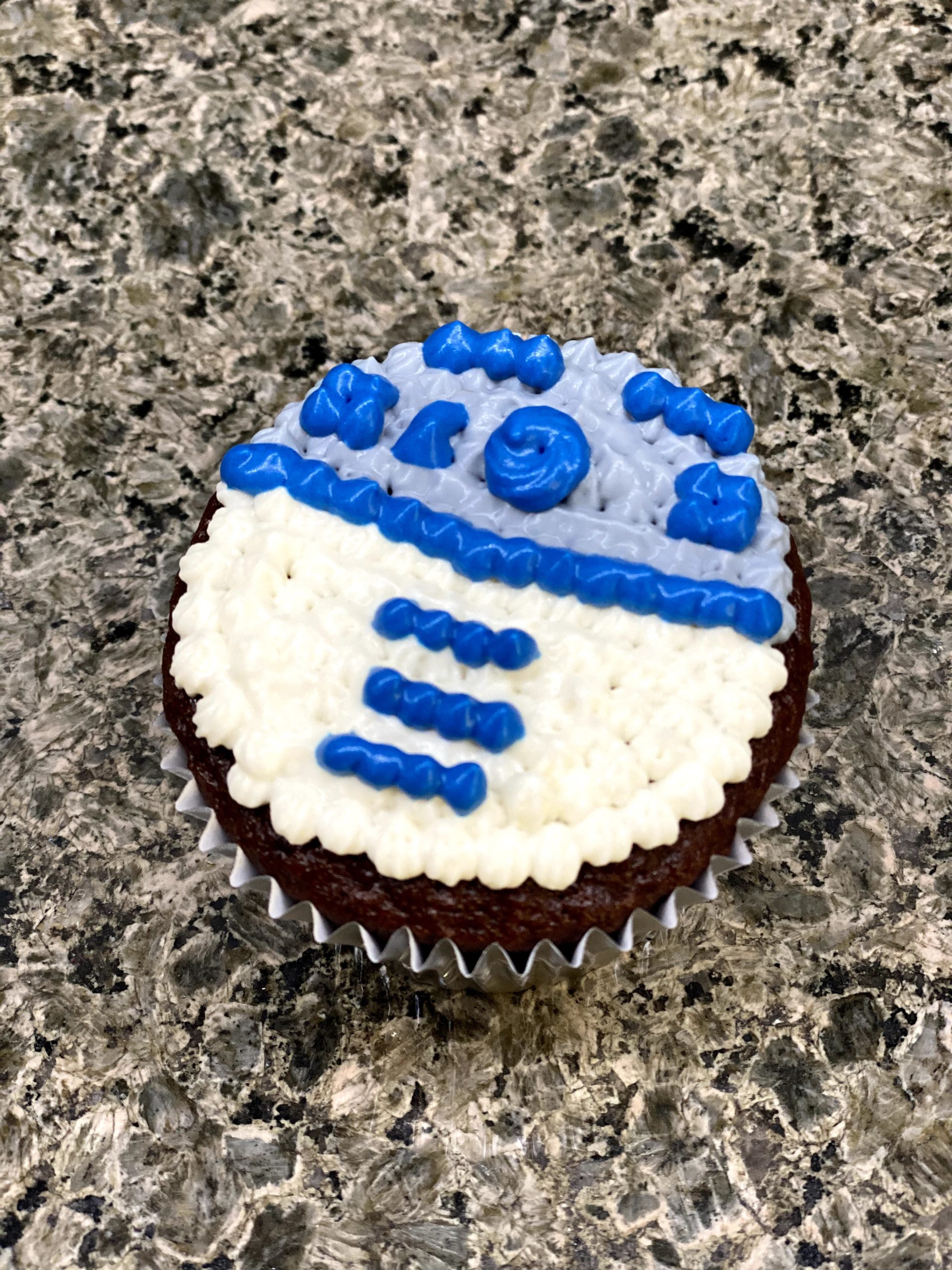 To really make these easy R2-D2 cupcakes come to life, we need those blue details!  Using your dark blue, pipe three dotted lines onto the center of the white portion.  Then pipe a blue line all the way across where the white and light grey frostings meet.  In the lower center of the grey part of the cupcake, pipe a circle.  On either side of this circle, pipe a square.  Above those, pipe more lines for some top detail.
Using the dark grey, add a couple small dots by the blue circle for some dimension details.
Detail
Most of the look of R2-D2 is done by piping frosting, but there is a key element to really make this droid come to life.  His "eye" is essential to make him the character we all know and love.  To achieve this, you need a red airhead candy, a rolling pin, some plastic wrap, and a small round piping tip.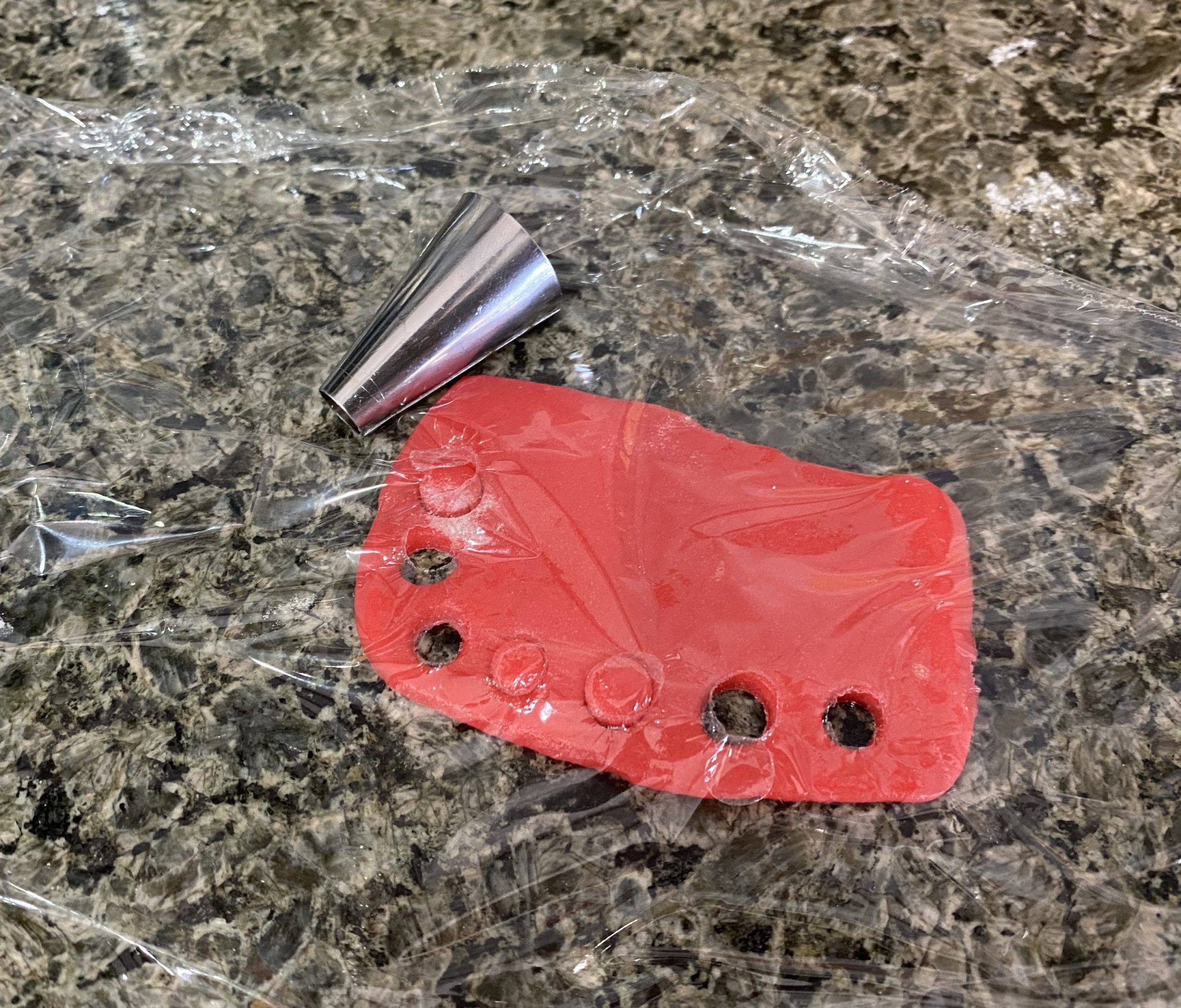 Roll out the airhead until it is about 1/4 inch even thickness.  Stretch a piece of plastic wrap over the candy.  Using the small circle end of a piping tip as a cookie cutter, cut out circles.  Be sure to remove the plastic wrap from the candy if it tears off with it.  I tried a few different sized circles to reach the size I wanted, so do the same until you achieve the right look.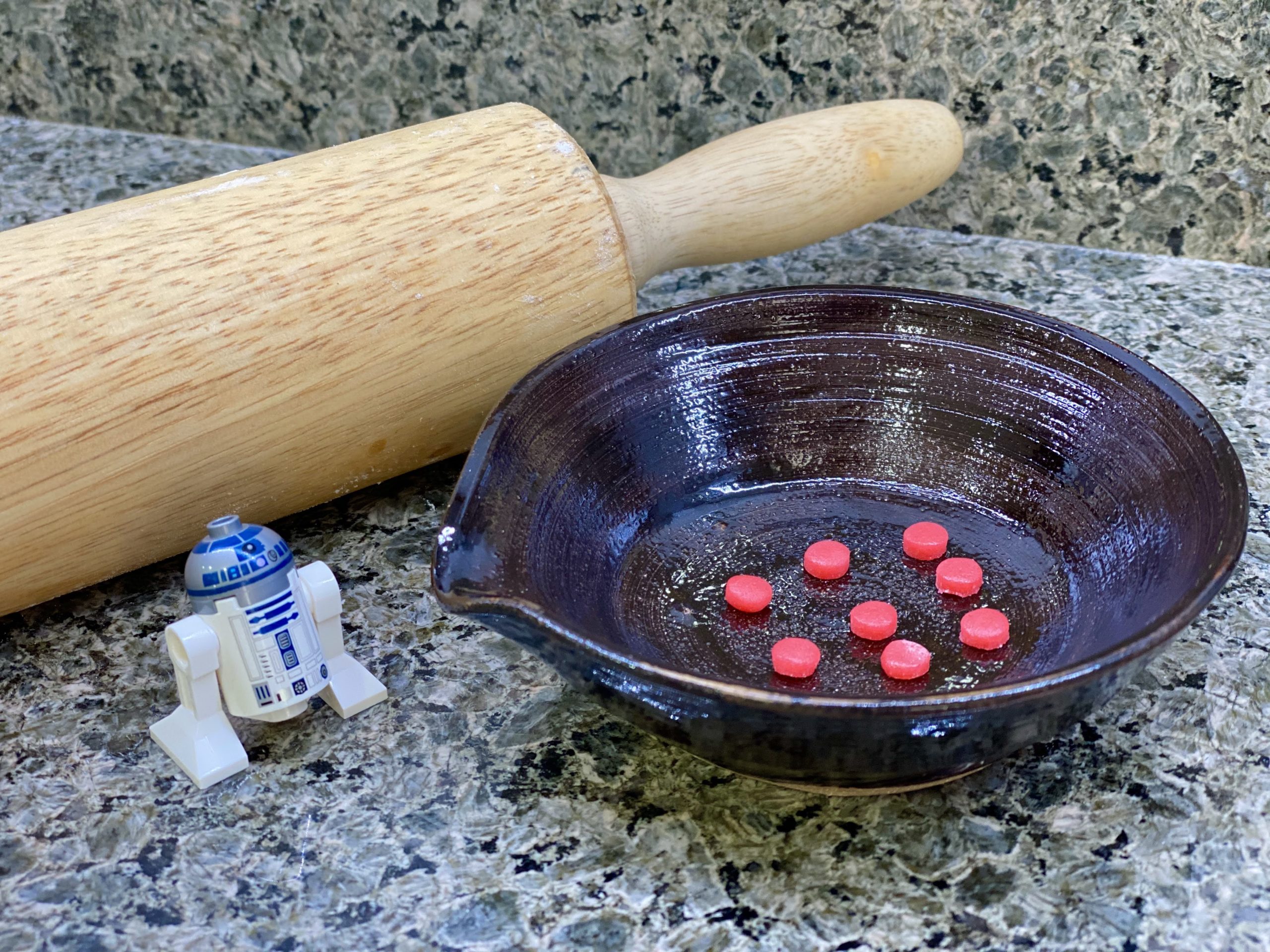 In case you're wondering what the deal is with the plastic wrap, it does have a purpose.  The plastic wrap will keep the candy from being squished and flattened during the cutting process.  This leaves it a little more domed, with small added dimension.  In the photo above, some are cut with the wrap, and some are not.  Can you spot the difference?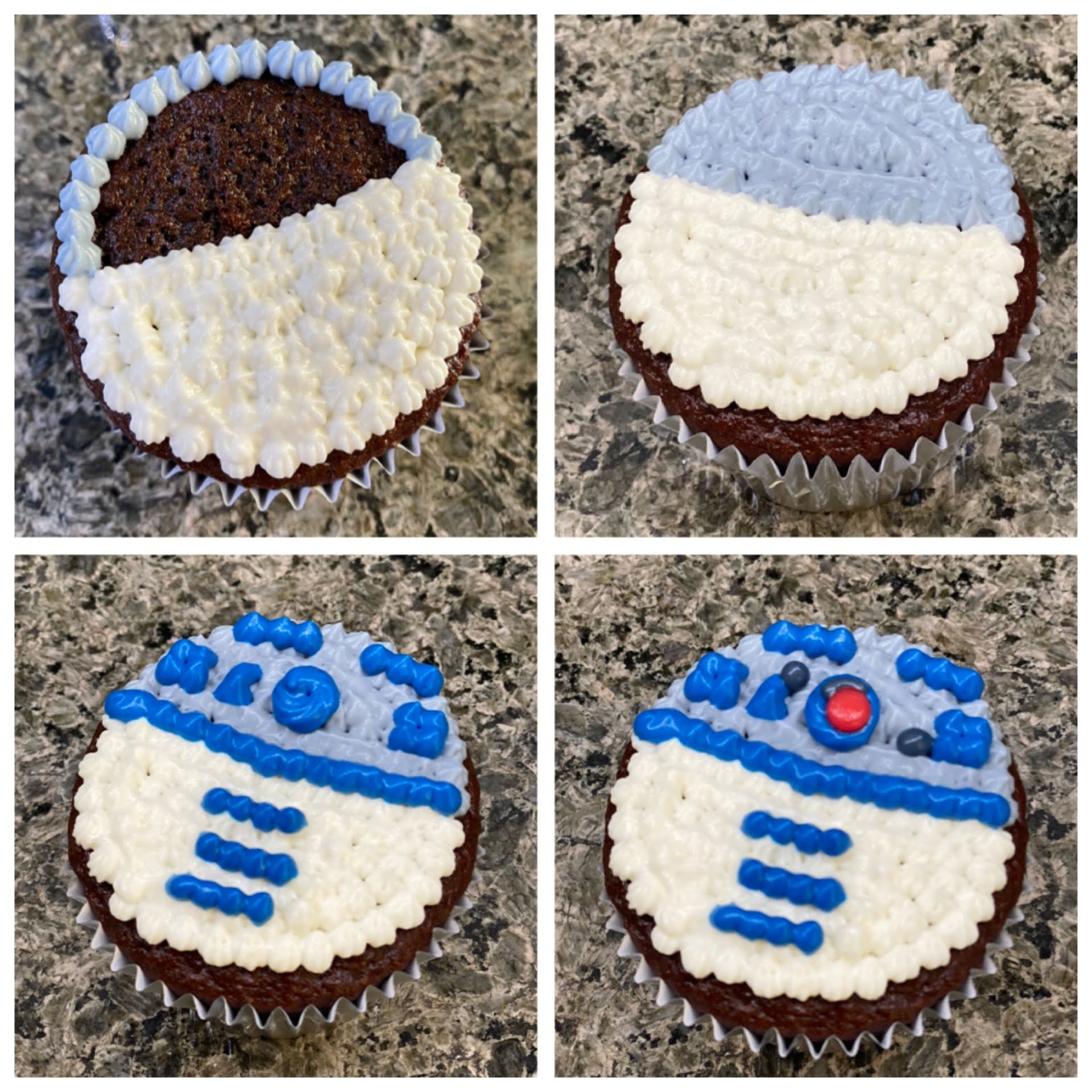 Assemble the red "eye" a little off center of the blue piped circle.  And there he is!  R2-D2 in cupcake form.
The birthday boy was so happy with these cute cupcakes!  I was so happy with the simplicity, yet striking detail achieved!  These are certainly worthy of this unsung hero of a galaxy far, far away I must say!
Bleep Borp Boop.  Sounds like even the famous R2-D2 himself likes the look of these!  What better praise is there?
This isn't the only Star Wars treat we've made, check out our other post, Star Wars Trail Mix for another out of this world treat!  What other Star Wars treats should we make?  Share your ideas with us below!