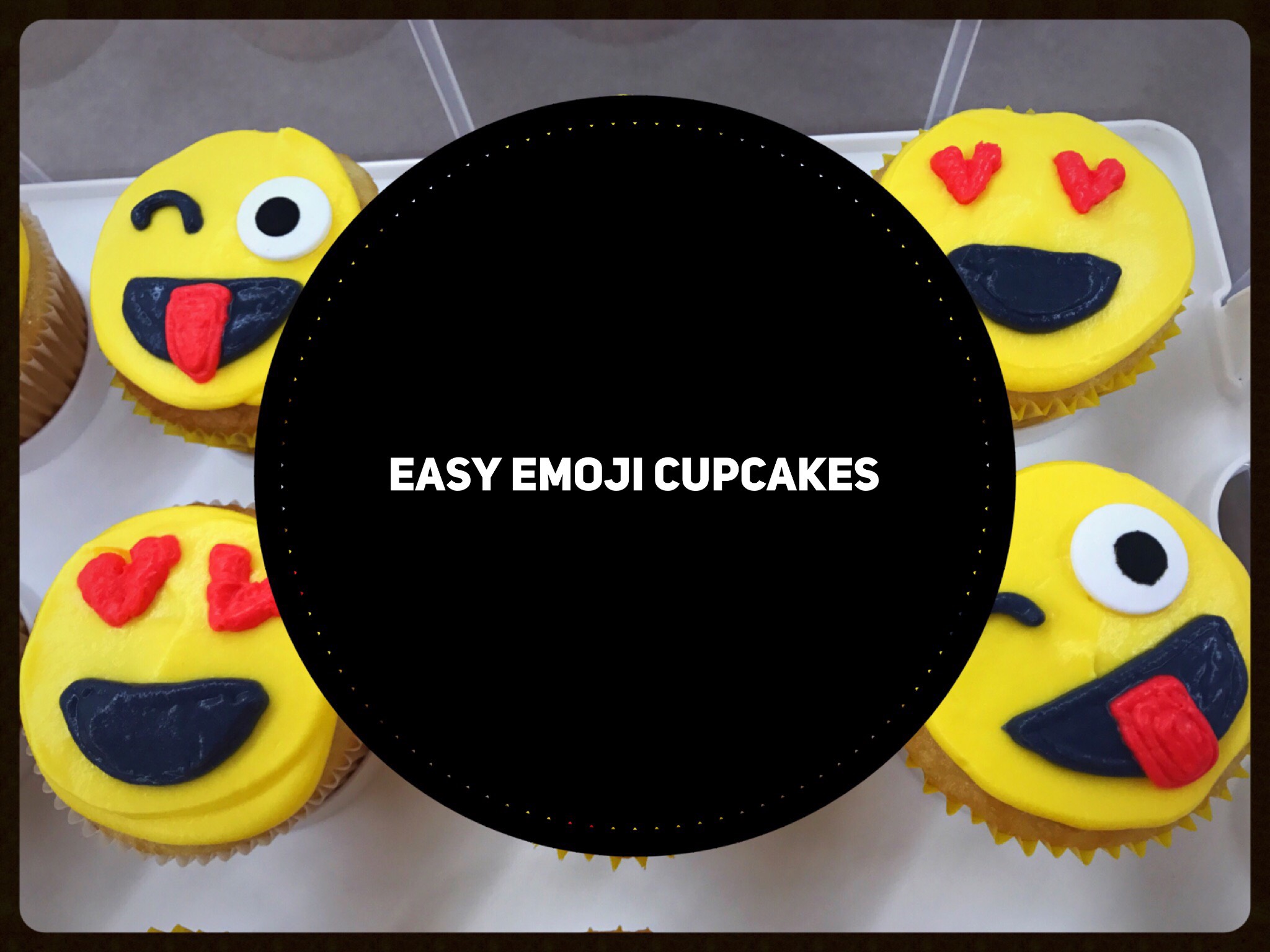 Easy Emoji Cupcakes
Easy Emoji Cupcakes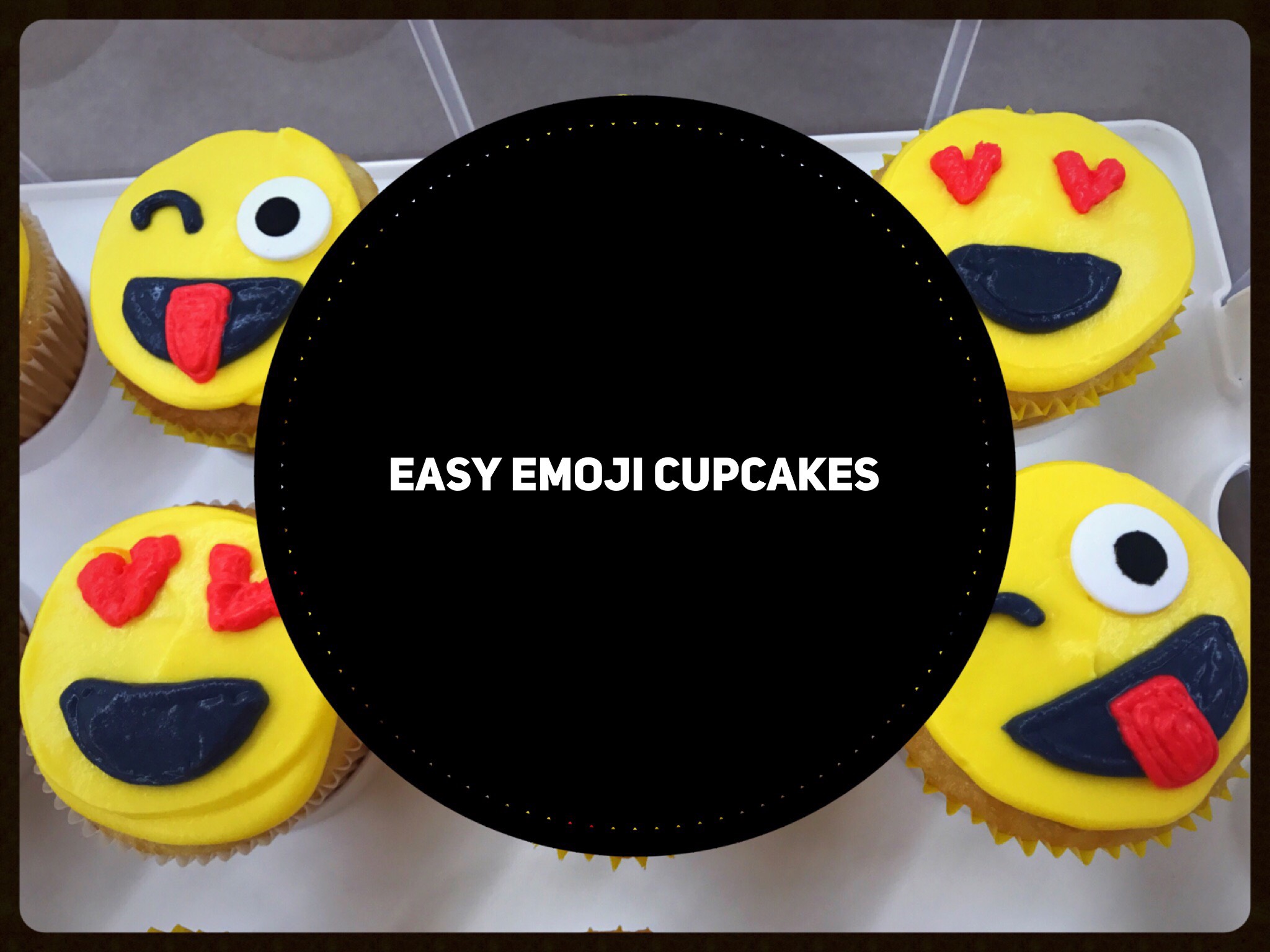 Easy Emoji Cupcakes! Not sure what it is, but faces always seem difficult to achieve in cake decorating. Knowing that, I was always totally intimidated by making emoji cupcakes. Seriously. These simple emotional circles seemed to be a challenge I just steered clear of. Well, thanks to a cupcake class I took, Wilton replaced my fear : / with enthusiasm : D . Insert big grinning emoji here. Now it's your turn to see how I made these Easy Emoji Cupcakes and you can too!
First, bake your cupcakes. Yellow cake was a given for these, I mean what else would you use anyway? ; ) Yellow cupcake liners were the next natural fit.
Next, prepare your frosting. May I recommend my whipped cream/cream cheese frosting? ; ) Separate 2 half cup amounts from the frosting before coloring. The majority of the batch will be colored yellow. The 2 smaller amounts of frosting will be black and red. Wilton Color Gels are the best for coloring frosting. The little cups are perfect to scoop a bit out with a toothpick or clean knife tip and add to your frosting. To match the emoji-yellow I used mostly yellow with a little orange. To make your black dark enough it takes a surprising amount of the color gel. Just keep going, you won't hurt anything. The red need saturating as well. This is why the gel colors are essential, the large amounts used will not change the consistency of your frosting. Put each frosting color in a piping bag. The yellow with a #6 tip, the black and red with a #3 tip.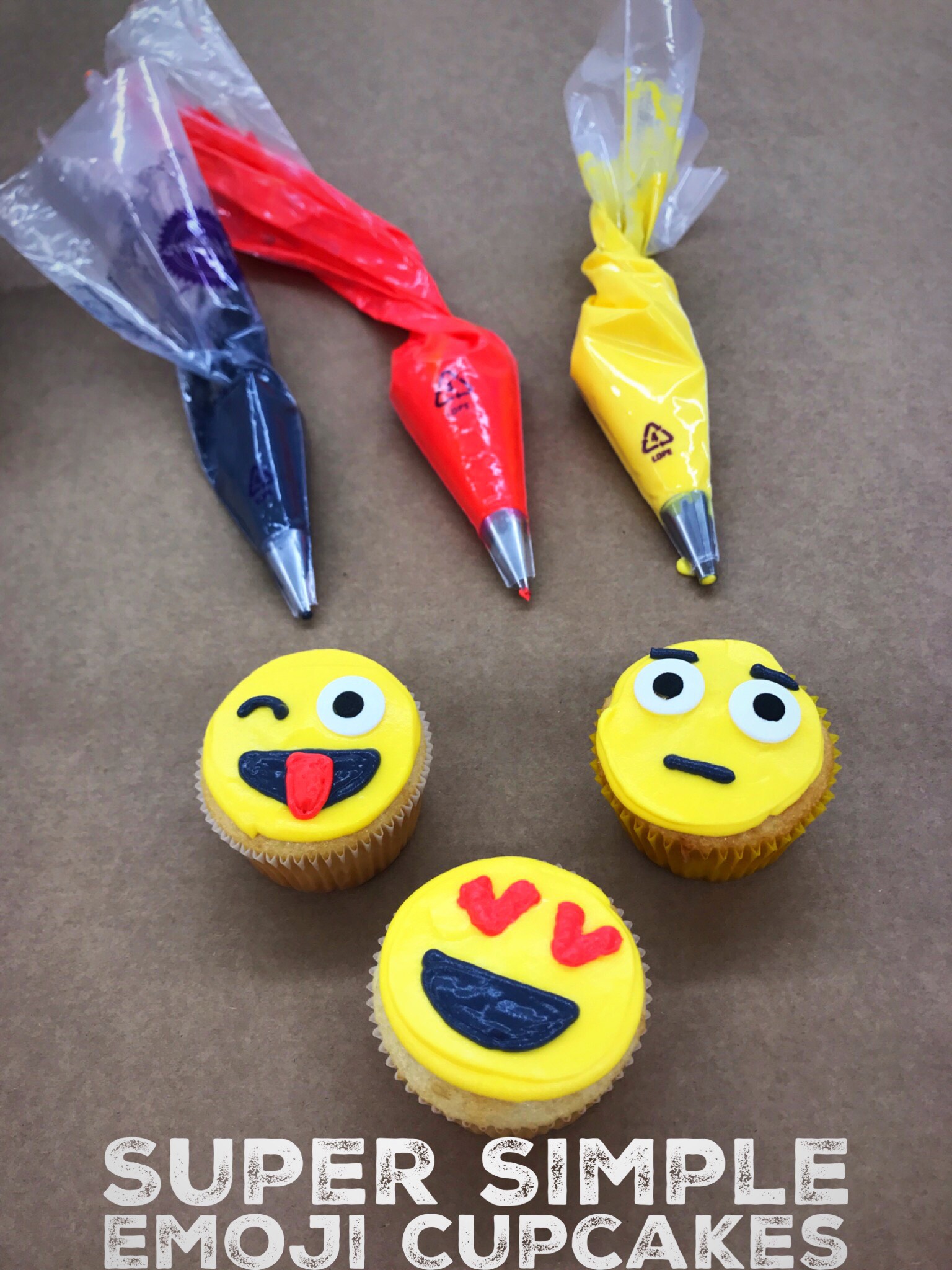 Next step was revolutionary for me. Part of what intimidated me about emoji cupcakes was the appearance of perfectly smooth frosted cupcakes. Something I've never been able to accomplish. Well, let me fill you in on a secret to achieve this. Use a decorating tip, like a Wilton 6, to frost, then smooth with an offset spatula.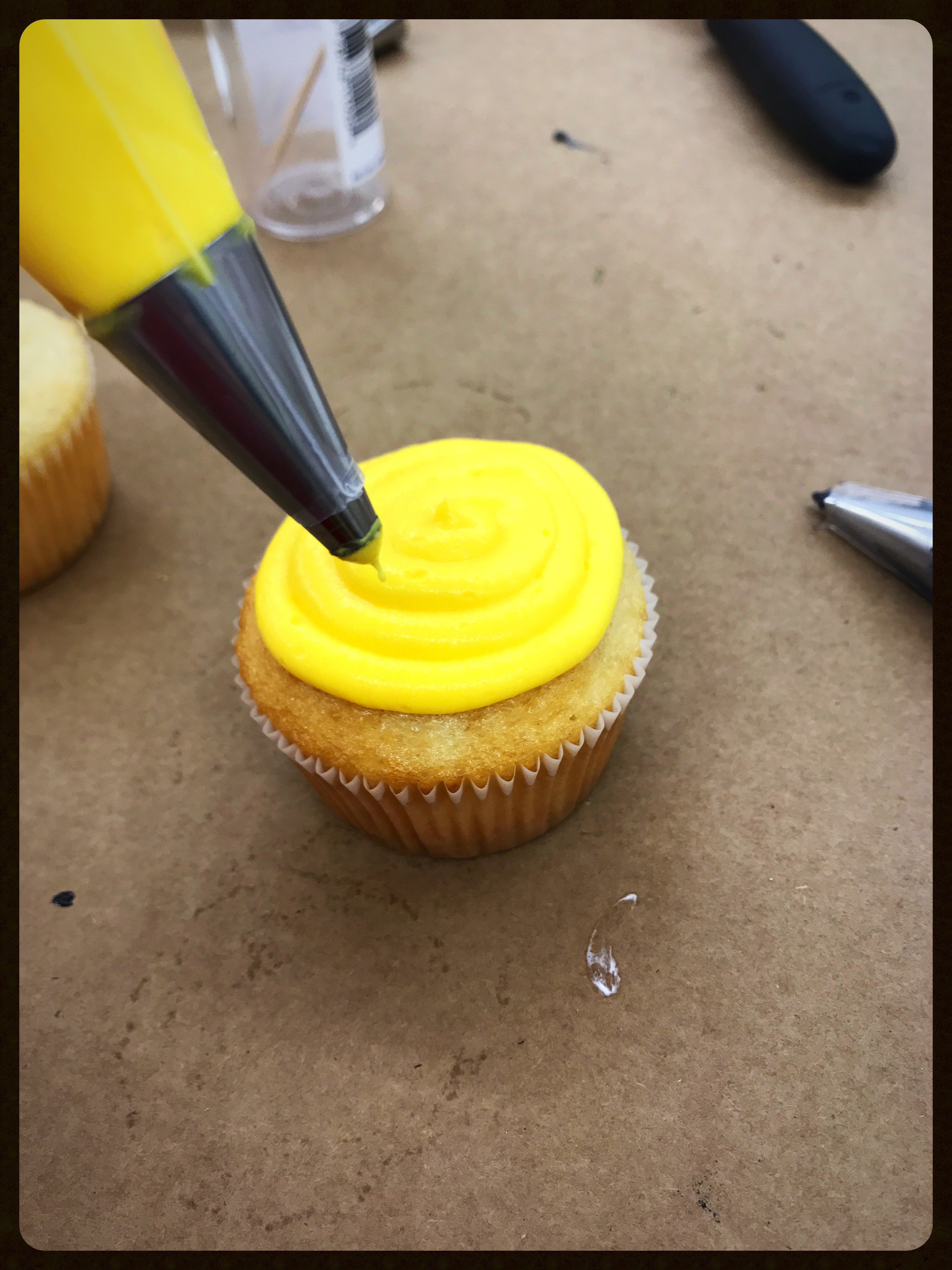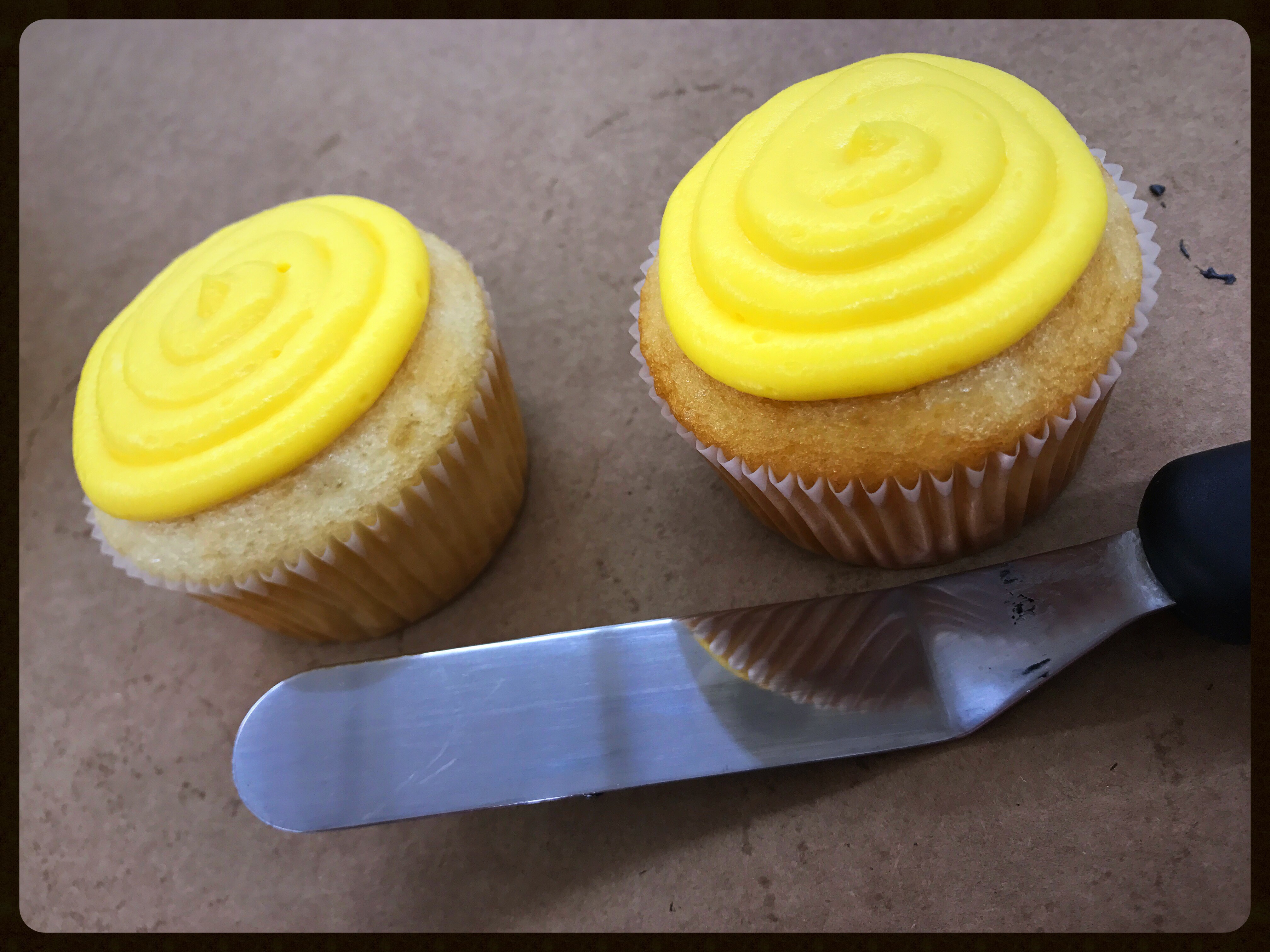 Frost by piping in circles from nearly the edge of your cupcake to the center. Pipe in one big spiral to make it quick and easy. With an offset spatula place it horizontal right in the middle of the cupcake. Rotate in a circle with light pressure to smooth down the ripples in the frosting. This will also push the frosting to the edges and cover all the visible cake. The piping of the frosting ensures an even amount across the entire cupcake and the spatula comes in to smooth it all over. Some of mine still aren't perfect, but that's ok, still better than they used to be. Super simple!
Now it is time to decorate and bring the emojis to life. Pull up your emoji gallery and decide which you will make! The simplest eyes I found are using the large Wilton Decorating Eyeballs. I find it helpful to sort the eyes and pair them together because some will vary in pupil size. Place these on your cupcakes first. Now use your other colored frostings to pipe your various expressions and complete your easy emoji cupcakes!
Tips: hearts are easiest to make in halves. Pipe 2 raindrop shapes that meet at the point. Then use a toothpick to join and round it out. When piping a mouth such as the silly face emoji, do the outline then fill in. Add the tongue sticking out on top ;p.
There you have it. I didn't name these Easy Emoji Cupcakes for nothing. They really are easy. What is your favorite emoji? Which will you make?