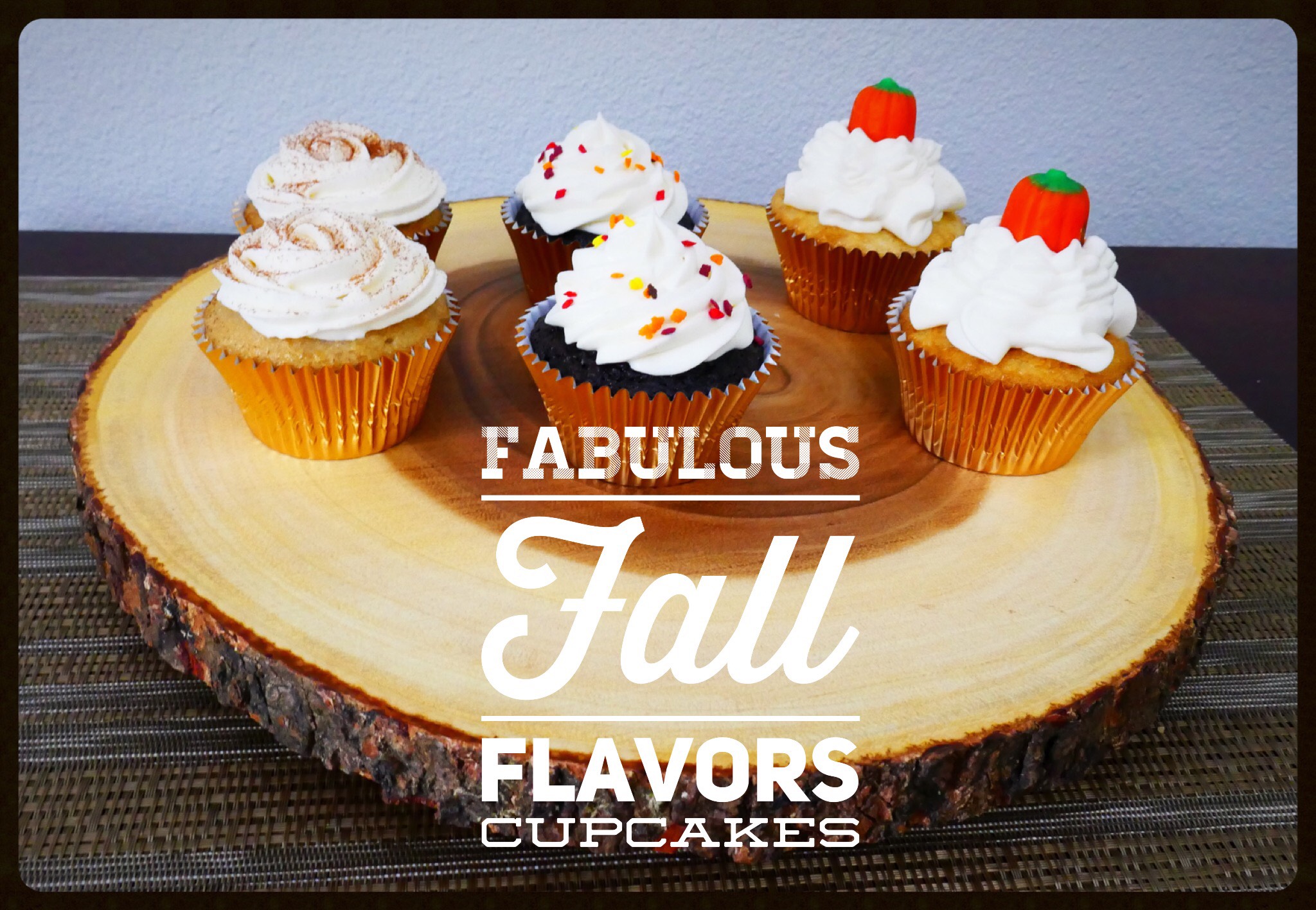 Fabulous Fall Flavored Cupcakes
Fabulous Fall Flavored Cupcakes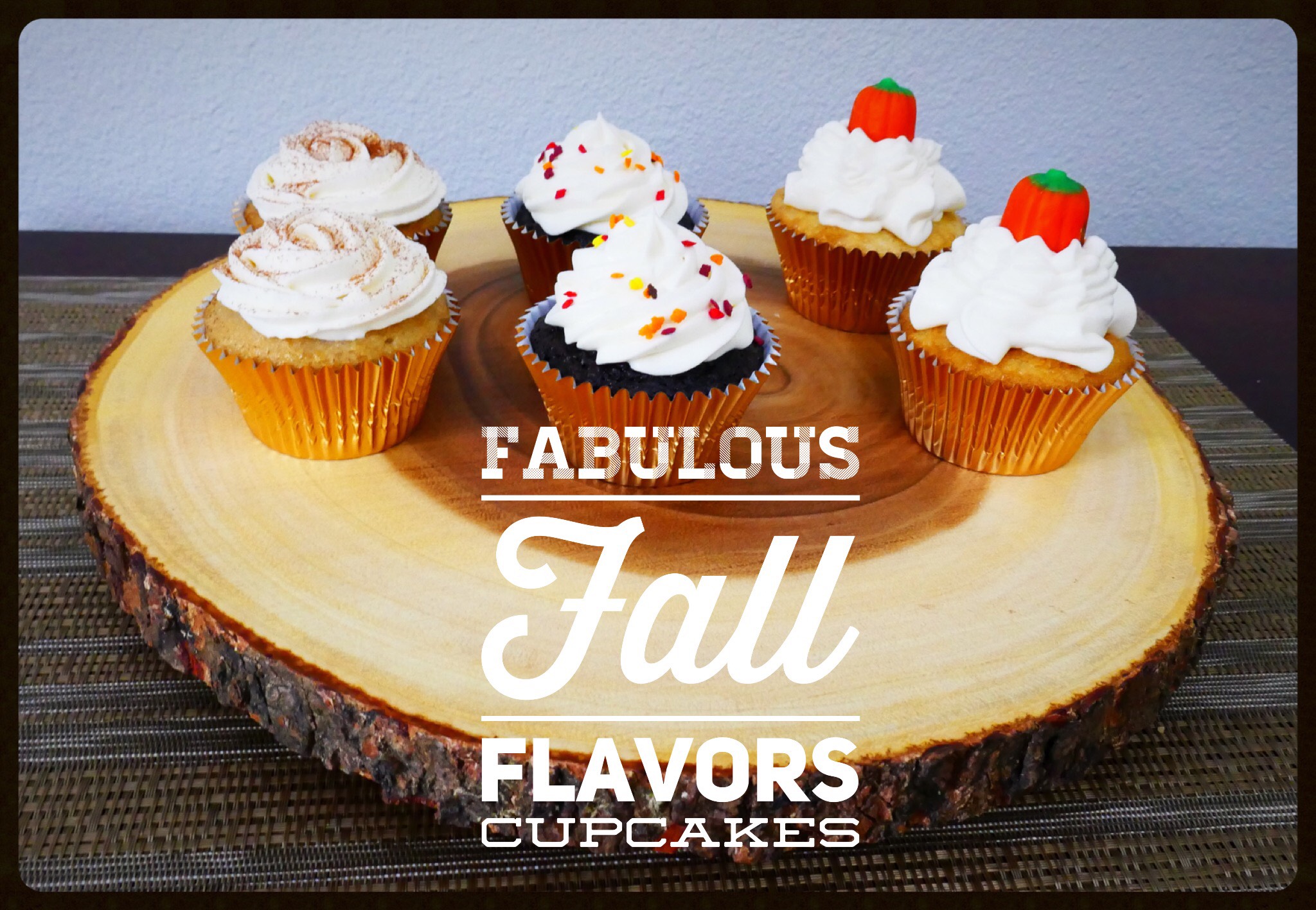 Fall brings many unique sights, sounds, activities and flavors that make this season a favorite of many. Autumnal flavors stand out and bring this wonderful season to all our senses. Baking is a favorite pastime to bring these flavors to life. Of course, my favorite baked item is cupcakes! This year to commemorate Fall I made 3 fabulous fall flavored cupcakes. Surprisingly, no pumpkin cake flavor either! Gasp-worthy, I know. See below for my 3 Fabulous fall flavored cupcakes.
I was asked to make cupcakes for a crowd of 80 for an October event. No theme or special requests this time. Cupcake freedom had me challenging myself to come up with something different and beautiful. I decided to go with the season of Fall for inspiration. To appeal even more to a crowd, I decided to make 3 fabulous Fall flavored cupcakes.
My Whipped Cream/Cream Cheese Frosting is my ultimate cupcake topper. It hasn't met a cake flavor it doesn't pair well with, so anything was game as the base to grace this fluffy frosting. Next stop for inspiration and flavor decisions was the baking aisle at the grocery store. Betty Crocker makes perfectly moist cake mixes and the variety of flavors is great too. I often use their mixes straight up, but for these fabulous Fall flavored cupcakes I was going to customize them a bit. The 3 cake mixes I brought home were: dark chocolate, vanilla, and butter pecan.
Cake 1: Vanilla Butterscotch. Vanilla cake mix substituting the water the recipe calls for with Flying Cauldron butterscotch "beer" soda. This is a butterscotch soda, no beer/alcohol involved. If you're a Harry Potter fan, you probably know about this delicious drink widely available for all muggles, witches and wizards to enjoy when outside the Wizarding World. I chose butterscotch soda because it reminds me of Harry Potter and the books and movies all evoke a definite feeling of Fall. The effect of the carbonation on the cake mix makes it super fluffy and delicious.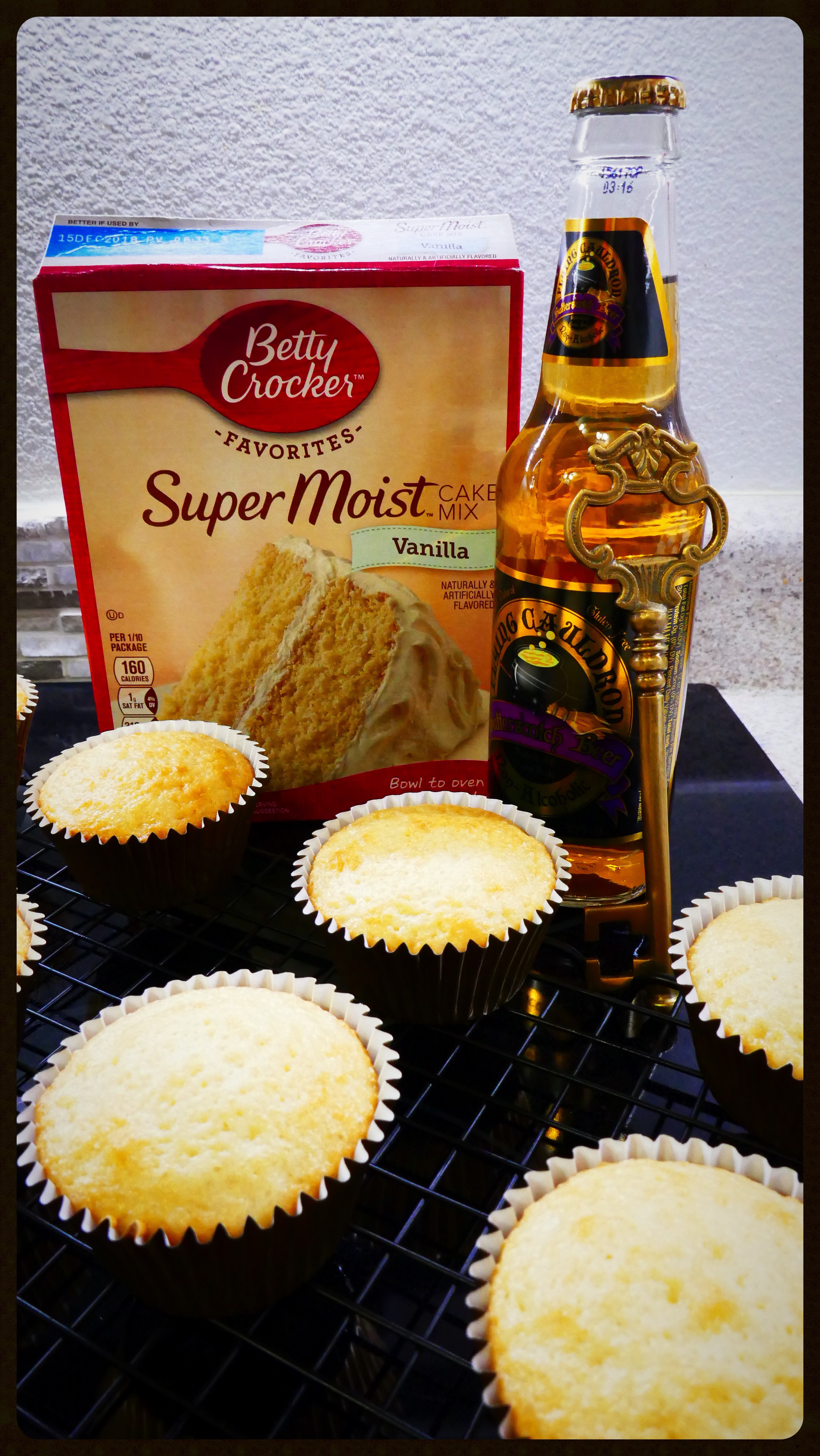 Cake 2: Dark Chocolate Pumpkin. For this cake I substituted half the oil amount with pumpkin puree and a dash of pumpkin pie spice. I know I said no pumpkin cake earlier, but this is more chocolate than pumpkin. I wanted it to still be a chocolate cake, but have a deep fabulous Fall flavor. The hint of pumpkin and a touch of spice worked so well to achieve this. Dark chocolate cake mix itself is one of my total favorites because of its deep chocolate flavor that isn't overly sweet itself. A perfectly fabulous fall flavored cupcake accomplished.
Cake 3: Butter Pecan. This mix is perfect without alteration. A little more cinnamon flavor seemed needed, but I decided to incorporate it in the decoration. A dusting of it atop the frosting rosette accomplished the fabulous Fall flavor and looks beautiful. It looks like a cinnamon sprinkled cappuccino. This cupcake was my favorite Fall cupcake achieving highest regard for beauty and flavor.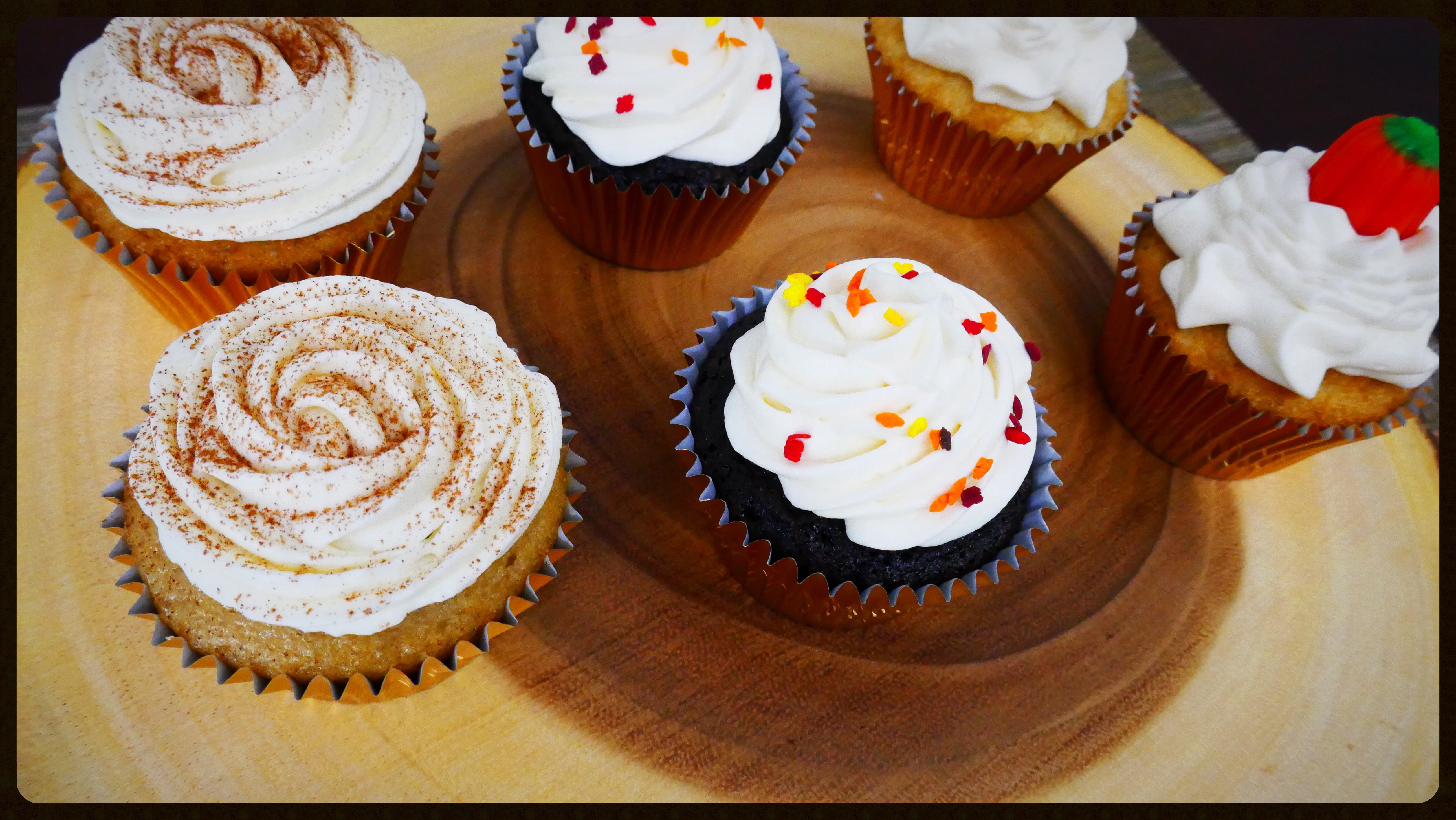 Gold foil wrappers were used for all the cupcakes. I find these wrappers to be classy and unifying for the large display I had. Each cupcake was topped with my whipped cream/cream cheese frosting and piped with the same tip, a Wilton 1M. Yes, the same tip piped each cupcake design above. Amazing what 1 tool can do with different techniques right? To bring more individuality and Fall looks to the 3 fabulous Fall flavored cupcakes, they each have their own topper of pumpkin candy, leaf sprinkles or cinnamon.
Well, these Fabulous Fall Flavored Cupcakes were a total hit! The cinnamon-topped butter pecan cupcake was the most popular. Which would you reach for? Are you going to make any Fabulous Fall Flavored Cupcakes? Any or all would be perfect at any Fall gathering or even for Thanksgiving dessert.
For more cupcake ideas see my other posts: Spiderweb Cupcakes, Bunny Cottontail Cupcakes.
For another Fall dessert, see (my favorite) Perfect Peach Cobbler.
Go forth and bake! Happy Fall ya'll!