Greek Seasoned Chicken and Potatoes
Greek Seasoned Chicken and Potatoes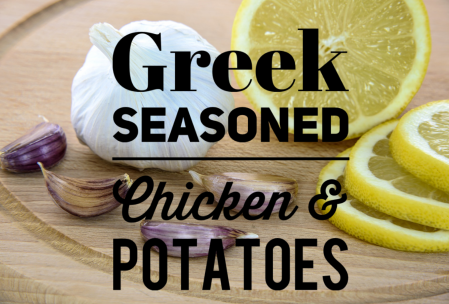 For most of my life I have loved Greek food. For as long as I can remember my aunt catered all our family gatherings from a local Greek bistro in my hometown. Maybe it's the nostalgia, or the bright and fresh flavors, but Greek is certainly my favorite type of food. It wasn't until recent years that I started to cook Greek-inspired dishes at home. Since then, Greek Pita Night has become a thing in our house similar to a Taco Tuesday. So now I'm sharing our Greek seasoned chicken and potatoes to help inspire you to try a pita night in your home.
If you're like me, you love lemon flavored foods. I've rarely come across a lemon recipe I did not like. The best though, are those with other Greek flavors and herbs. Something about the tang from a lemon and deep herb flavors really does it for me. Ever since I began loving Greek food, and contemplated cooking it myself, I thought it'd be difficult to achieve a complex flavor profile like those from restaurants. Not so at all. The ingredients are actually super simple and chances are you have many of them already.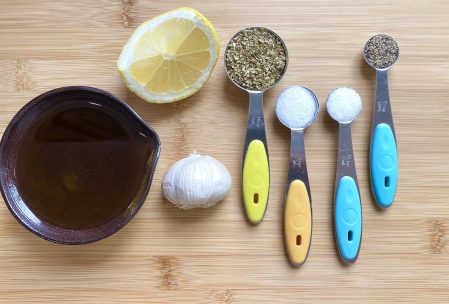 Greek Seasoned Chicken & Potatoes
1 pound diced chicken breast pieces or diced red potatoes
1 lemon juiced, and zested if desired
2 tablespoons olive oil
4 cloves garlic
1 tablespoon dried oregano
1/2 teaspoon black pepper
1 1/2 teaspoons salt
In a large container combine all ingredients above and mix to create a dressing. Add in diced chicken breast pieces and toss to combine. Once all chicken is coated, cover tightly and refrigerate. Allow to marinate for up to 5 hours. Using tongs, transfer chicken to heated skillet and cook through, this should take less than 10 minutes. Discard any leftover dressing from marinating container.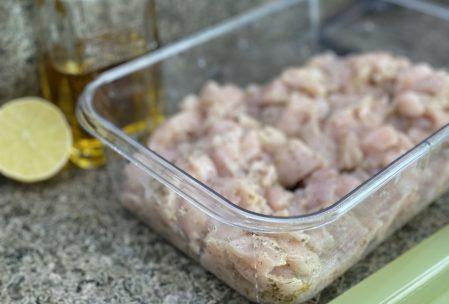 Once chicken is cooked, serve buffet style with pita bread, hummus, feta cheese, kalamata olives, spinach, sliced cucumber, tzatziki sauce, and tomatoes, for everyone to create their own pita.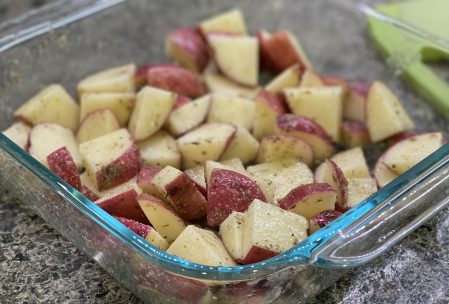 Now for the potatoes. Follow the same recipe and marinating process above, swapping diced red potatoes for the chicken. Preheat oven to 375. Spray a sheet pan or glass baking pan with nonstick spray. Spread marinated potatoes in an even layer on the pan. Bake for 30 minutes or until potatoes are tender. Top with feta and lemon zest if desired and serve as a yummy side dish to chicken pitas.
That is what we call a delicious dinner. Don't let the marinating time dissuade you from trying this recipe. It is truly worth the time and planning for the chicken. The potatoes can forgo the marinating though if you're trying to throw them together last minute. Try this out on a weekend or day off and you'll be glad you did.
To make it more friendly for a weeknight meal, I marinate it and cook it over the weekend and just reheat the chicken with some more oil and lemon juice in a skillet. The rest of the pita accompaniments are pantry or fridge items easy to set out for dinner time too. Having a fresh and delicious meal during a busy work week doesn't have to be hard, just plan to have this ahead of time and thank me later.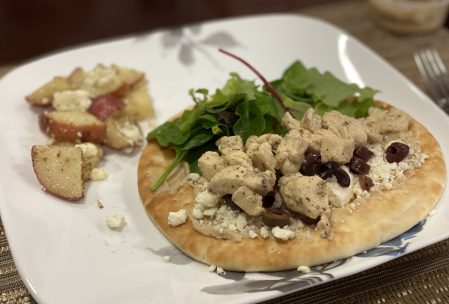 All this talk about Greek seasoned chicken and potatoes is making me hungry. I am already looking forward to the next time I'll be making this.
If you give this recipe a try come on back and leave us a comment what you thought. If you're looking for more of our favorite recipes see our other posts 3 Ingredient Easy Asparagus and Super Simple Crockpot Recipe List.