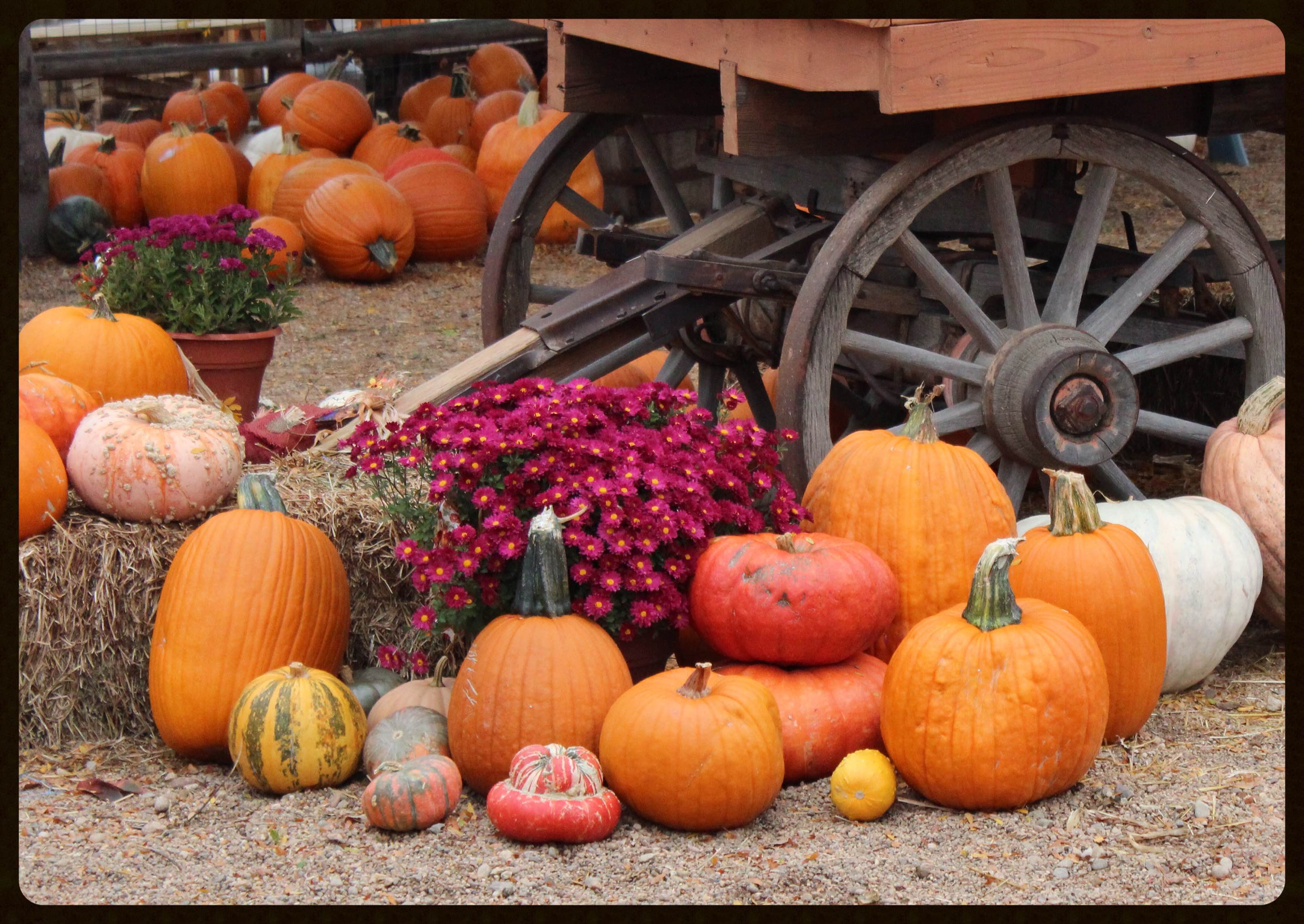 Have a Happy Halloween
Have a Happy Halloween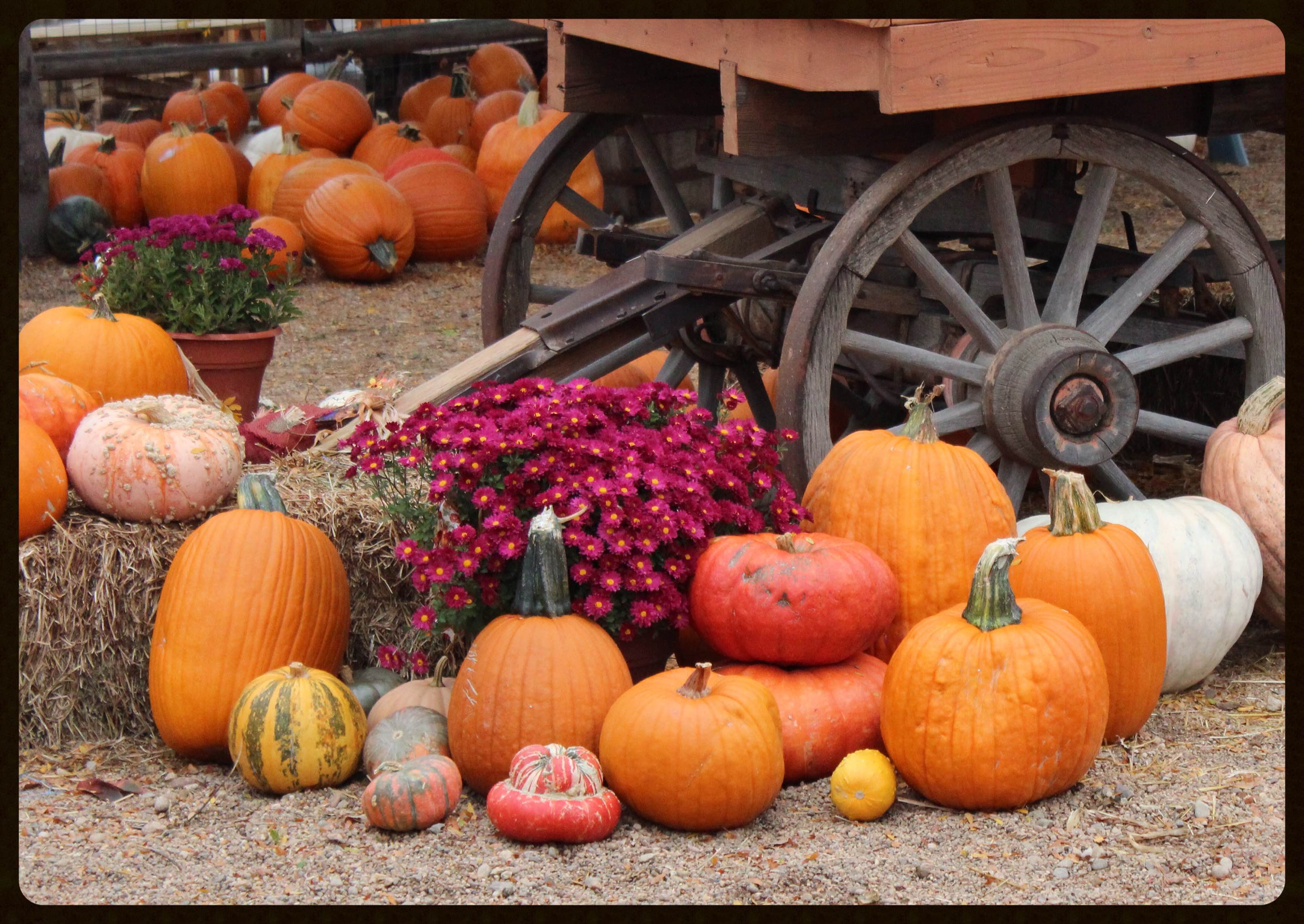 Happy Fall to you! This is the first year I have truly experienced the feeling of Fall. Growing up in the arid part of the country didn't give the full feeling when Autumn hit. My whole life I heard people comment about missing the changing of the seasons. I always defended the desert territory since it was my home. Now I understand what they meant. The colors. The moderate weather. The smells in the air. The farmer's markets. It is all comforting and amazing to witness.
The first Fall holiday is many people's favorite. Halloween. Dressing up. Passing out candy. Attending or hosting parties. And testing the limits to see how creepy or scary you can become.
Honestly, the world is scary on its own without dedicating a day to celebrating it. Remember the twerking girl that caught fire video? It is exactly as it sounds, a girl catches fire and is terrified screaming when the video ends. That horrifying scene went viral with over 18 million views. Turns out it was a spoof produced by Jimmy Kimmel and a professional stunt woman in a controlled environment. No one was harmed. He did it as a statement that our society has lost a lot of its conscience. We crane our necks toward the grotesque with little concern other than feeding our own curiosity.
Time to make my rant there relevant…
Just because it's Halloween doesn't mean scary is necessary. There are ways to match the trends while maintaining friendliness. The best depiction I've come across this year came at my daughter's elementary school. The school was having a door decorating contest for Halloween. My daughter's kindergarten teacher was trying to come up with something easy, clever and Halloween-themed without giving in to the zombie creepy craze. This is what she came up with: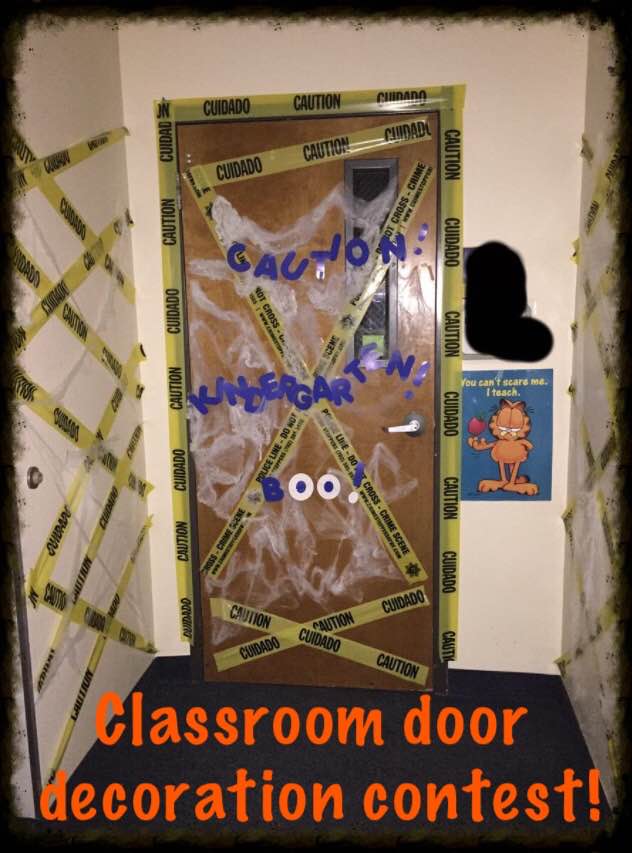 There is a little glare on the wording, it says: CAUTION! KINDERGARTEN! If you can imagine a room of 30 5 year-olds, it is an appropriate warning. Bravo to her for being funny and punny and still spooky. Kids, parents, and teachers all love it!
At home we like to enjoy all we can before the colder weather hunkers people down. I like to think of this time as a period of adjustment. Following the freedom of summer we get to be inside and together with those we love more.
We like to take advantage of the days by doing family activities. Some of my favorite are hand print and footprint crafts. It's a simple way to commemorate childhood and have a keepsake for holiday decoration.
Through past experiences I realized that footprints are the easiest with babies. Trying to paint little stubby fingers that want to smear paint everywhere is less a success. These painted piggies turned out adorable.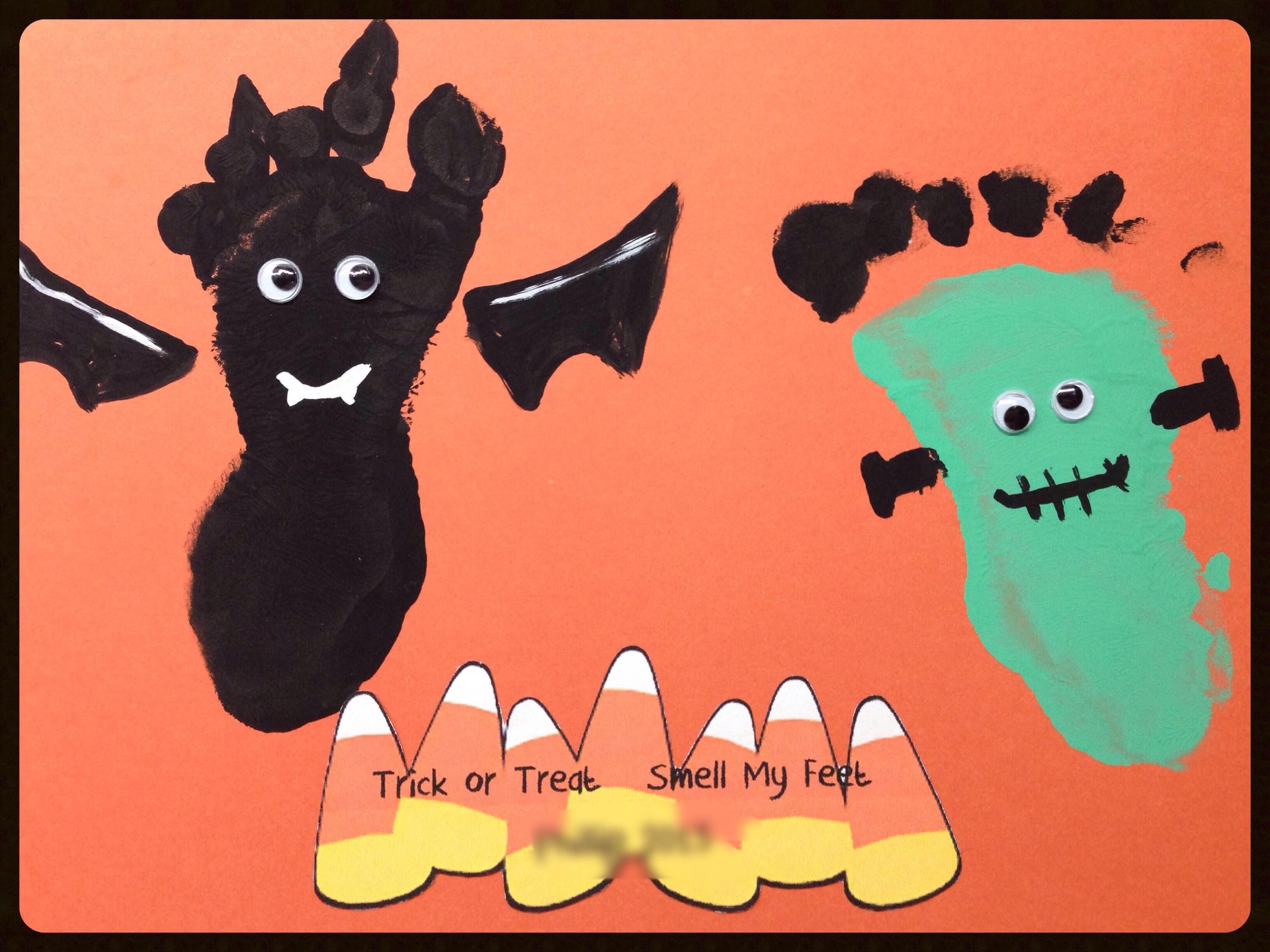 For older children hand prints are an option. Even if they are tempted to revert to finger painting, just explain that they can after the prints are captured on the canvas you're converting into a masterpiece.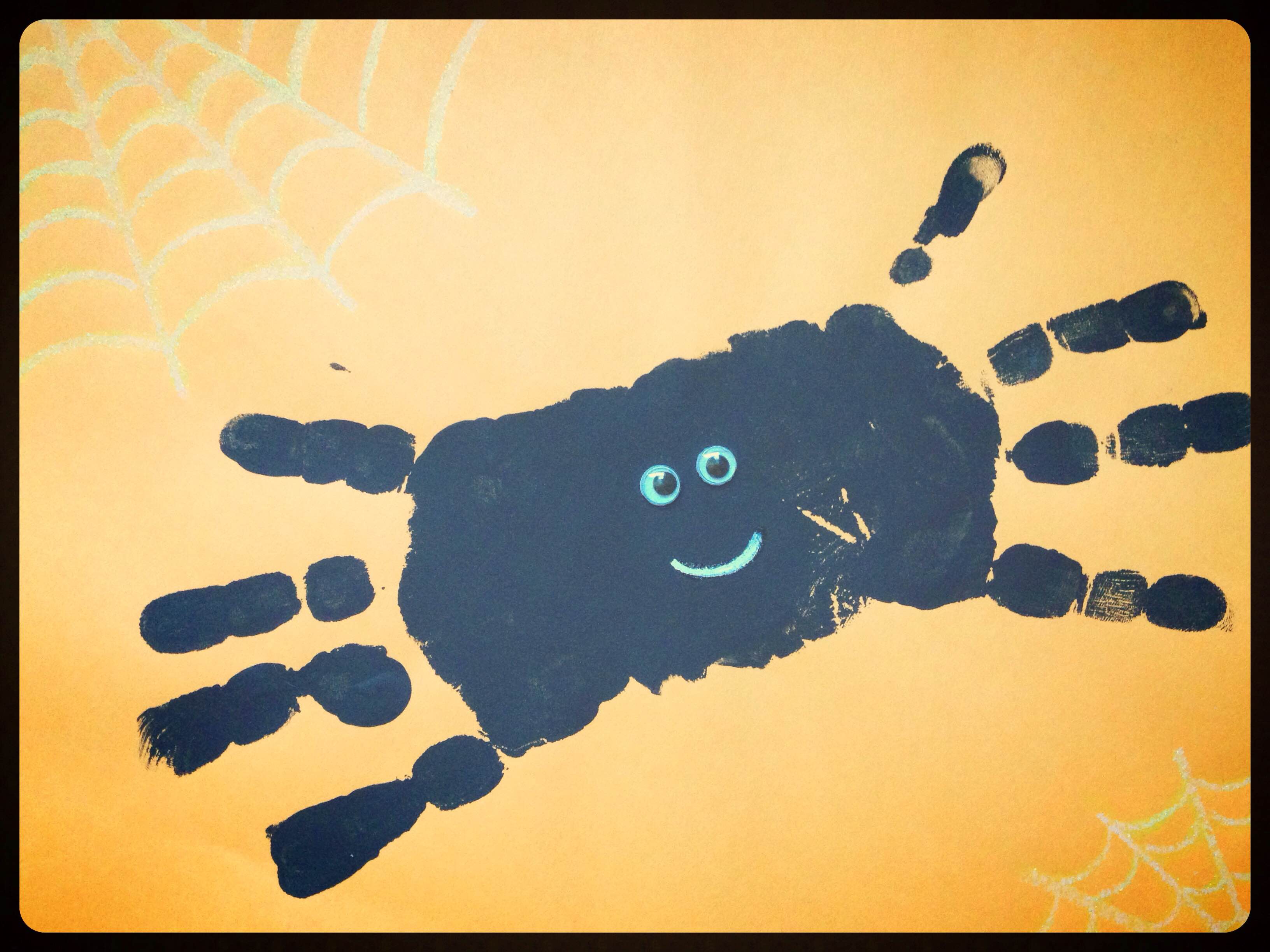 Attending local farms is a new favorite. I've visited temporary pumpkin patches in the city. They certainly were good for photo ops and some fun, but nothing beats the real deal. It may be the first time we've done it, but a family jaunt through a corn maze is going to be our new tradition. A local parenting magazine steered us toward the farm we went to is a local favorite providing laughs and memories that will last a lifetime. If you still seek something scary there are haunted corn maze options as well.
To create your own scare, try leaving your electronics in the car!
Gasp!
The horror!
I thought this blog was about friendly Halloween things!
It is it is….keep reading…
People survived without phones before, you and your family can too for a little while. We brought only the camera to the farm, leaving phones in the car. Cutting out electronics is one way we like to approach all our family expeditions.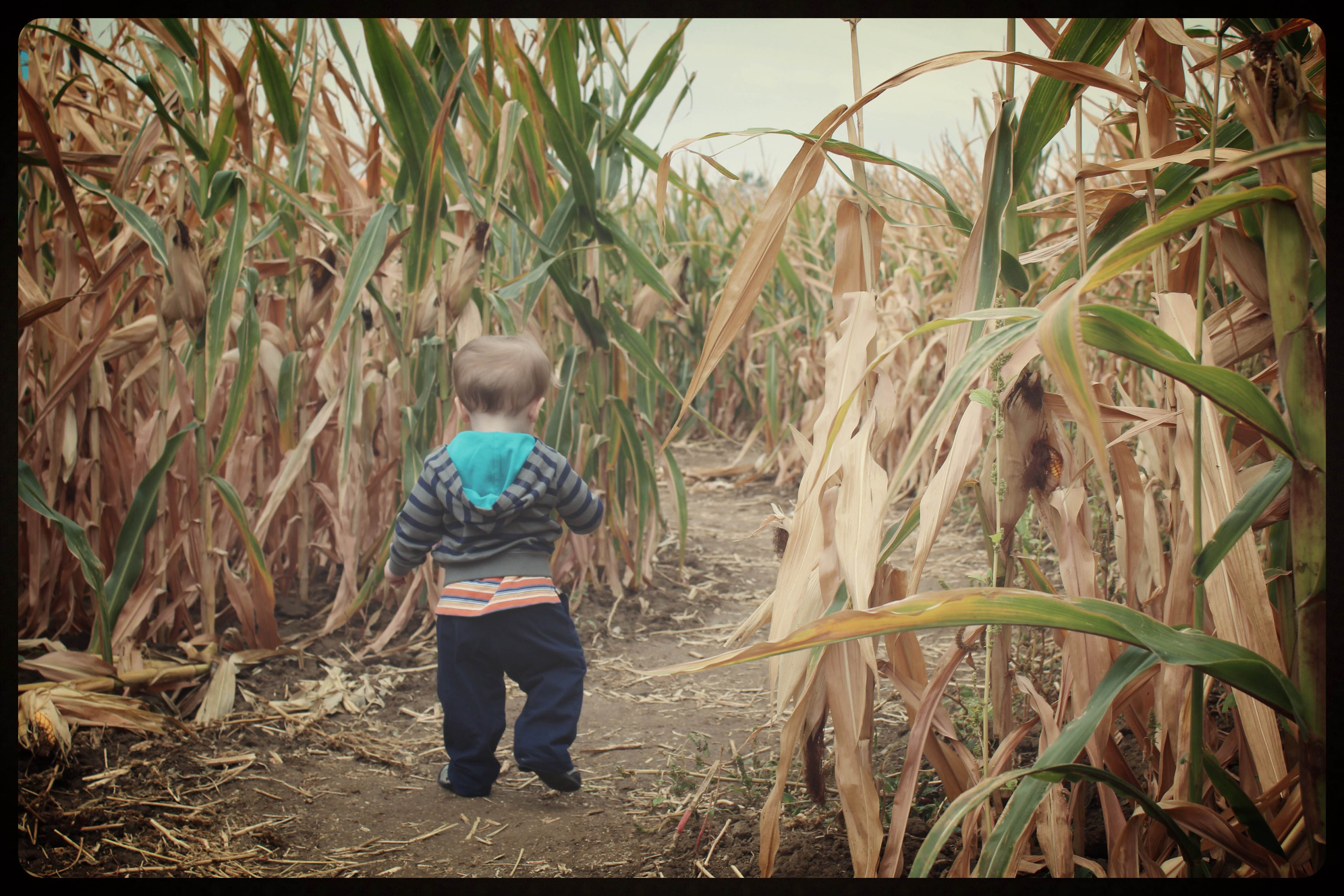 Come Halloween night of course we take the kiddos trick or treating! I like to take my children out to just a few houses I am familiar with such as family and neighbors. No toddler (or their parents) needs a full bucket of candy anyway. Simple and sweet and time to just be slower at home and enjoy the sights of the spooks that come to our door.
Whatever your way to celebrate the season and Halloween, ultimately, nothing compares to the joy of counting up your candy collection at the end of a trick or treating spree.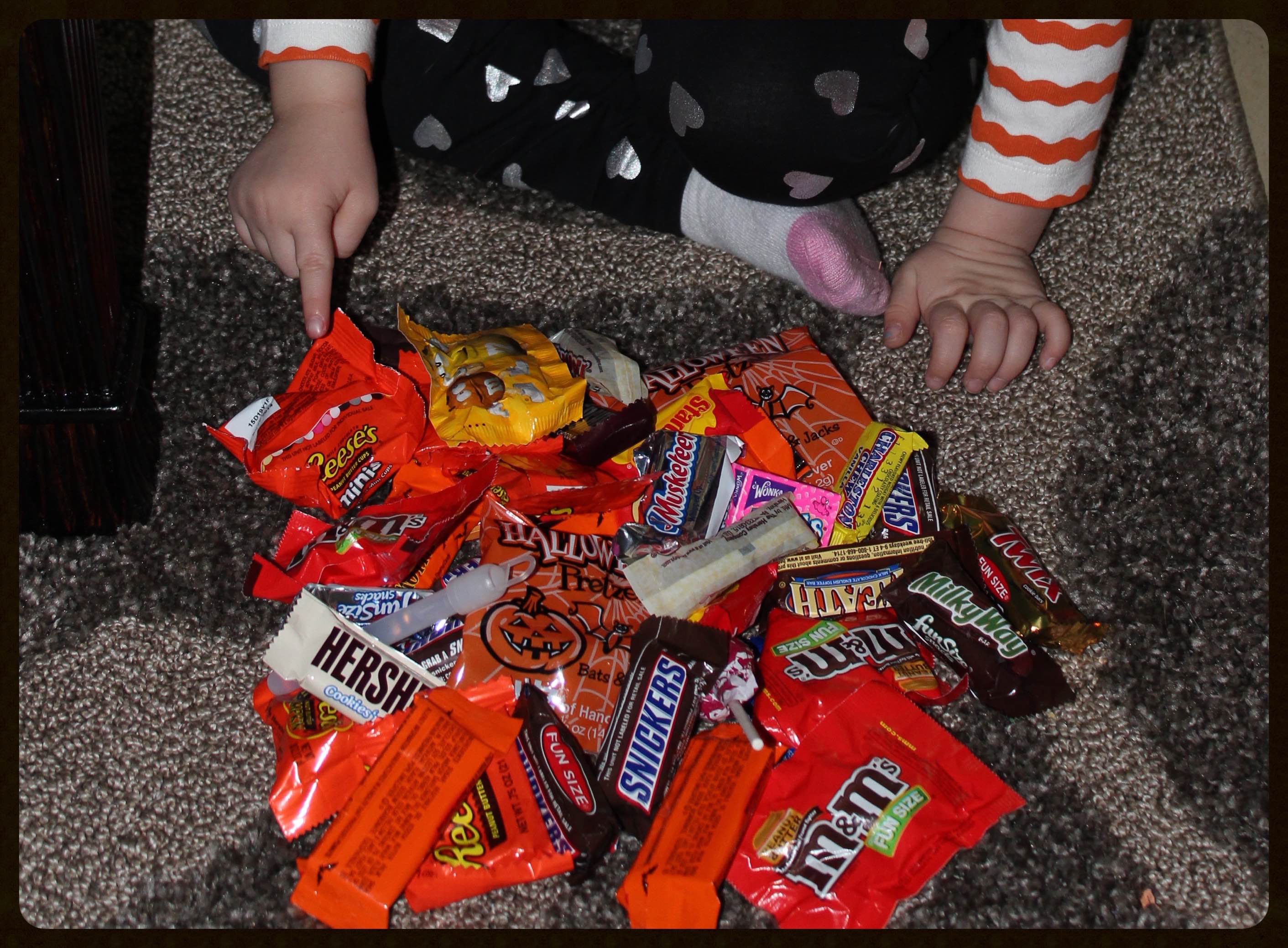 Zombies and mummies and bloody brides (oh my!) seem to have taken over the population of Princesses and Firefighters knocking on our doors. Still I hope that underneath those masks and costumes are people still with helpful hearts and hunger for good candy.
Whatever the feelings that Fall brings you, make it a positive one.
Happy Halloween!
Any traditions you do for Halloween? What do you think of the rise of the zombie craze? Let us know!