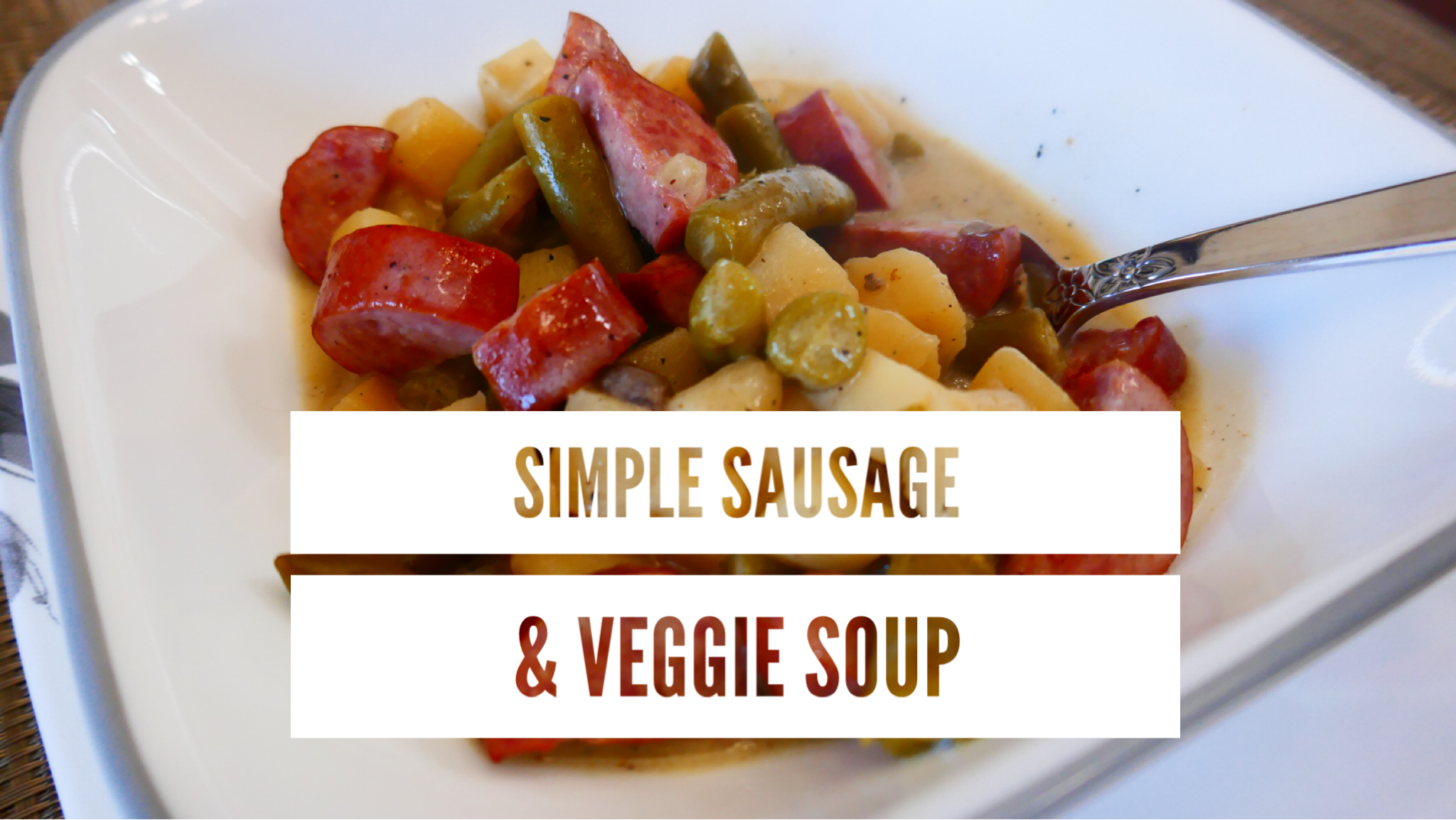 Simple Sausage & Veggie Soup
Simple Sausage & Veggie Soup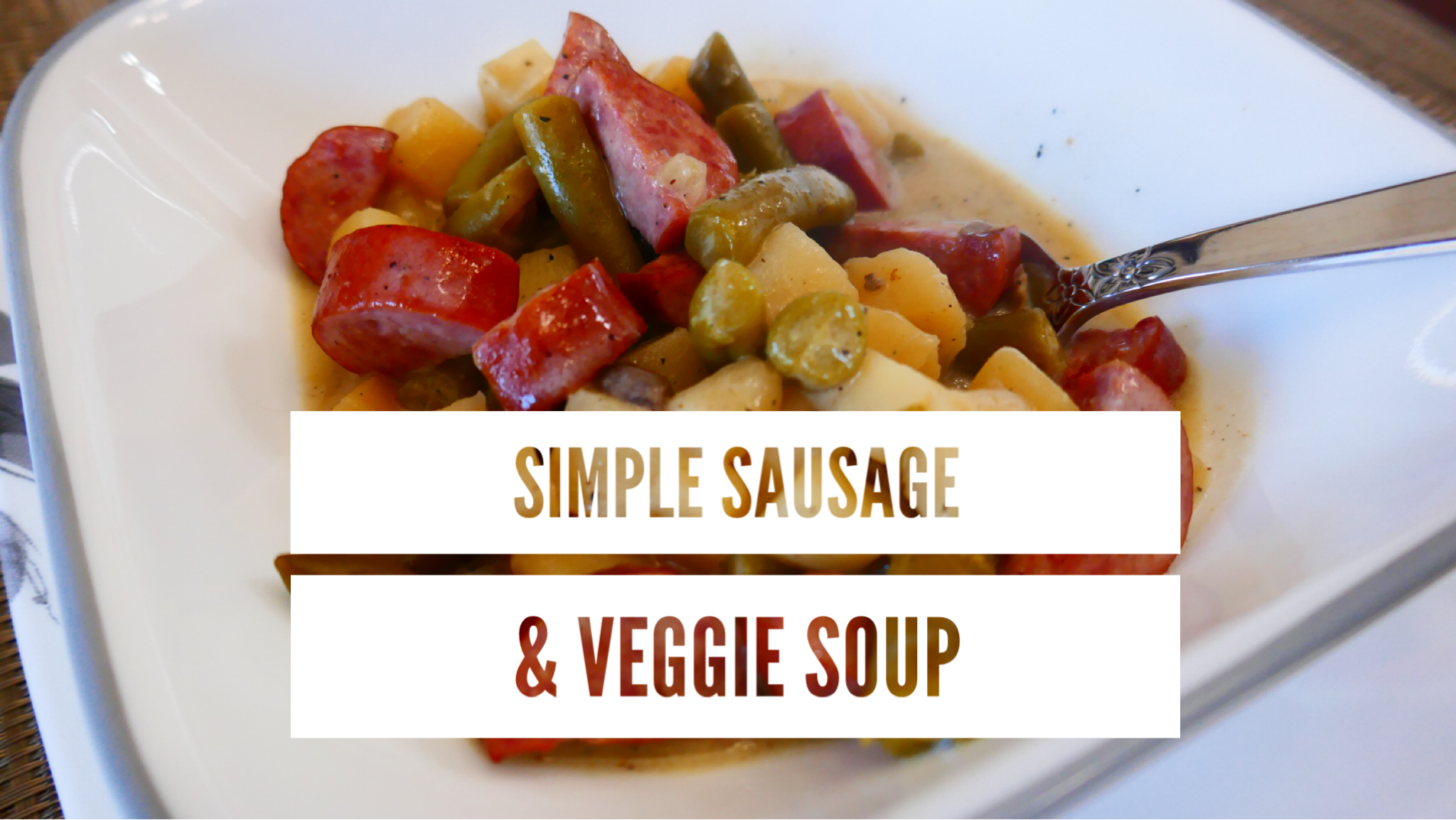 Making soup is almost as good as eating it. It is comforting and delicious any time of year, but especially during the cold season. This turn of season I aimed to try something new. New, and simple. Hearty was on the menu too. I found a bunch of ideas online with sausage, canned beans and canned potatoes and thought those ingredients sounded perfect. A few combined ideas online mixed with my preferred seasonings brought about this simple sausage & veggie soup.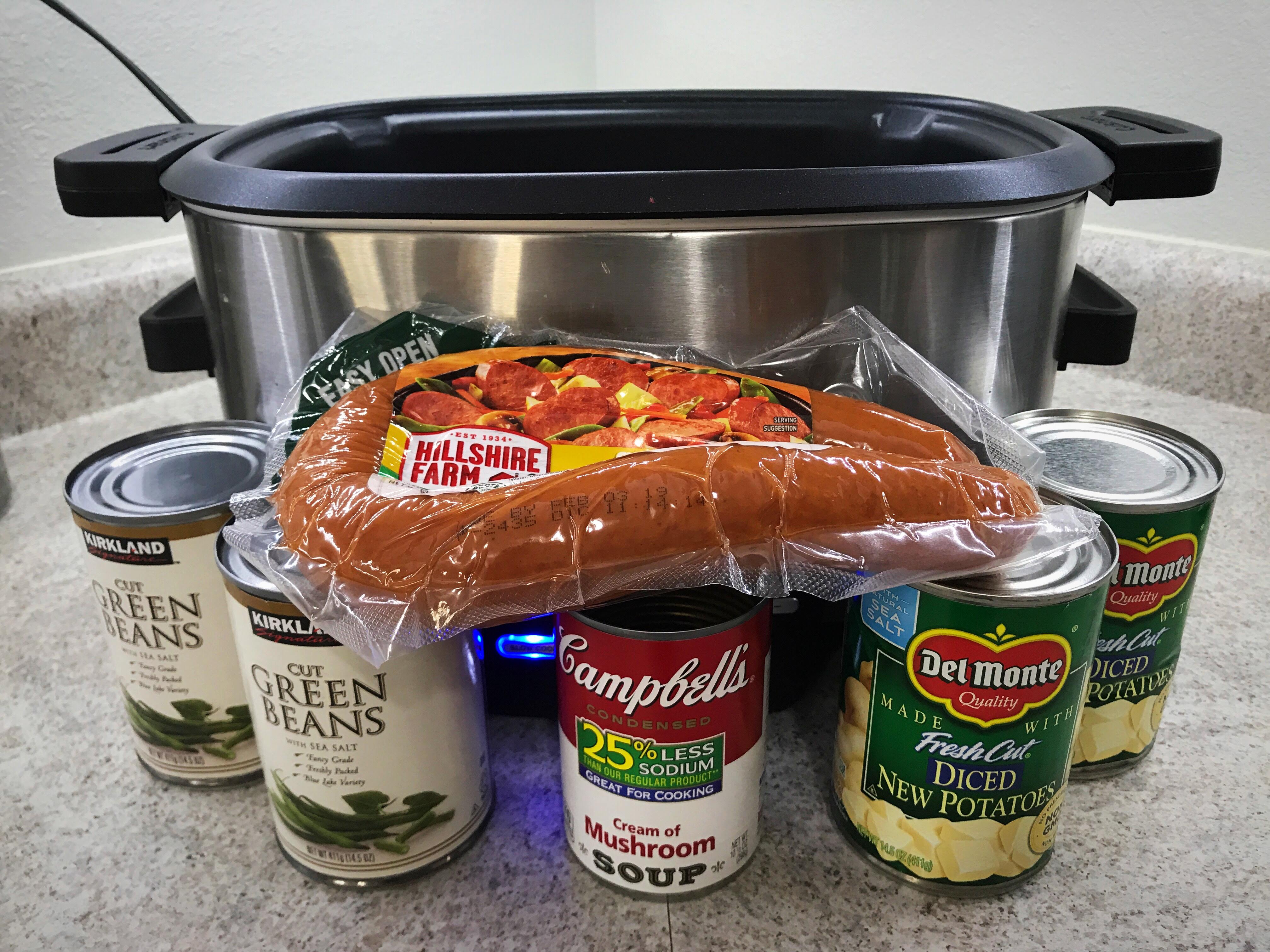 Soup can be made out of most anything, but I find sometimes a lot of slicing and dicing goes into the preparation of it. I love cooking, but occasionally easy mode is what I need. The majority of the ingredients for simple sausage & veggie soup are pantry items. Talk about convenient! This simple sausage & veggie soup could be whipped up in no time, even if you had to run to the store for the smoked sausage.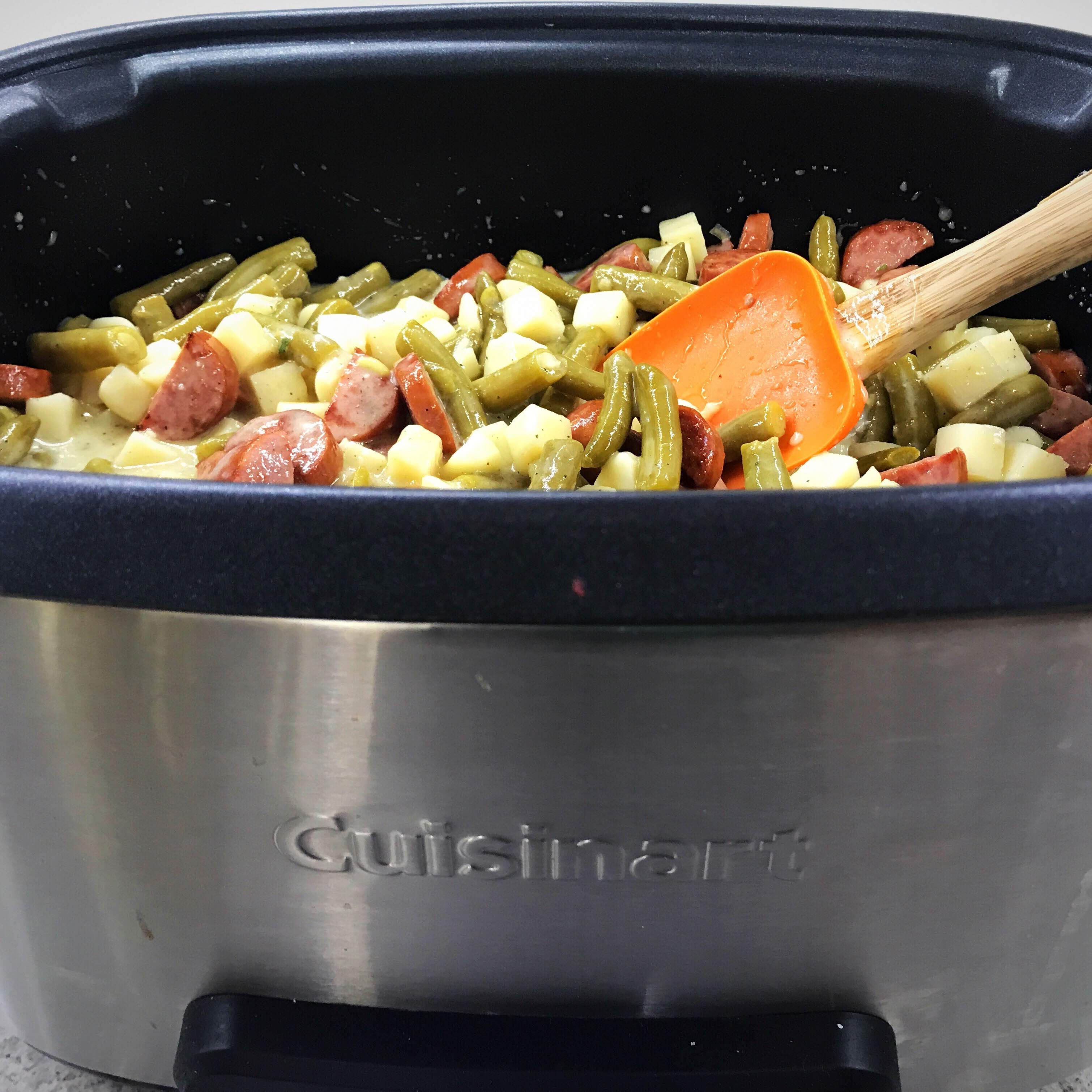 Simple Sausage & Veggie Soup
2 cans green beans
2 cans diced new potatoes
1 can cream of mushroom soup
1 package smoked sausage, kielbasa or andouille style
1 tablespoon worcestershire sauce
1 tablespoon diced onion
1/2 teaspoon garlic
1 teaspoon pepper (or to taste)
shredded cheddar optional for serving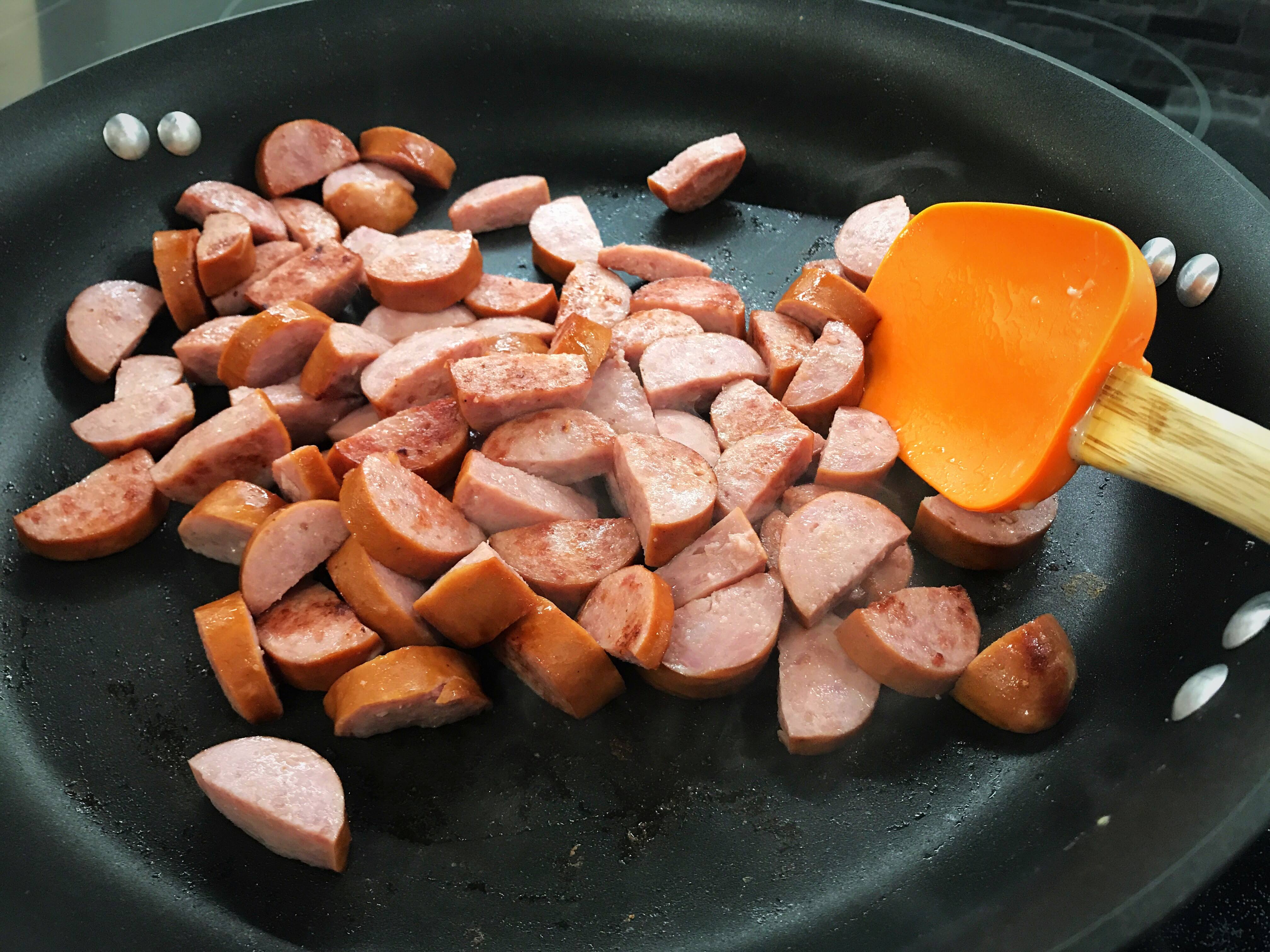 Open all cans, only draining one can each of green beans and potatoes. This will make your liquid more flavorful. If you'd like more broth, add all cans to pot or crockpot undrained. Empty all cans to crockpot or large cooking pot. Add seasonings, onion, and garlic. Slice your sausage into bite sized pieces. Grill sausage in a dry pan for a few minutes allowing to brown. Put sausage into the pot with the veggies. Use the worcestershire sauce in the pan to deglaze and scrape up the browned bits from cooking the sausage. Add sauce and drippings to the pot. Cook on low heat until heated through, about 3 hours. Serve with cheddar cheese and french bread. Enjoy simple sausage & veggie soup!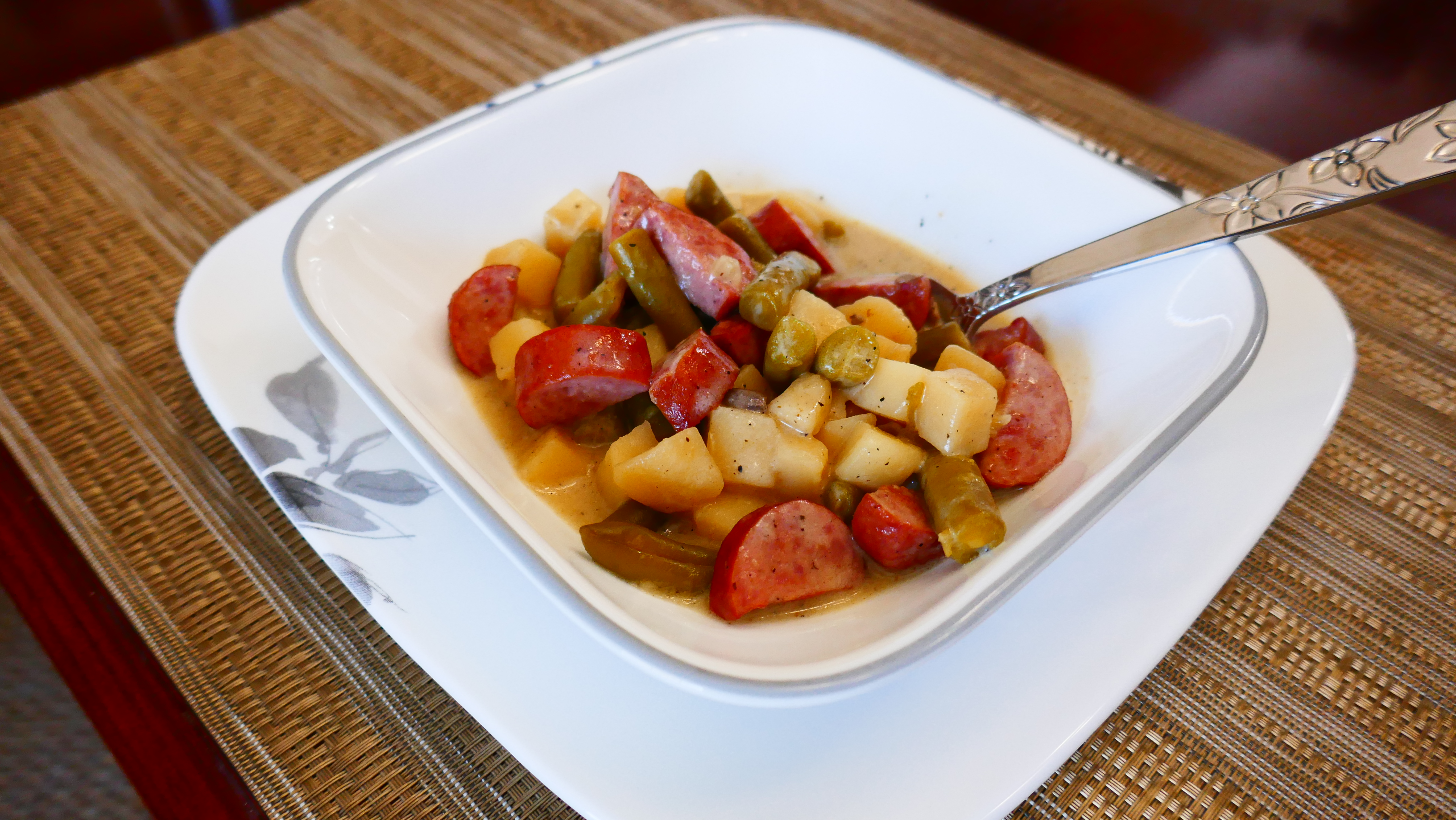 The first time I made this I went a little heavy on the pepper, but the above amount is just right. Adjust other flavors as you desire. The addition of the worcestershire sauce really made for a deep flavor and brought out the meaty sausage flavors. Using cut green beans and potatoes took care of tons of prep work for me. It's so simple I bet the kids could even make it all the way up to frying the sausage without my help! Next time I'll have to try that, talk about even more simple!
Speaking of kids, this soup went over well with them too. The little man called it "hot dog soup." Whatever he called it, he ate it right up! This new soup is now added to our list of family faves. To see more soup and crockpot recipes see these other posts: Super Simple Noodle Soup, and Super Simple Crockpot Recipe List. Stay tuned for an upcoming post of our favorite and quick weeknight dinners!