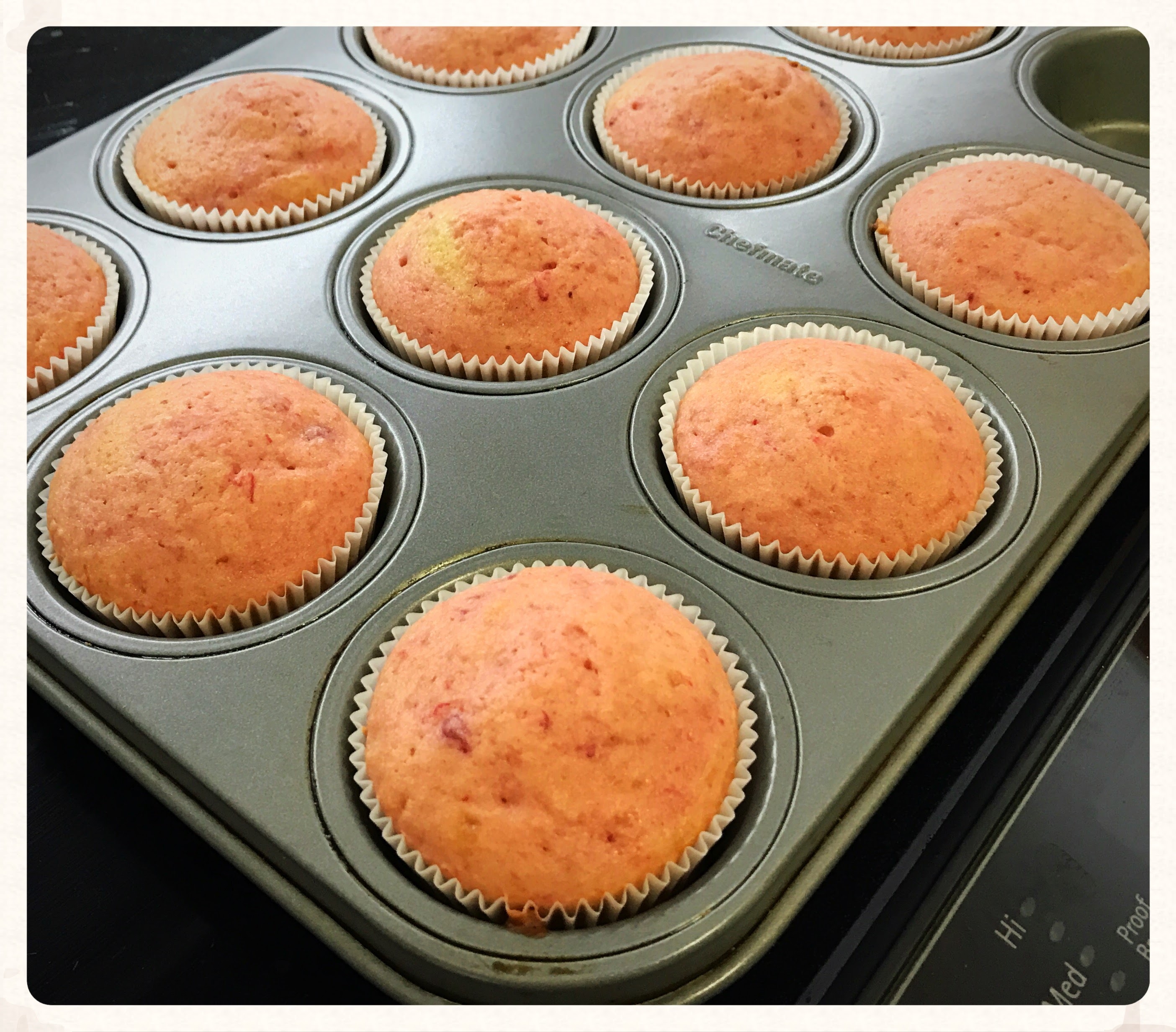 Strawberry Cake 2 Ways: Muffins and Cupcakes
Strawberry Cake 2 Ways: Muffins and Cupcakes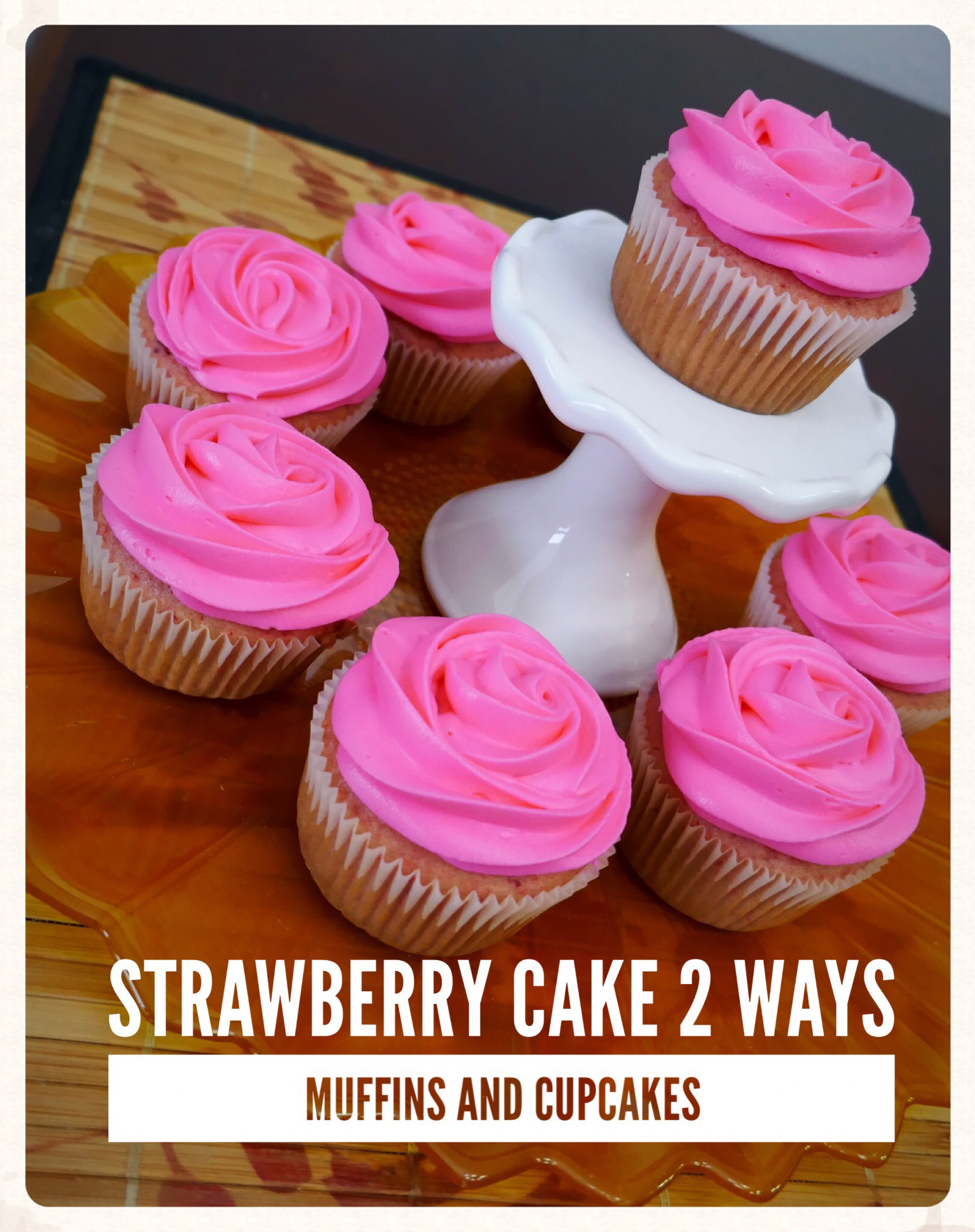 Spring is here! The bright colors and seasonally changing fresh fruits and vegetables were only part of the inspiration for my next post. I took a note from my last blog, Blueberry Muffins 2 Ways and decided to see if I could offer another variety of fruity-flavored confection. By special request I aimed for strawberry cake. Feeling extra inspired, I made my new strawberry confection 2 ways. Why stop at one right? I created one strawberry cake recipe, preparing it two ways.
When I received the request from a friend to make strawberry cake I had a slight twinge of fear. I tried to add fresh strawberries to a white cake recipe once and it did not go well. Adding fruit to baking is a challenge because of their water content. The added liquid can alter the chemistry of the whole batter. The results are an unflattering, unappetizing baking disaster. I knew fresh strawberries were out, frozen was likely worse, and I dared not think of freeze dried strawberries too long. I mean, have you ever eaten those things?! They are certainly not my taste. Those dry, crunchy things feel like chalk to me. No. Thank. You. Not in my kitchen! Besides, I theorized, if they are so dry they would be likely culprits to suck the moisture right out of the batter for themselves. Making another baking disappointment for myself. Nope. I was not going to set myself up for a cake-tastrophe!
My solution was simple due to some convenient timing. I just made blue blueberry muffins! This recipe featured in my other post utilized canned pie filling for the fruity ingredient. The recipe for the blueberry muffins was so amazing and truly delivered on the flavor. I knew it was my best plan to make a strawberry cake recipe. Even better… it worked! Using the canned strawberry pie filling is super effective, convenient, and, might I add, ingeniously delicious. Read on for my strawberry cake 2 ways as muffins and cupcakes!
Strawberry Cake
3/4 cup melted butter
1 cup sugar
2 beaten eggs
2 teaspoons baking powder
1/2 teaspoon salt
1/2 cup strawberry pie filling
2 cups flour
1/2 cup milk
Preheat oven to 375 and line cupcake tins with liners.
Melt butter. Mix in sugar.
Add eggs, baking powder, and salt. Mix.
Add 1 cup of flour to your mix along with half the milk. Mix then add the next cup of flour and remaining milk.
Add strawberry pie filling and mix. This will turn your batter pink.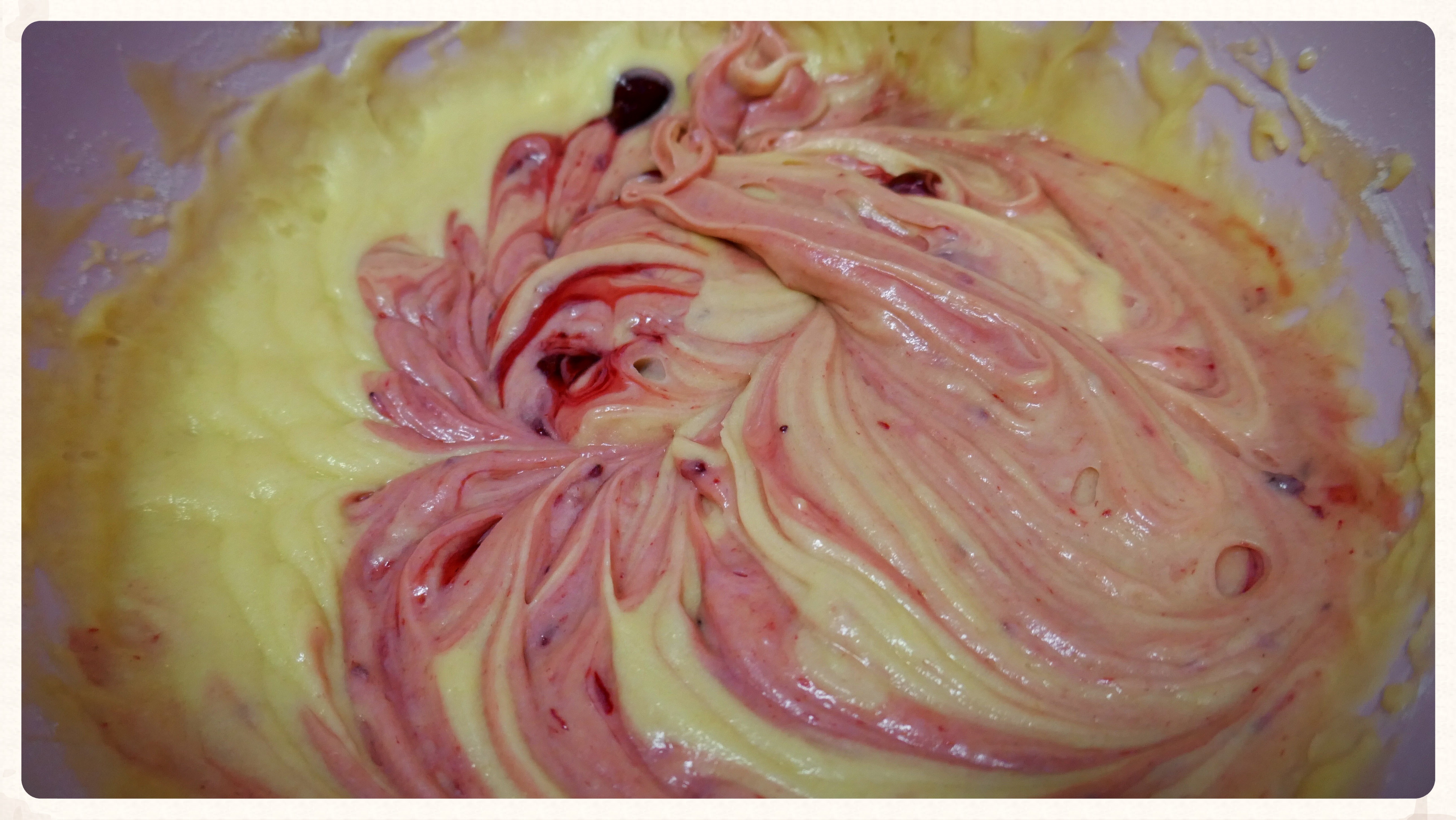 To make strawberry cupcakes:
Make batter as above. Fill cupcake liners 3/4 full. Bake for 18-20* minutes.
Remove from oven and cool in pan for a couple minutes. Remove and cool completely on a wire rack.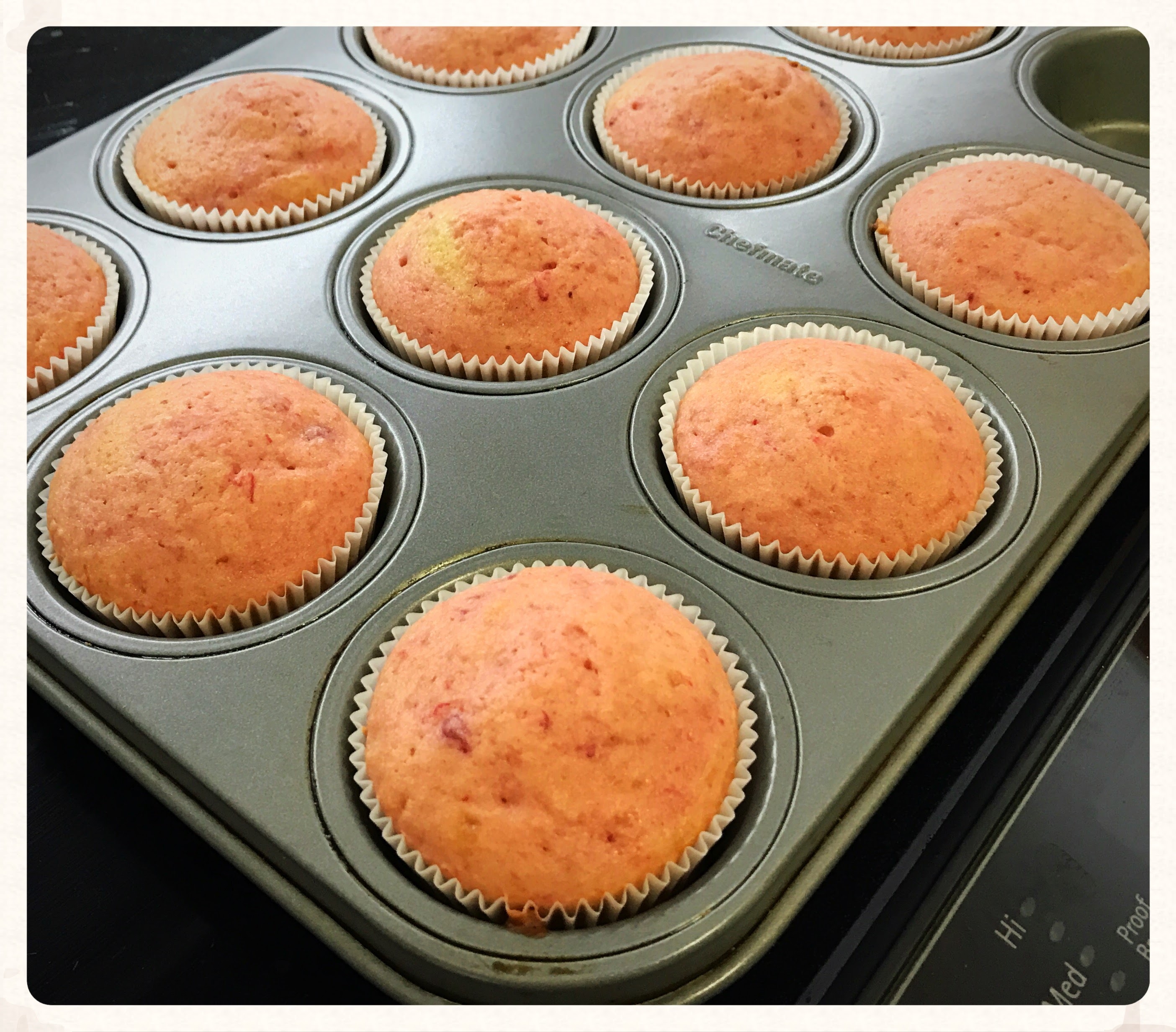 Frost with frosting.
My favorite frosting is a hybrid whipped cream-cream cheese frosting. It is flavorful, not too sweet, airy, and the perfect compliment to any cake. This frosting recipe post coming soon!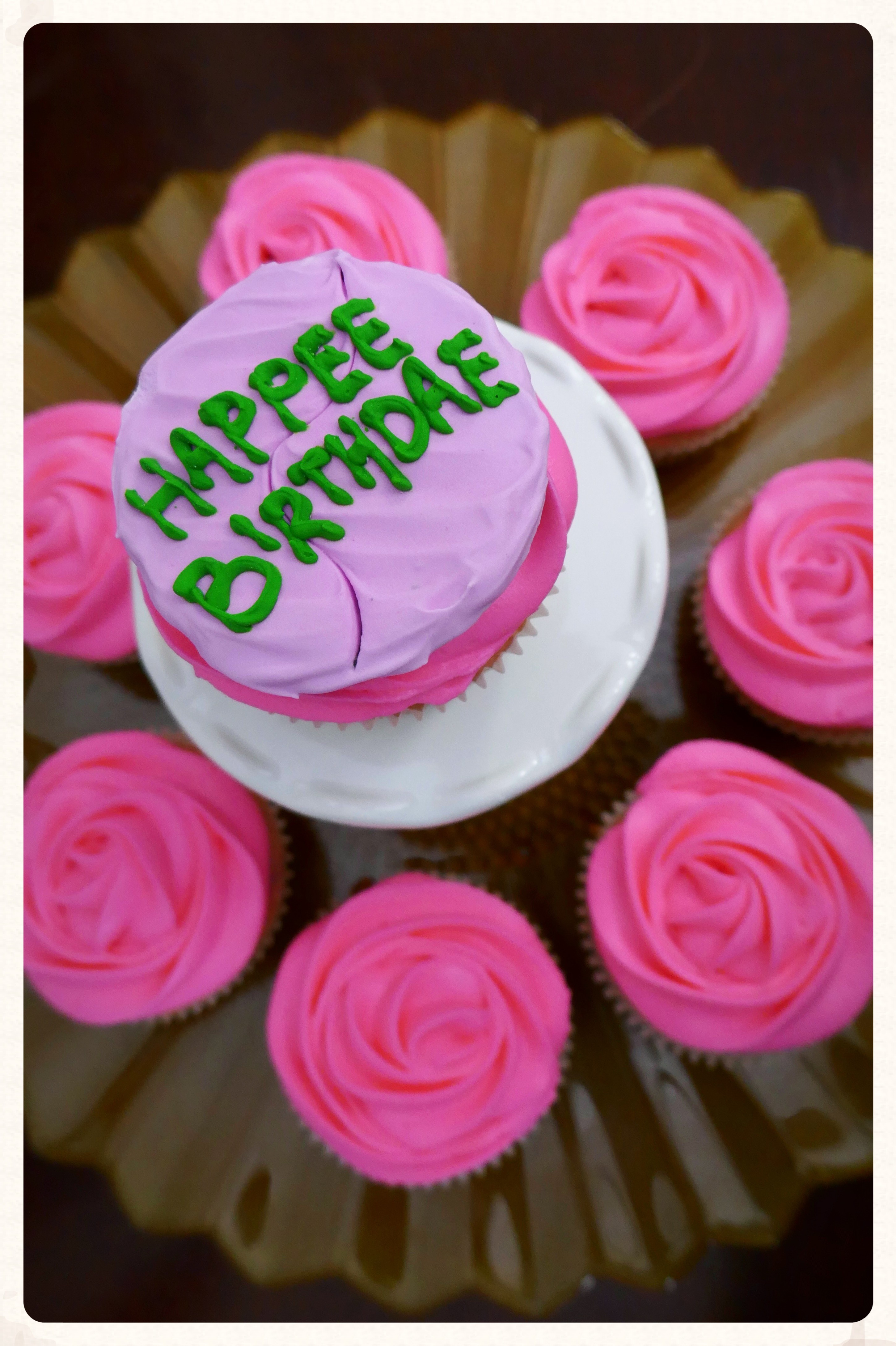 This Happee Birthdae topper inspired by Harry Potter was ordered from the Etsy shop KakesbyKristi. Check her shop out! I have never seen such detail and received so many compliments on these toppers, especially paired with the special request strawberry cake for the birthdae girl.
To make strawberry muffins:
Prepare batter recipe as above. Do not bake, add crumb topping as follows:
Crumb topping:
1/2 cup sugar
1/3 cup flour
1/4 cup softened butter
For the crumb topping, mix the sugar and flour and cut in the softened butter.
Fill cupcake liners 3/4 full. Sprinkle crumb topping over the filled batter cups. Bake for 25* minutes.
Remove from oven and cool in pan completely.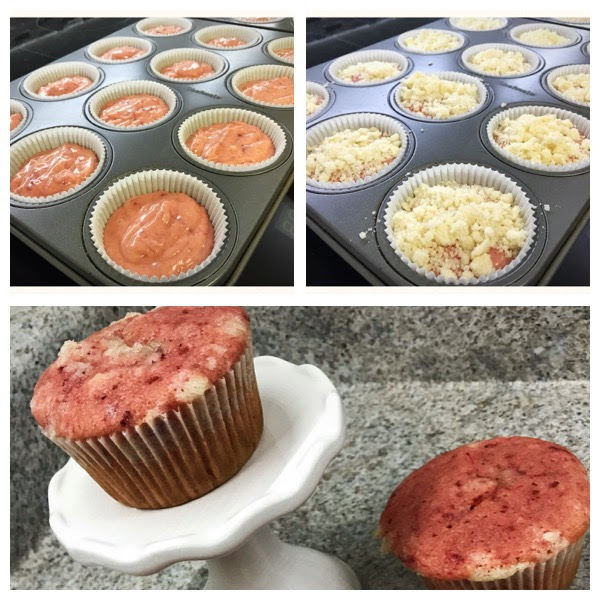 Enjoy!
There you have it. Strawberry Cake 2 Ways: Muffins and Cupcakes! Before trying to create these recipes I do not believe I ever had a strawberry muffin. Next time I might try it with the crumb topping from the America's Test Kitchen Blueberry Muffins featured in my Blueberry Muffins 2 Ways post. That crumb topping is super delish and the lemon element would really brighten this strawberry muffin recipe.
Give this strawberry cake 2 ways a try. Nothing beats trying new sweets and time to enjoy them and Just Be Slower. For one of my other favorite fruity treats see my Perfect Peach Cobbler.
Let me know what version you try, or if you even create your own! Are there any other flavors of cake I should try? Let us know in the comments. We would love to hear from you.
*Oven times and temperatures may vary. I do all my baking in the Mile High City so elevation baking is a factor. I've found lower elevations may need to alter the length of time in the oven.