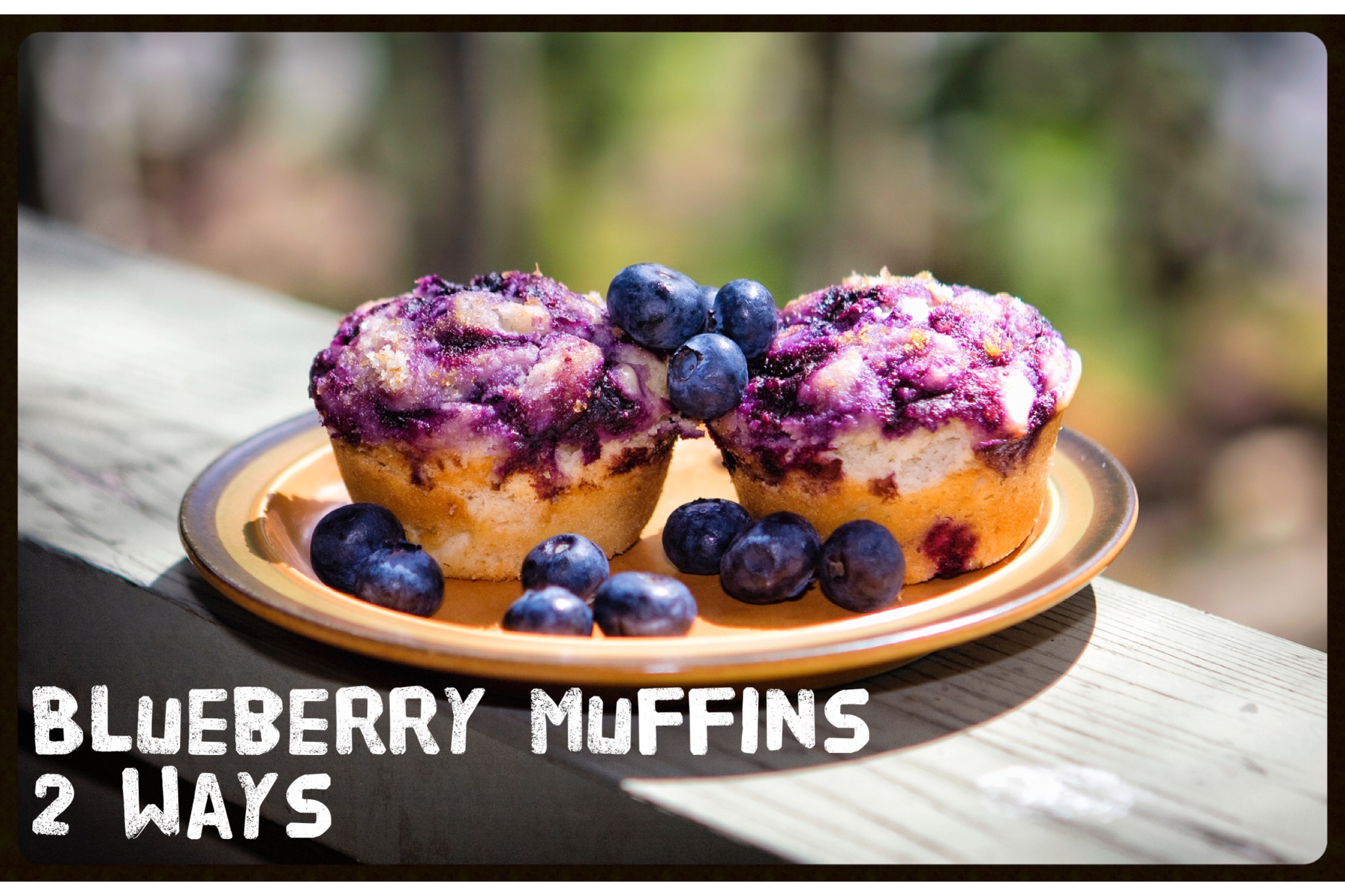 Blueberry Muffins 2 Ways
Blueberry Muffins 2 Ways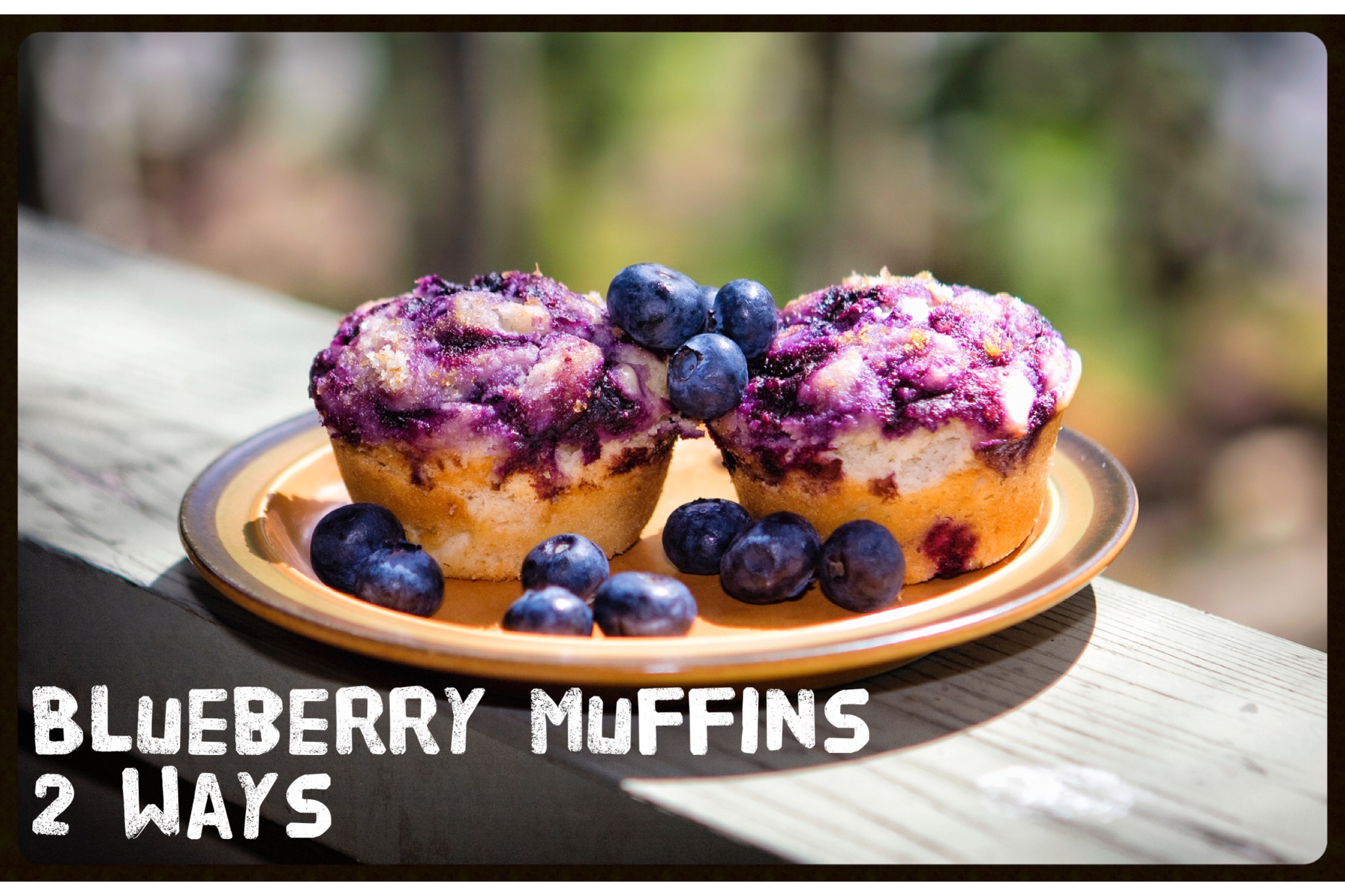 Blueberry muffins are delicious and versatile. They can be dessert, a snack, or even breakfast. Enjoy them hot, cold, or room temperature, with added jam, butter, or just plain. Whatever way you like to enjoy them, I have 2 blueberry muffin recipes you're sure to love. Feast your eyes on the recipes below for blueberry muffins 2 ways.
My baking obsession is an old habit going strong. The past few years in my down time from other baking needs (such as birthdays, events, or peach season) I've been directed toward perfecting the blueberry muffin. My husband's best friend is a connoisseur of these delicious little cakes and asked me to test bake many recipes to find the perfect one. He even bought me America's Test Kitchen Cookbook because of their reputation perfecting great food. He just had to know how their expertise applied to his favorite food and I was the girl to bake it for him to find out.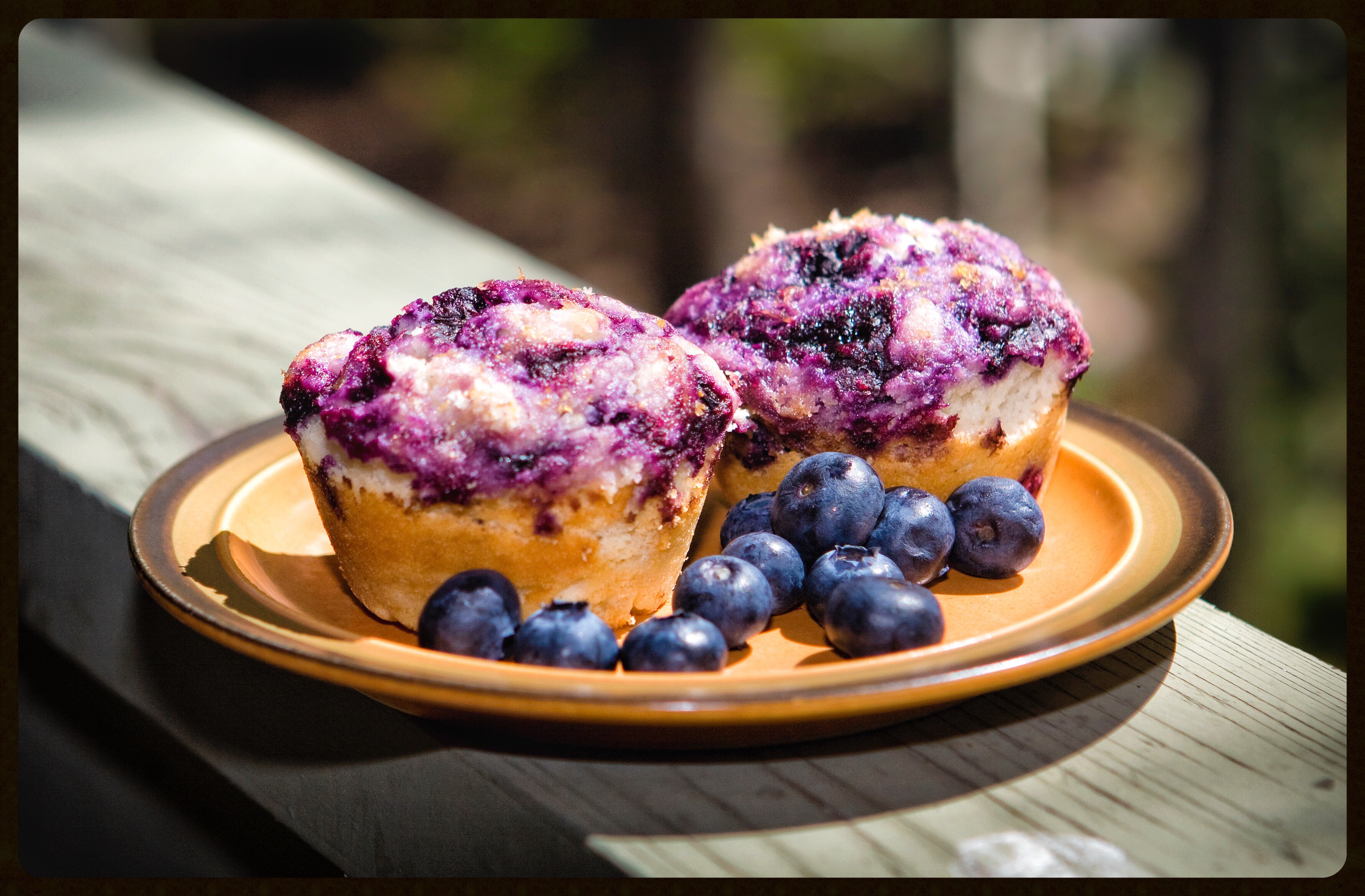 America's Test Kitchen Blueberry Muffins
Lemon-Sugar Topping
1/3 cup sugar
1 1/2 teaspoons lemon zest
Muffins
2 cups fresh blueberries
1 teaspoon sygar plus 1 1/8 cups sugar
2 1/2 cups flour
2 1/2 teaspoons baking powder
1 teaspoon salt
2 eggs
4 tablespoons unsalted butter melted, cooled slightly
4 tablespoons vegetable oil
1 cup buttermilk
1 1/2 teaspoons vanilla
To make topping mix lemon zest and sugar in small bowl. Set aside.
To make muffins preheat oven to 425. Spray cupcake pan with non-stick baking spray.
Bring 1 cup of blueberries and 1 cup of sugar to simmer in a saucepan on the stove. Cook and mash berries stirring frequently until thick and reduced to 1/4 cup. This should take about 6 minutes. Pour in small bowl to bring to room temperature.
Whisk flour, baking powder and salt in large bowl. In another bowl, whisk remaining sugar and eggs until combined. Slowly whisk and add oil and butter. Whisk in buttermilk and vanilla to combine. Fold this mixture into the dry ingredients in the large bowl. Add the remaining 1 cup blueberries. Do not over mix. This batter will be lumpy with some patches of dry flour.
Fill the cupcake tins with batter completely. Top the batter with 1 teaspoon of the berry mixture and swirl with a toothpick to combine. Sprinkle with the lemon sugar topping.
Bake at 425 degrees for 17 minutes. Cool in pan for a few minutes then tip out and cool on wire rack completely.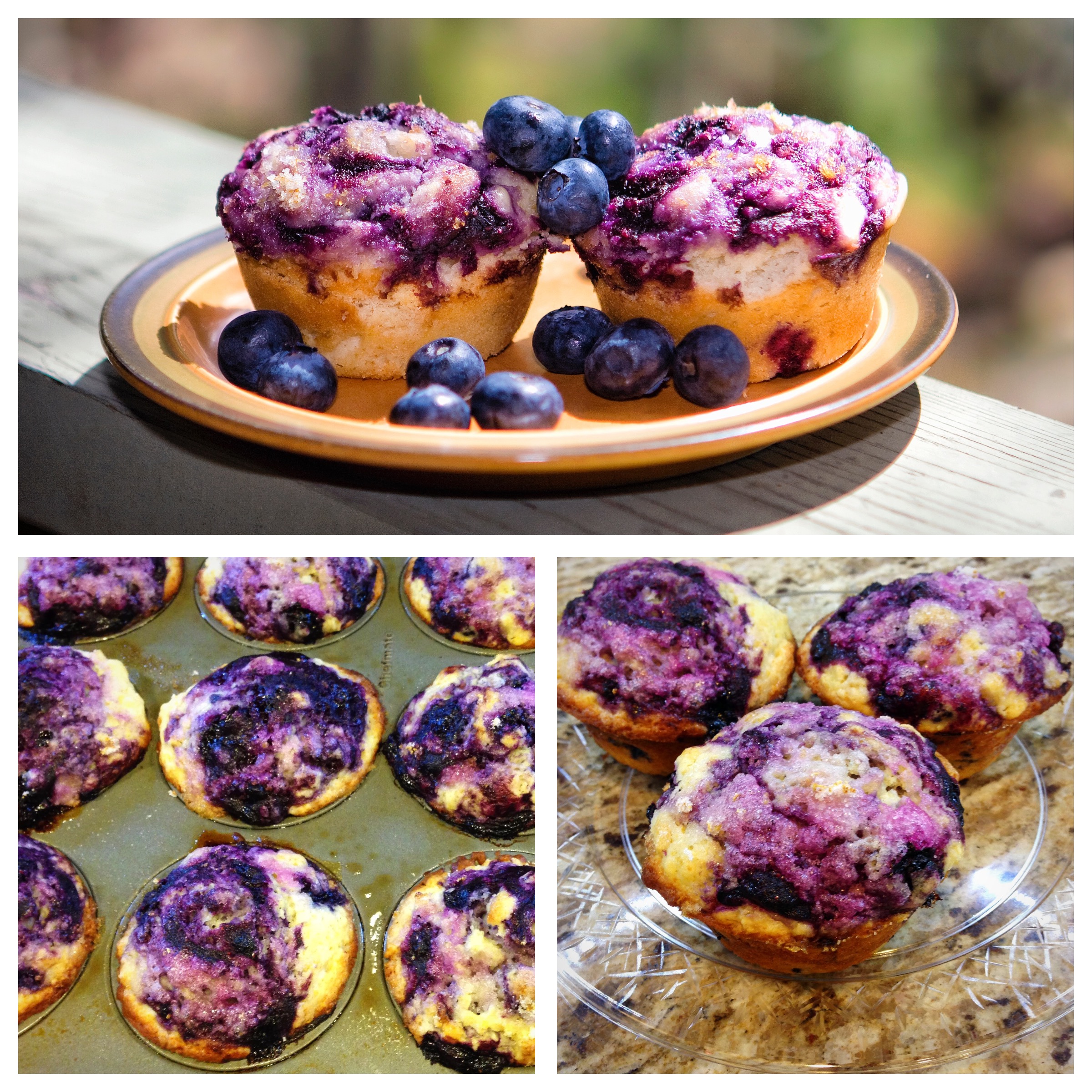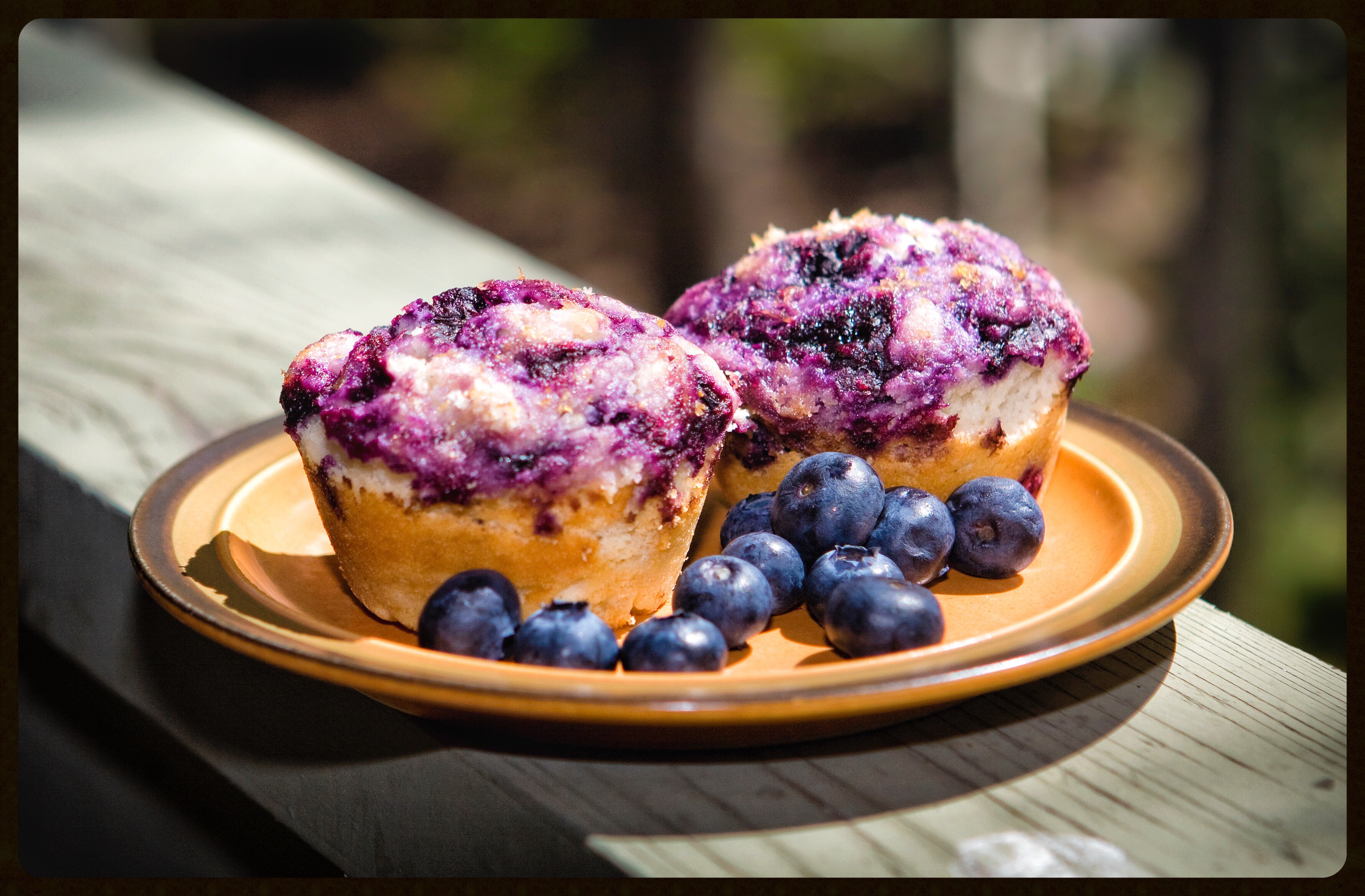 This recipe makes 12 perfectly mounded cupcake-sized muffins. They are some of the most beautiful muffins I have ever seen and all the work is worth it. My husband's bff was in blueberry muffin heaven, even as a devout atheist.
And now for Blueberry Muffins take 2…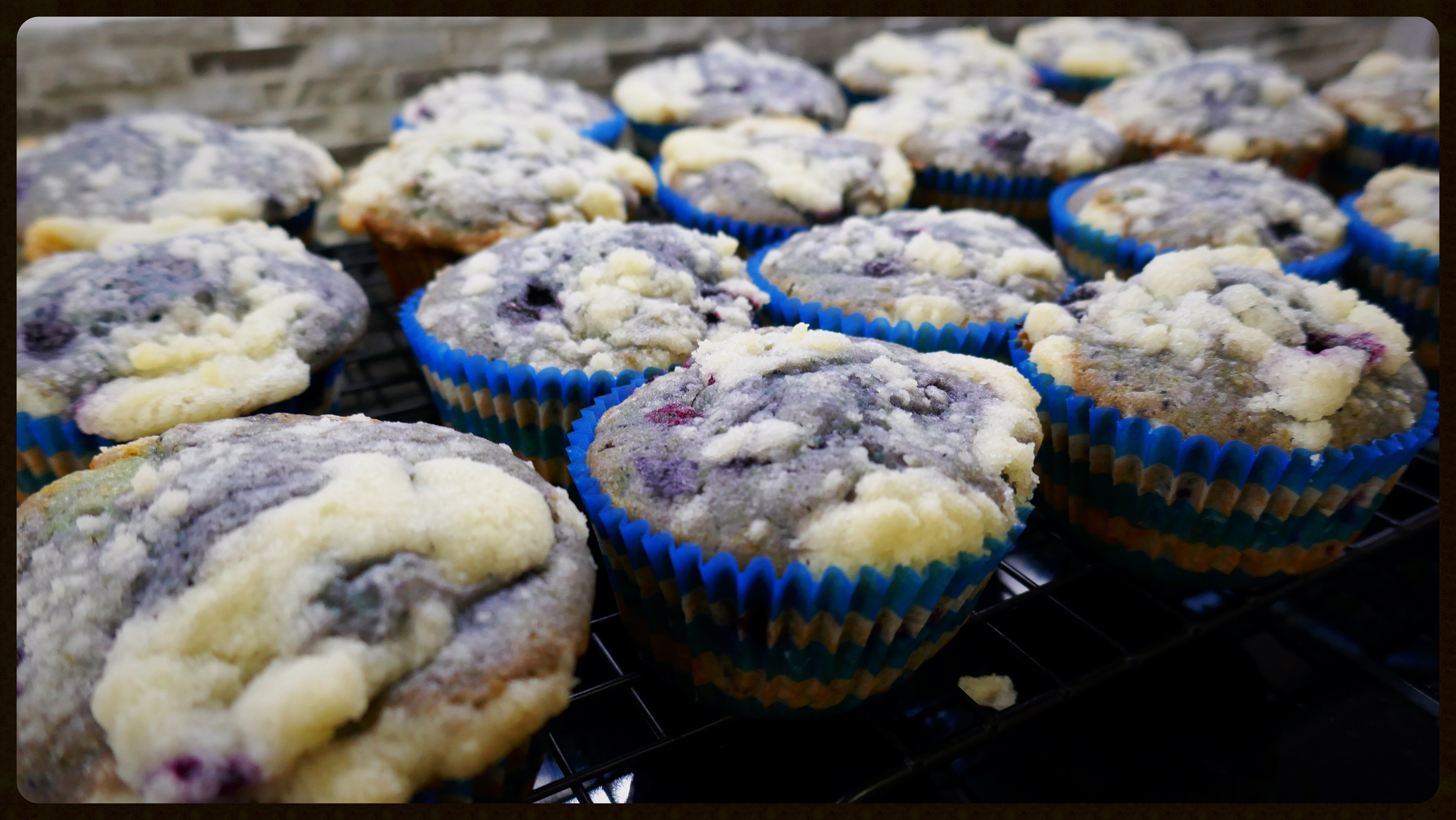 Blue Blueberry Muffins
via Joanne Fluke's Blueberry Muffin Murder
Muffins:
3/4 cup melted butter
1 cup sugar
2 beaten eggs
2 teaspoons baking powder
1/2 teaspoon salt
1 cup fresh or frozen blueberries
1/2 cup blueberry pie filling
2 cups plus 1 tablespoon flour
1/2 cup milk
Crumb topping:
1/2 cup sugar
1/3 cup flour
1/4 cup softened butter
Preheat oven to 375 and line cupcake tins with liners.
Put fresh or frozen blueberries in a plastic bag with 1 tablespoon flour. Toss to coat.
Melt butter. Mix in sugar.
Add eggs, baking powder, and salt. Mix.
Add 1 cup of flour to your mix along with half the milk. Mix then add the next cup of flour and remaining milk.
Add bluberry pie filling and mix. This will turn your batter blue and make them true blue blueberry muffins.
Fold in the whole blueberries.
For the crumb topping, mix the sugar and flour and cut in the softened butter.
Fill cupcake liners 3/4 full. Sprinkle crumb topping over the filled batter cups. Bake for 25 minutes. Remove from oven and cool in pan completely.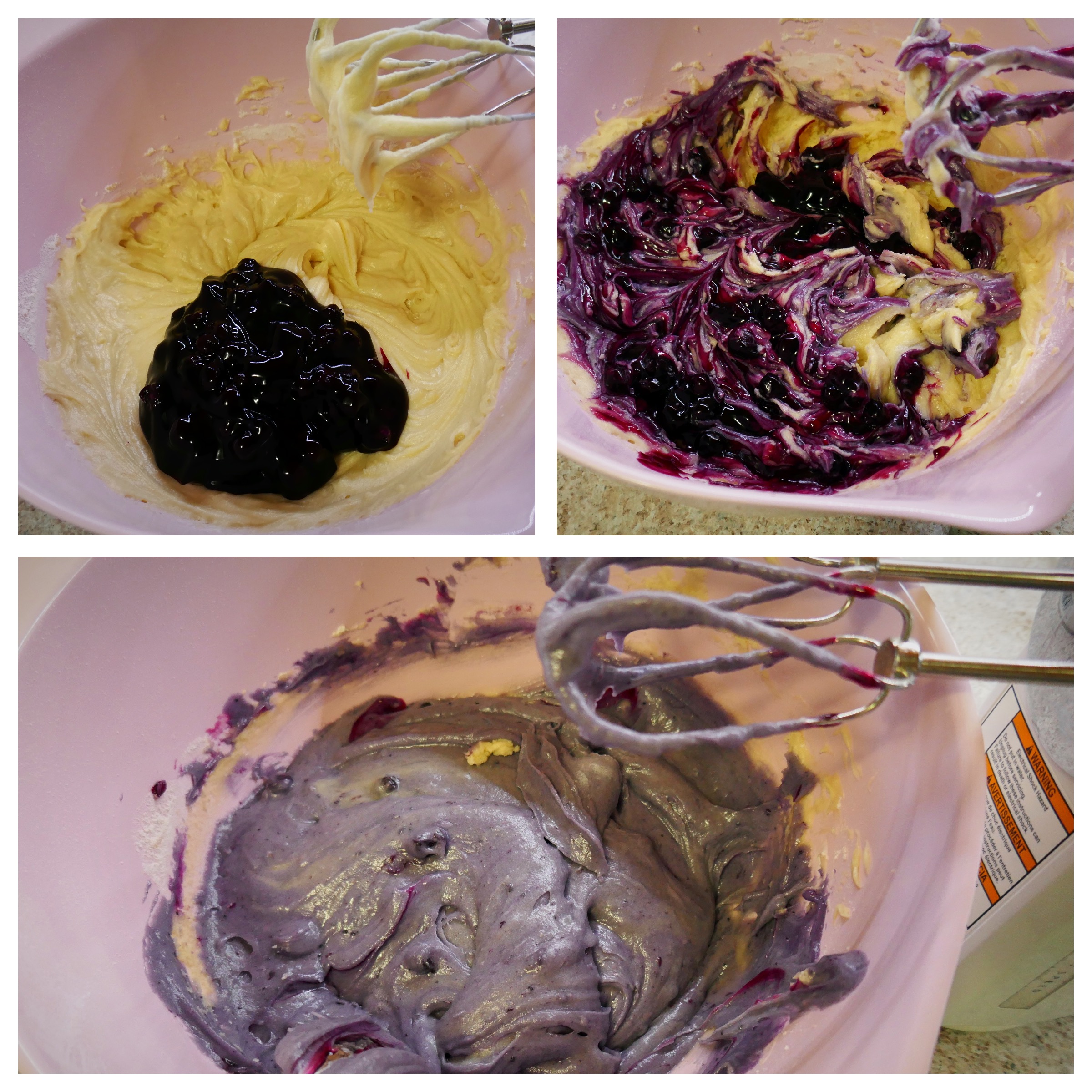 That's the blue-tiful (or rather purple) process of making the blue blueberry muffins. I just love the recipes I've used from Joanne Fluke's mystery series. I even featured her Minnesota Peach Cobbler on another blog a while back.
Did you know blueberries are actually purple? Yup. If you'd like to know more about this mind blowing fact you can read it here, it is actually interesting. I am thinking next time I make these Blue Blueberry muffins I will go for a purple liner. The time to bake them again will be soon since a friend reviewed them saying, "I need more of them in my life."
#bestcomplimentever #comingsoon #getinmybelly
Point taken, they are coming soon!
Which recipe sounds good to you? Is there one that looks easier or more tasty? They are both undeniably delicious. The Blueberry Muffins from America's Test Kitchen are beautiful, a little more complicated to make and I find the result a little dense, but the lemon sugar topping cannot be topped (ha ha). The Blue Blueberry Muffins are more moist and fluffy and the better tasting muffin of the 2, but the color is a surprise if someone's not expecting it.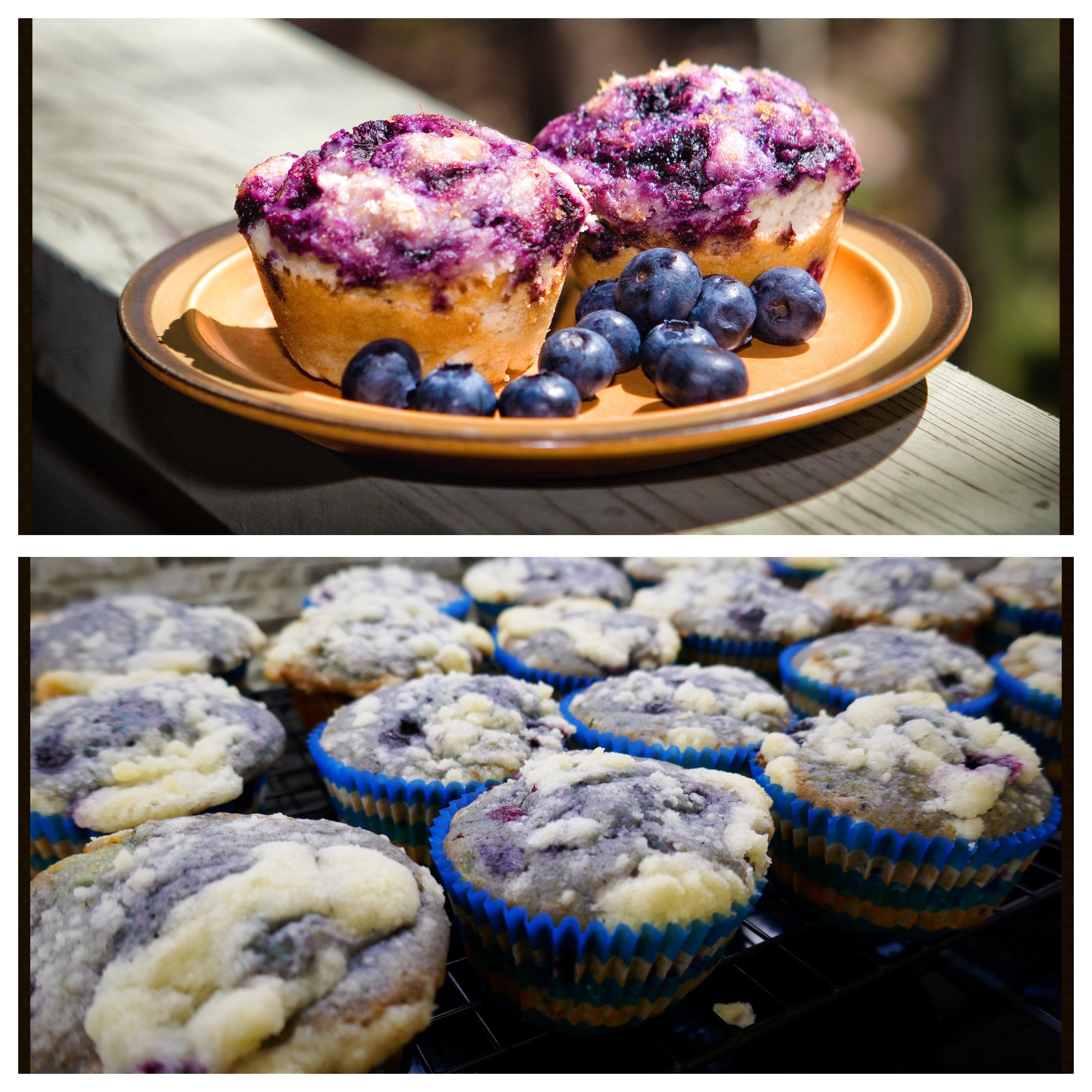 Try them both and you decide! I would love to know what you think. Please share your take on them before and after. Enjoy your blueberry muffins as you take some time after your baking endeavor to Just Be Slower.