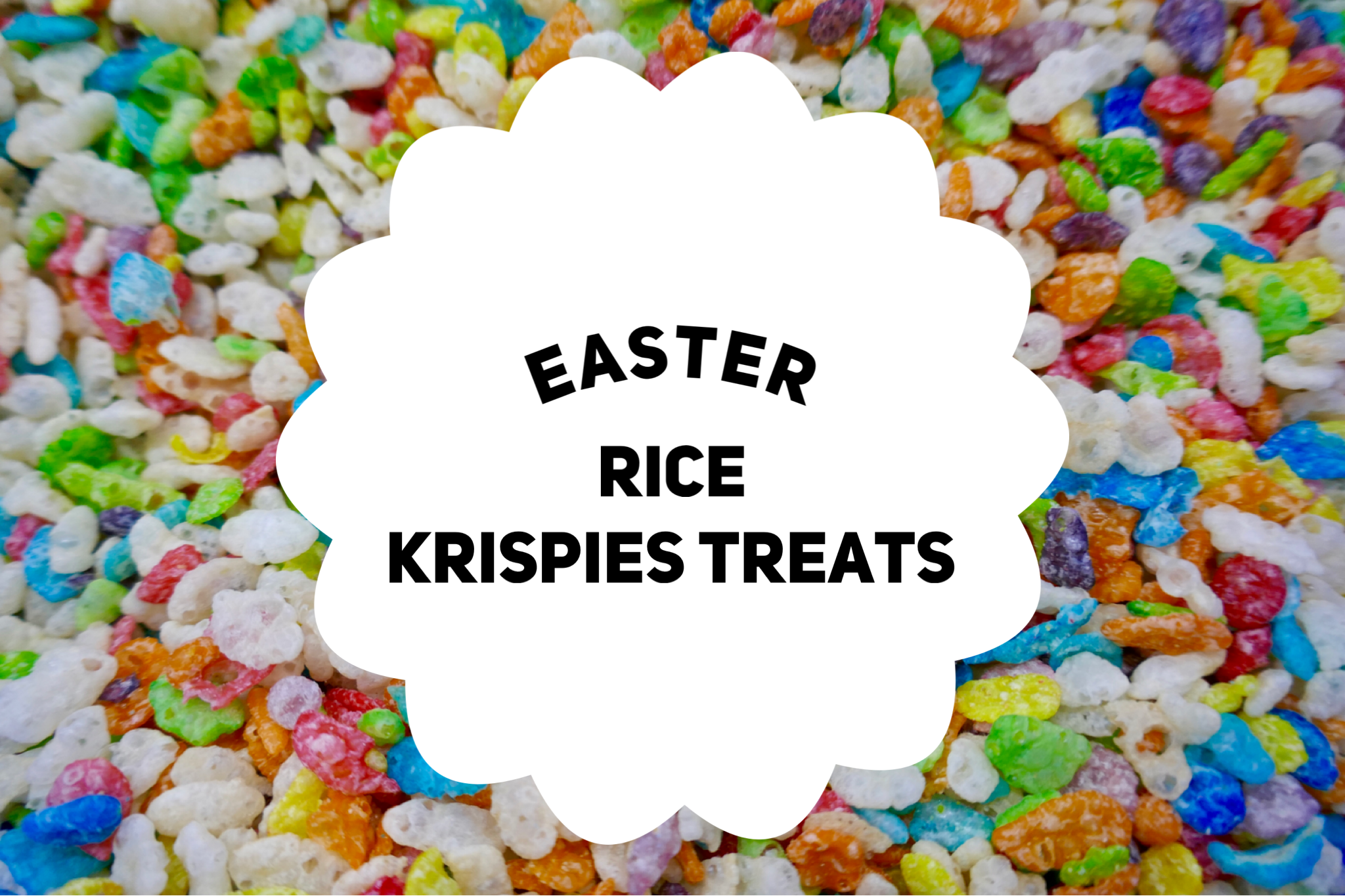 Easter Rice Krispies Treats
Easter Rice Krispies Treats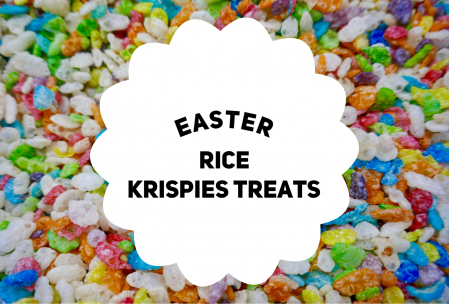 Rice Krispies are one of my family's favorite cereals. We love to eat them in their good old cereal form, and make them into yummy treats! Rice Krispies treats are so easy to make and customize to different tastes and holidays. With Easter a few days away it was time to make another treat with this trusty cereal.
Making rice krispies treats is so simple. It takes a few ingredients, and few minutes. It is so simple I love to include the little ones to help whip these up. For this Easter treat I wanted to try something unique and themed. Making these marshmallow-based treats can really be done with almost any cereal, so I decided to be daring and go for the fruity pebbles. Yeah yeah yeah, it's been done, but it was well outside the box in this house so we went for it!
Now, we need to go on a little history tangent really quick. It will all make sense in the end, stick with me…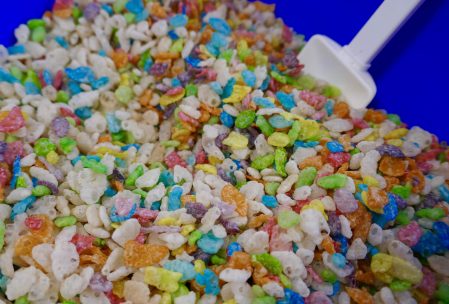 When I was growing up my parents were totally into decreased salt and sugar foods. They used to buy plain Cheerios and Honey Nut Cheerios and mix them together to cut the sugar content. I couldn't believe this blasphemous act, but when it came to these treats, this same tactic resurfaced. Mixing spring edition Rice Krispies (colored blue and green and white) with equal amounts of Fruity Pebbles seemed appropriate. After all, they would be coated in melted marshmallow so the sweetness is definitely not sacrificed.
Now, back to the treats. The Fruity Pebbles and spring edition Rice Krispies would give us the fun flavor and colors, but the shape of the treats is important to make these colorful treats Easter themed. I found some plastic Easter eggs that open from top to bottom, and thought they would be a perfect mold to make these egg-shaped. The idea was formed, time to make these Easter Rice Krispies Treats!
Gather your ingredients:
1 10 ounce bag mini marshmallows
4 tablespoons butter
3 cups Rice Krispies Cereal
3 cups Fruity Pebbles Cereal
plastic Easter egg that separates length-wise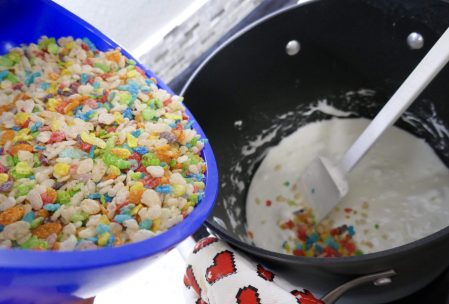 Mix cereals together in a large bowl. In a non stick pot, melt butter and marshmallows together on medium-low heat. Once marshmallows are all melted, add the cereal to the pot and stir together until coated.
Let cool slightly. It is important for these treats to cool and set-up a little bit before trying to shape them, otherwise it all turned into a sticky mess between your fingers. It is a good time to give your plastic egg molds a cleaning, and set out some wax paper to place the molded Easter Rice Krispies Treats on.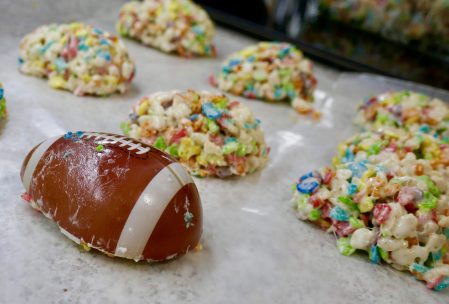 Scoop some of the Easter Rice Krispies Treats mixture into half of a plastic egg. Pack it in to fill the shape. Place down onto wax paper and remove the plastic egg to reveal the 3-D egg shaped treats. Clean up edges as needed. This step can still be messy, but it is worth it for the perfect Easter look for these Easter Rice Krispies Treats. The eggs got pretty sticky after a few rounds, so I stopped to clean them again about halfway through. In all, it took less than 30 minutes and make about 20 egg-shaped treats.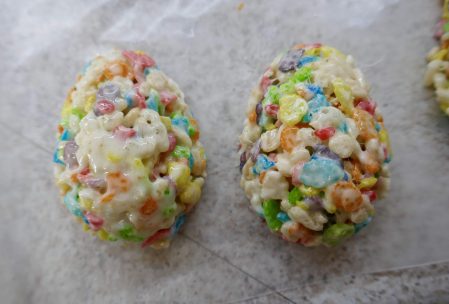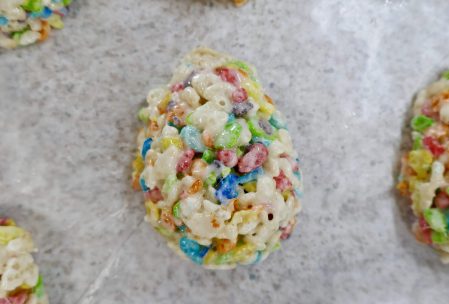 Allow the treats to cool completely. To share these Easter Rice Krispies Treats, cut out the wax paper around each treat. Place in a plastic sandwich bag and twist and tie closed with a coordinated ribbon. Fill a fun Easter basket and share Easter Rice Krispies Treats!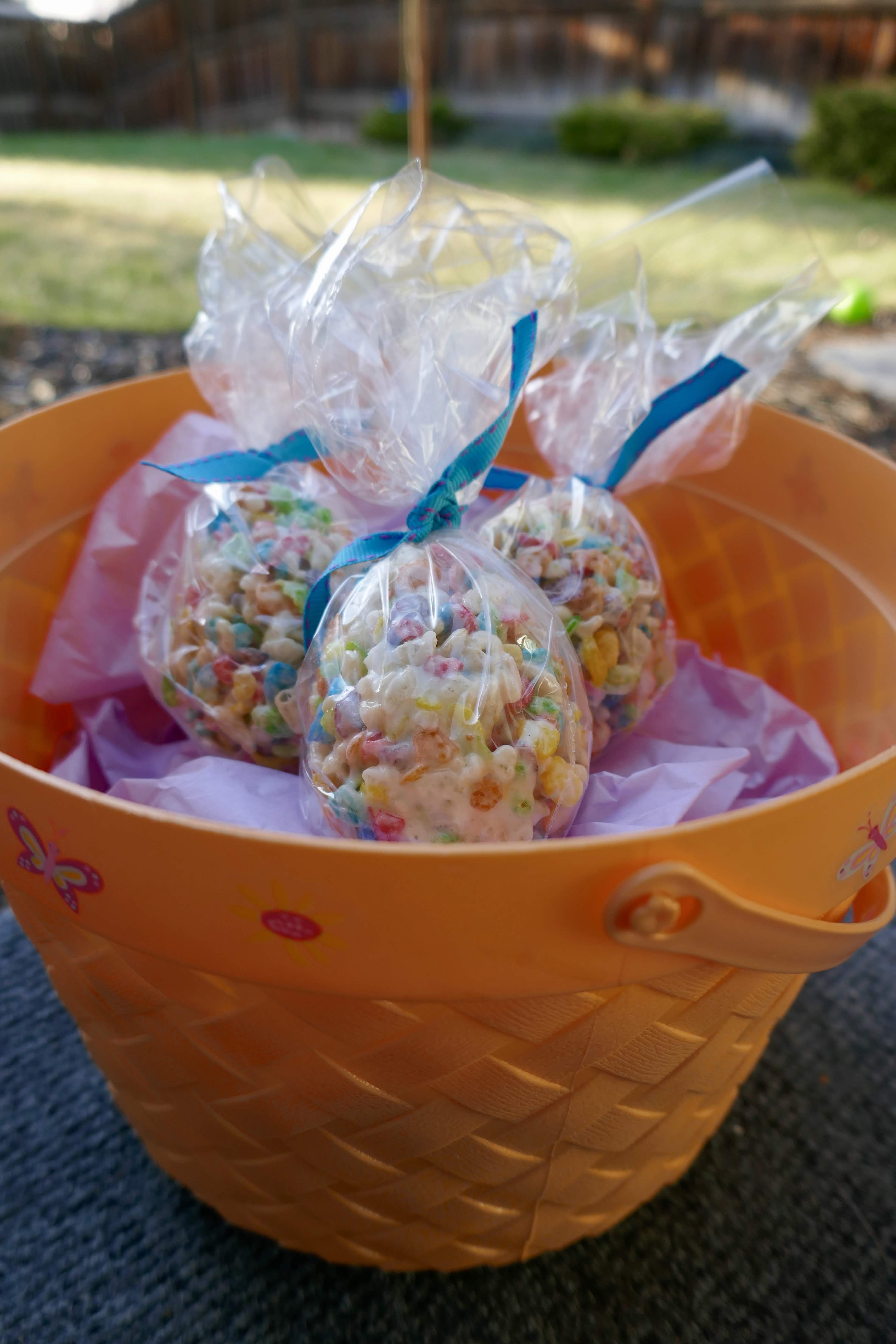 What will you make for Easter or other Spring treats this year? For more Easter ideas see our other post Bunny Cottontail Cupcakes. For more Rice Krispies Treats see our S'mores Rice Krispies Treats post.
Happy Easter!