Visiting the Denver Mint
Visiting the Denver Mint

Ever collect coins as a kid? Even in a piggy bank? I sure did and other than the face value of my jarred contents, I never thought more of it. Visiting the Denver Mint changed all that. If you've ever considered visiting the Denver Mint or just wondered how money is made, add Visiting the Denver Mint to your list.
There is so much artistry and thought to coin creation. Yes, it is quite an art! I look at our currency in a whole new way, that is to say much more than face value. The process is truly fascinating and visiting the Denver Mint will inform you of the whole process, it's history and it's function. The tour gives so much information, but there's a bit to know before you go. So, let's cover how to visit the Denver Mint first.
The Denver Mint is one of many money-making locations around the country. Each location has a different responsibility making currency for their number one customer, the Federal Reserve. Only 2 locations can be toured: the Denver Mint and Philadelphia Mint. These locations are tasked with coin production. Philadelphia makes coins to provide to all states East of the Mississippi River, Denver Mint covers all the coins for states West of the river. Now that we've established that you can visit, there's more than you'd think involved in going.
Denver Mint (and Philly Mint) hold several tours Mondays through Thursdays. The tours are free. This I found ironic since it's a building full of money already anyway. Tickets for tours are limited, subject to cancellation, and unable to be reserved in advance. The only way to gain a ticket is to show up the morning of the day you plan to visit. As in, early. The office opens at 7am and tickets are granted first come, first served with a limit of 5 per person. Their website explains this too. It also depicts their busy times of year.
We aimed to go during spring break, which is advertised as a busy time with people showing up at 5am to get tickets. Well, we've had goals of visiting the Denver Mint for about a year now, which never worked out, so we had to make it happen. Even if standing on a sidewalk in freezing temps in downtown Denver.
(Thanks husband!)
There he was, prepared to brave the cold crowd. He learned arriving at 5am is certainly not the norm. He was the first one there at 5:30am. The alleged 5am arrivals do happen, but they are few and mostly seen during summer months. The early birds also aim for the early tours too, so if you're aiming for a tour time in the afternoon, you can sleep in a bit and show up around 7. In the winter, visiting the Denver Mint doesn't require preparation according to one guide. Most people in January and February show up at tour time. Still, hubby braved the cold and the early hour and secured our tickets.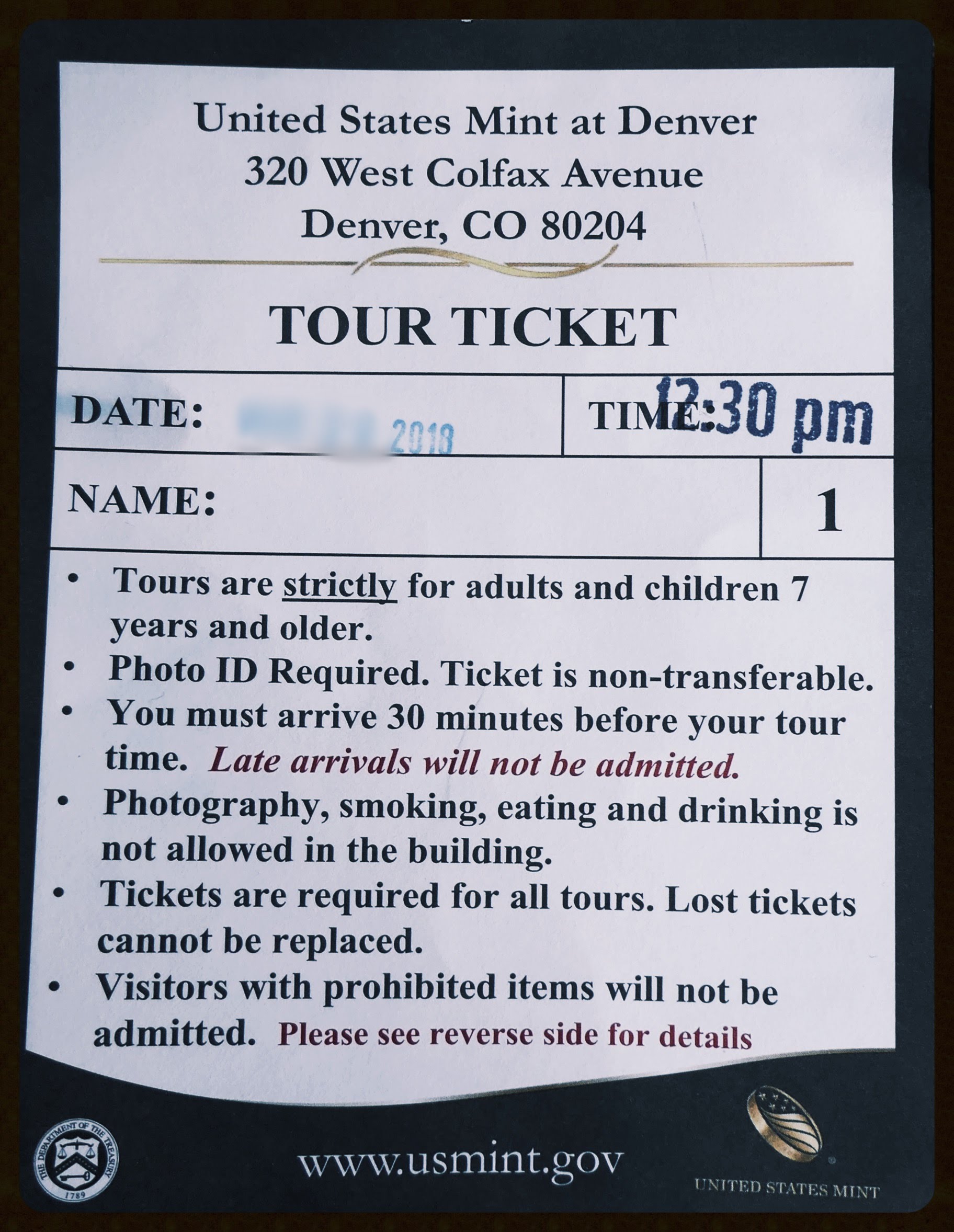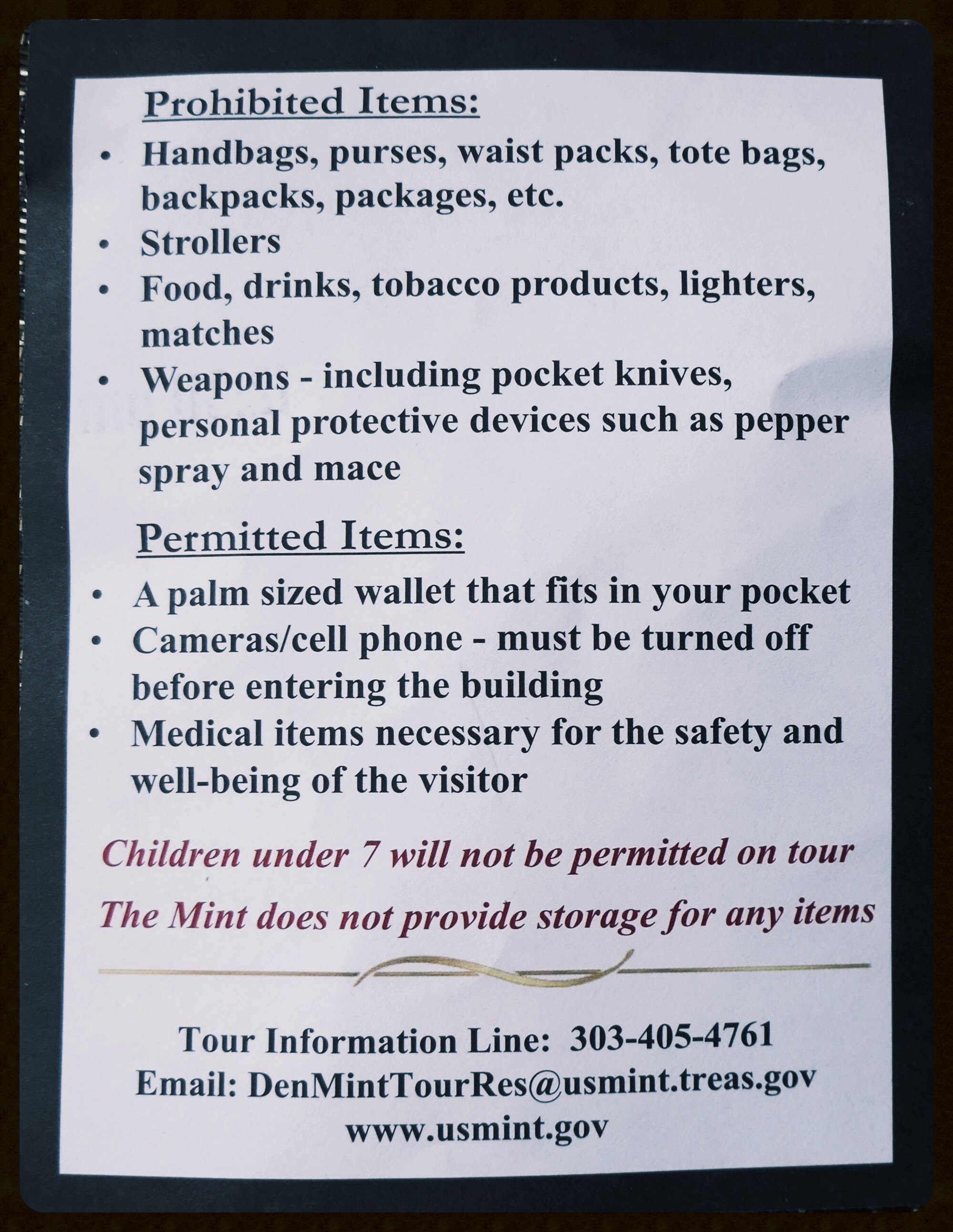 Speaking of secure, you can bet a building full of billions of dollars (in coins and other reserves) is it a bit security conscious, right? Let's say, it's a lot security conscious. They have their own armed force that patrols the area in and out and on the tours. I imagine the inability to reserve tours much in advance is part of a security measure as well.
Anyway, there's a list of permitted and prohibited items for the tour and everyone goes through a metal detector. Think going through airport security with no baggage or electronics allowed. No Fitbit, phones turned off, not a bag in sight. Don't worry, you'll be fine. Going sans technology is not only the rule, but let's everyone focus on the tour, displays, and the guide's information. Last thing to note, you must arrive at the gates 30 minutes prior to your tour time due to these security measures.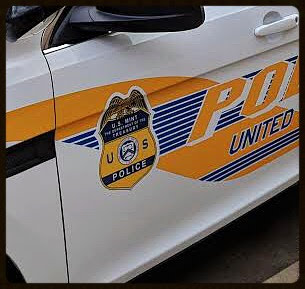 The information was most noteworthy for me. I didn't realize how little I knew, not just about coin creation, but about other items the Mint makes and the reason behind making so many. In the old days, coin making and artistry was manual, they produced about 700 coins per day. Today with machines in place they can make more than 700 per minute.
What amazed me the most was the nearly constant production. Aren't there enough coins going around? I know it's true because I have thousands probably myself. And there's the answer to why right in my faulty rationale. We all have heaps of coins piled in jars, piggy banks, our wallets, the couch, vending machines, parking meters, you name it. All these places take coins out of circulation and the Mint must make more. There's so much more to it, but that fact was a total mind blown moment. Take a tour for more details.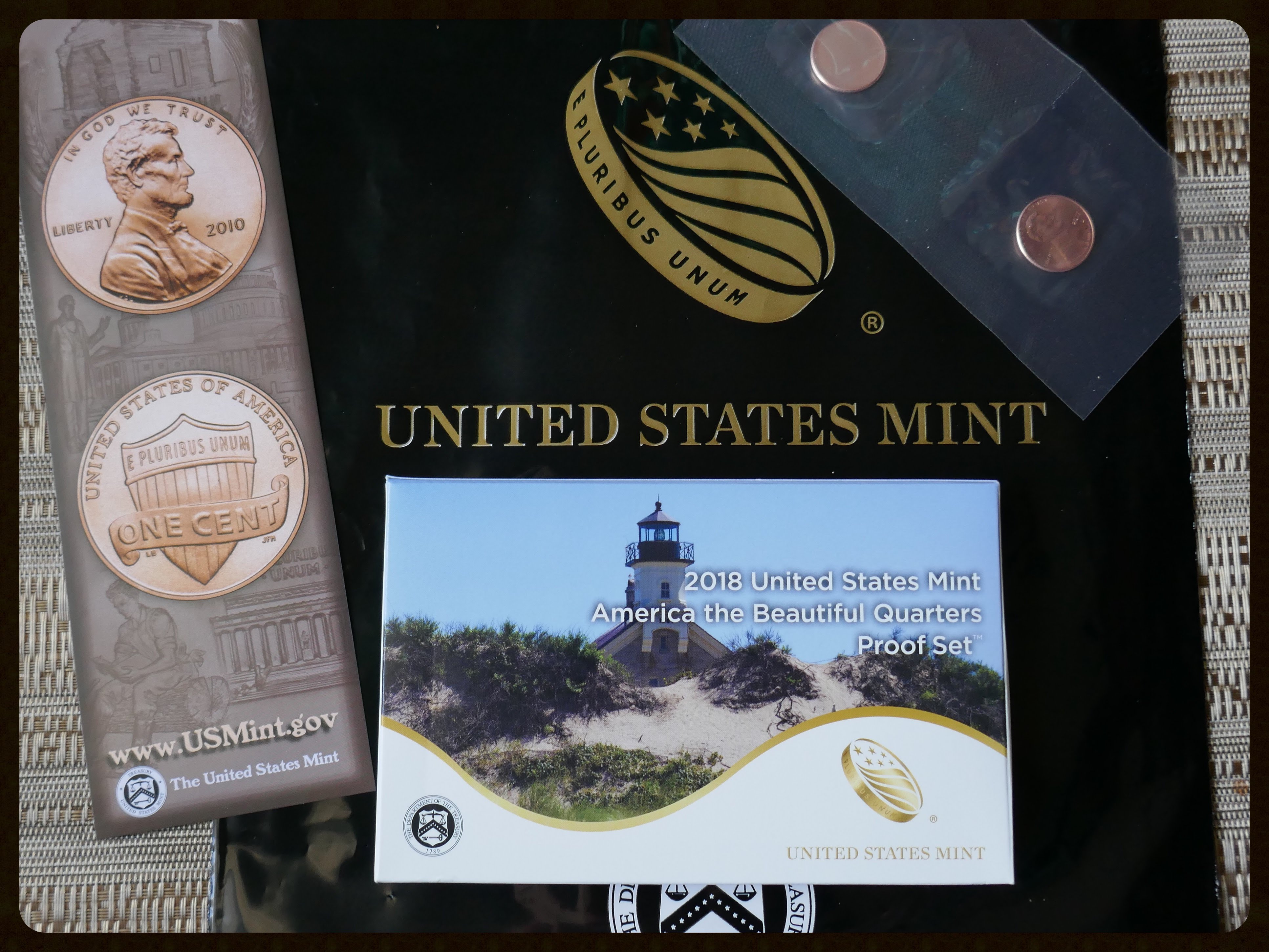 Other highlights of the tour for us include the explanation of a lot of the special quarters seen over the years. Remember the state quarters that wrapped up in 2008? There are ongoing coin design programs inspired by the success of that one. I won't spoil it anymore, but trust me there's so much more you'll learn by visiting the Denver Mint.
What intrigues you to visit the Denver (or Philly) Mint? Do you have a coin collection? We'd love to know.
More to know about visiting the Denver Mint can be found on their website. Trust that for the most up to date details on how to go.