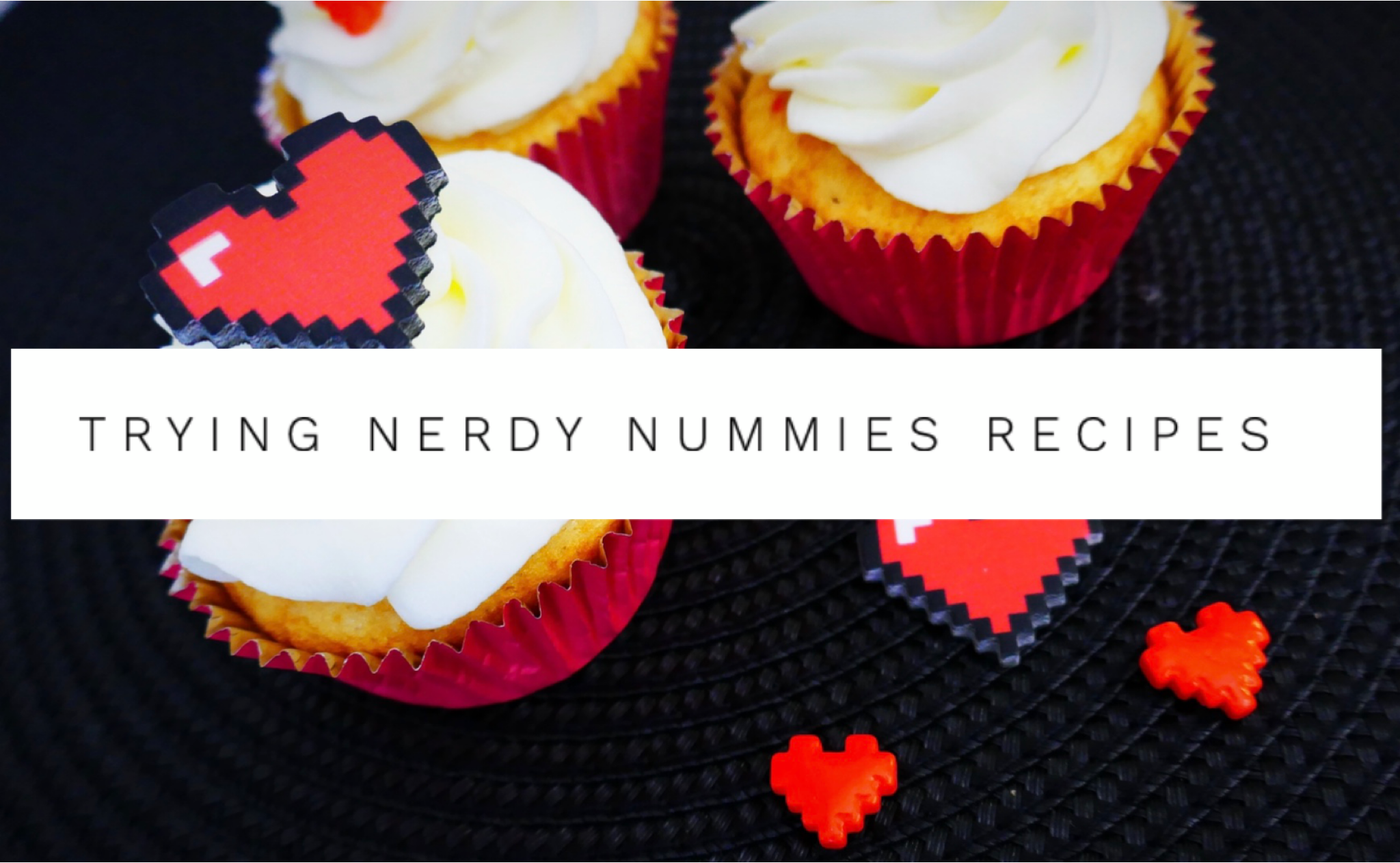 Trying Nerdy Nummies Recipes
Trying Nerdy Nummies Recipes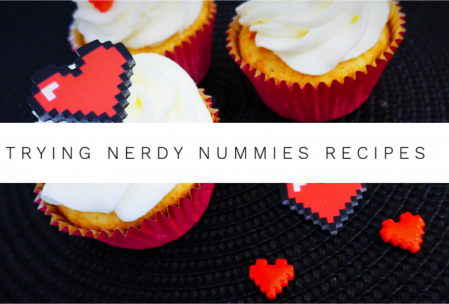 Watching Rosanna Pansino's Nerdy Nummies YouTube channel has become a favorite pastime. Her thematic dress and set decor, humor, and aptitude for baking amazing themed treats is unparalleled. She brings true entertainment and inspiration to the realm of baking. While her videos are tutorials, I found myself hundreds of views deep over many years without having made any of her creations. So it was finally time for trying Nerdy Nummies recipes out. Let's get started!
This post will be more a review than an inclusion of the actual recipes used. Where possible, recipes and proper sources are linked or referenced.
I will be the first to admit even trying Nerdy Nummies recipes took a span of a couple years. I was so used to baking what I bake, and having to make specifically themed things for my own children's requests, that sometimes things just didn't line up. But luckily for you, I have compiled all four of my trials here, no need to wait the actual time between.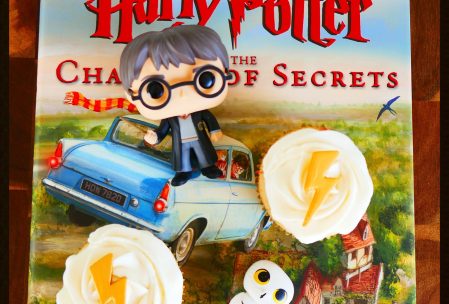 The biggest prompt to begin trying Nerdy Nummies recipes came when the partnership with Wilton was announced and Ro launched her Ro Baking Line. The tools were all themed to her signature; brightly colored, quality kitchen tools. The innovation in some of the items was genius. Anyone who uses them surely feels their baking game just received a power up. My first experience was making my own creations using her iconic sprinkle mixes and edible decorative pieces. You wouldn't believe how hard it was to find a lightning bolt sprinkle before these were around.
Pumpkin Dinner Rolls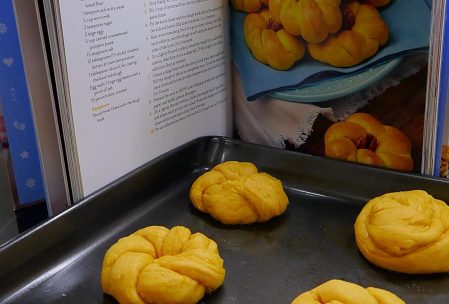 With my own creations out of my system, it was time to break open her cookbook and bake! First up for me trying Nerdy Nummies recipes was her Pumpkin Dinner Rolls from her Baking All Year Round cookbook. It was Thanksgiving, my daughter really wanted to make these, so the time had come.
The first portion on my review of trying Nerdy Nummies recipes must discuss her delivery methods. Impeccable. Both her videos and her cookbook deliver on simple step by step directions complete with the right tools and techniques to use and the visuals to match. Sometimes cookbooks are difficult to follow, but not hers. As one who is not artistically inclined, her directions allowed my pumpkin dinner rolls to look just as pumpkin-shaped as hers. I was impressed.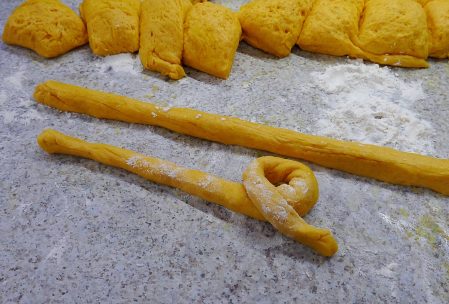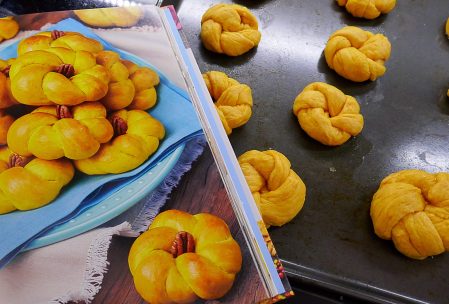 Achieving the correct preparation and appearance on these pumpkin dinner rolls was a satisfying accomplishment. I immediately regretted neglecting the whole pecan to use as a stem. Yes, I doubted the possibility these would turn out even close to resembling a pumpkin so much that I skimped on buying whole pecans. My mistake, but nonetheless, still happy with the result.
Pumpkin dinner rolls sure looked cute and were perfectly themed for our Thanksgiving dinner. Now on to the real test: do they taste good? Well, I'm just going to say it, no. These were far from delicious. Edible, yes, but would I make them to eat again? No. To be fair, I had never had a pumpkin dinner roll, so I'm not sure what I should have expected, but it just wasn't something I would go make again. Cute, absolutely. Tasty, not to me. End of that story.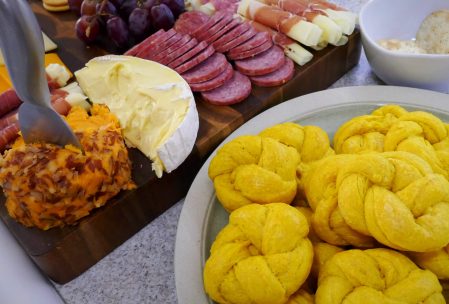 Admittedly, the pumpkin dinner rolls put me off trying Nerdy Nummies recipes for a while. What was the point of so much time and effort making treats if they didn't taste as good as they look? Yes, I am super practical that way. I pride myself on baking treats that may not be bakery-perfect, but they are appealing to look at and taste super delicious. So, when this disappointed taste test came from trying Nerdy Nummies recipes for the first time, it was a major bummer. Still, there's always an upcoming occasion for baking and I wasn't ready to give up.
Before you reconsider reading anymore, I'll go ahead and spoil the ending for you: the other recipes I tried were complete winners!
Rich Chocolate Cake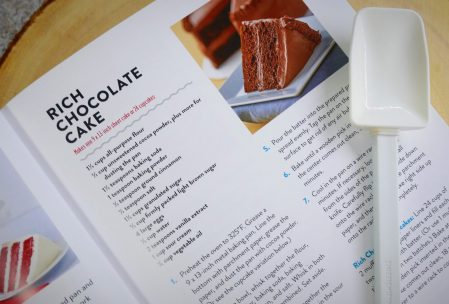 After the previous experience, I decided to play it a little safer and make a more normal recipe: rich chocolate cake featured in the Nerdy Nummies Cookbook. There was a birthday coming up and I was requested to make a mountain biking birthday cake. From my thorough experience watching Youtube I recognized a recipe I could adapt for my needs: the dinosaur fossil cake. I did a whole post about this cake trial which can be viewed by clicking here.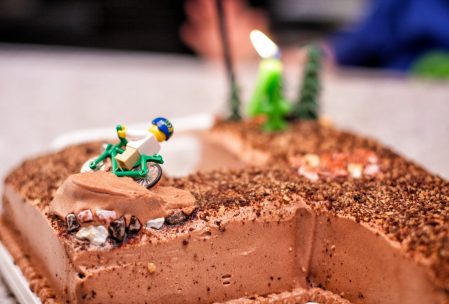 Although I did not make the specific cake in the book or videos, I was thoroughly impressed by the amazing taste and texture of the cake and "dirt" crumble/sprinkles. It was just what I needed to look realistic, and taste absolutely delicious. It was the best chocolate cake I've ever made, and maybe even ever eaten. I've even made this cake and "dirt" crumble recipe for other mountain or dinosaur themed birthdays and baby showers. It is a perfect result for the eyes and taste buds alike. There is no doubt in my mind the actual dinosaur fossil cake from the tutorial video would be just as perfect.
This recipe receives a perfect review on all counts and will be the chocolate cake I will always make. For the perfect frosting for such a perfect cake, I will always suggest my own chocolate whipped cream cream cheese frosting though. Can't convince me there's anything better than that.
Vegan Brownies
The third, and more recent recipe put to the test when trying Nerdy Nummies recipes was vegan brownies. The video making these brownies follows an American Girl recipe. At first I had no interest in making these at all. I am not a brownie fan, but seeing Ro and her sister Molly's reaction to this recipe was intriguing enough to go for it.
My family is certainly not vegan, not even close. We like to include vegetarian meals every now and then for health and just our general environmental conscience, but that's about it. With the enormity of the vegan movement in the world lately, it has been on the mind more than ever. So, baking a vegan recipe, especially one so highly reviewed by Ro, seemed like a good place to start.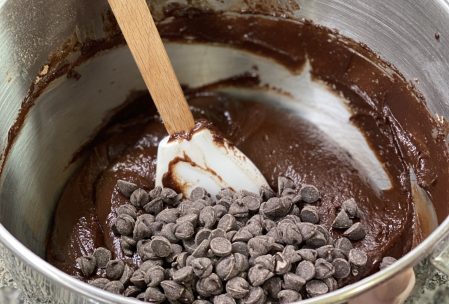 The brownie recipe seemed a little unusual to me at first. However, being neither vegan nor brownie connoisseur, I pressed on. There was an almost alarming amount of liquid going into making the batter, but still I continued. The result was nothing short of amazing just like the video shows. Amazing, fudgy, moist brownies with a perfect flaky crispness on top.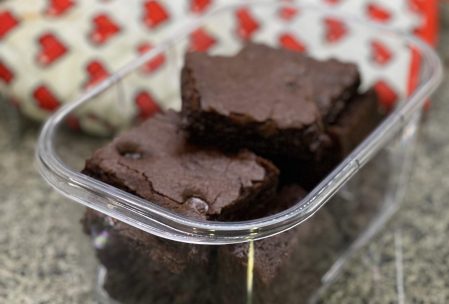 The recipe was super easy to follow. I really appreciate simple recipes. These brownies used only a few dishes, made little mess, baked perfectly, and tasted delicious. What more is there to desire from a baking recipe? Oh yeah, the kids ask for these all the time now, and they even bake them themselves. That's the added bonus.
White Cake Cupcakes
The fourth of my attempts at trying Nerdy Nummies Recipes was Ro's white cake from her Nerdy Nummies cookbook.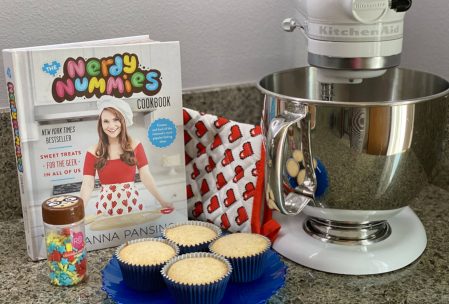 Right now we are in the midst of the 2020 quarantine. With a birthday happening smack dab in the middle of all this, it was once again the perfect opportunity for trying Nerdy Nummies recipes. Now, you know I find no shame in boxed cake mixes. In fact, they are my go-to normally. However, quarantine has inspired the chef in a lot of us. I receive daily pics and texts from friends and family making all sorts of new recipes and things from scratch we would have otherwise purchased before. In times like these, it is nice to have cooking and baking as a distraction.
Anyway, back to trying Nerdy Nummies recipes. My husband's fave cake is my margarita cupcakes. Instead of using the box mix method though, I busted out the trusty Nerdy Nummies cookbook again. I needed a white cake mix and there was just such a recipe.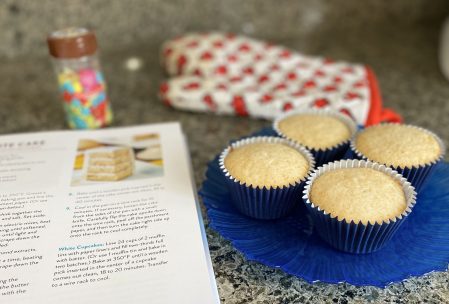 Due to being on lockdown, that means no parties and also that I am homeschooling my kiddos. So, there was no need to make a whole batch with just those who live here to enjoy these, and it presented some good fraction practice. Something I think even Ro would like given her whole math & science section of her cookbook.
Halving the recipe went well. I was a bit concerned about the way the batter was shaping up. It definitely appears thick. When scooping it into the cupcake pan, the batter just sat in each cup as the glob it landed in. Causing worry about the way the cupcakes would shape up after baking. My worries were all for naught when 18 baking-minutes later they came out perfectly domed, like a cupcake should. Phew!
After the cupcakes cooled, it was time to try one. I always try a plain cupcake after baking, don't you? For quality control purposes of course. 😉 After all, I couldn't serve my husband bad birthday cupcakes, right? Right. Let me just say, this recipe was unlike anything I expected. My fears of this cake being anything but perfectly delicious were completely unfounded. This is the white cake recipe of all future baking in the JBS kitchen for sure! Once again I was left wondering why on earth I hadn't tried this recipe ages ago.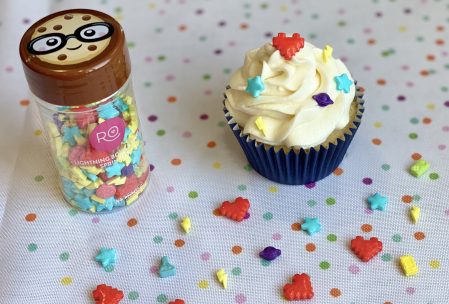 With such new delicious cupcakes, of course We had to play around with a little decorating. The Nerdy Nummies sprinkles were just the right toppers for these! The bright colors dress them up so cute don't they? Now, my husband did ask for margarita cupcakes, remember? So yes I did alter the recipe to incorporate the traditional limey-margarita flavors. I used a margarita mix and lime zest to flavor the batter. Then decorated the cake with my amazing frosting swirl, some chunky sanding sugar, lime zest and a little cocktail umbrella. It was a happy birthday and a happy cocktail/cupcake hour indeed.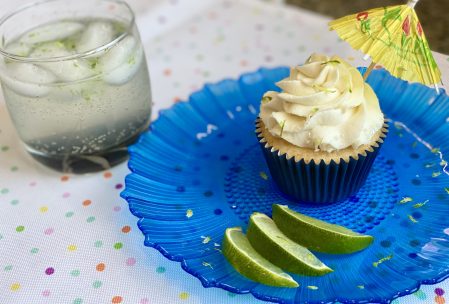 Ta-da! There you have it, my experience trying Nerdy Nummies recipes. If you're interested in trying Nerdy Nummies recipes for yourself, I would definitely recommend. Her recipe tutorials have achieved the highest ratings and views on the internet as they deservedly should.
In all, trying Nerdy Nummies recipes was a ton of fun and I'm glad to say I did it. Maybe I started off on the wrong one; who ever heard of pumpkin dinner rolls anyway? Continuing on high notes certainly kept me going back for more. I have used the chocolate cake recipe numerous times and always receive compliments on it. It just doesn't get better than that.
Given the state of things at the time of this writing, (2020 pandemic quarantine) baking more sounds like a yummy way to pass the time. I might have to make an update to this blog post sooner than expected. And I'm ok with that. Can't wait to see what we bake next. Which of Ro's recipes will you make?
#baking #nerdynummies #bakingallyearround #rodiculous #fansinofriday #homemade #simple #delish #yum #cake #birthdaycake #cupcakes