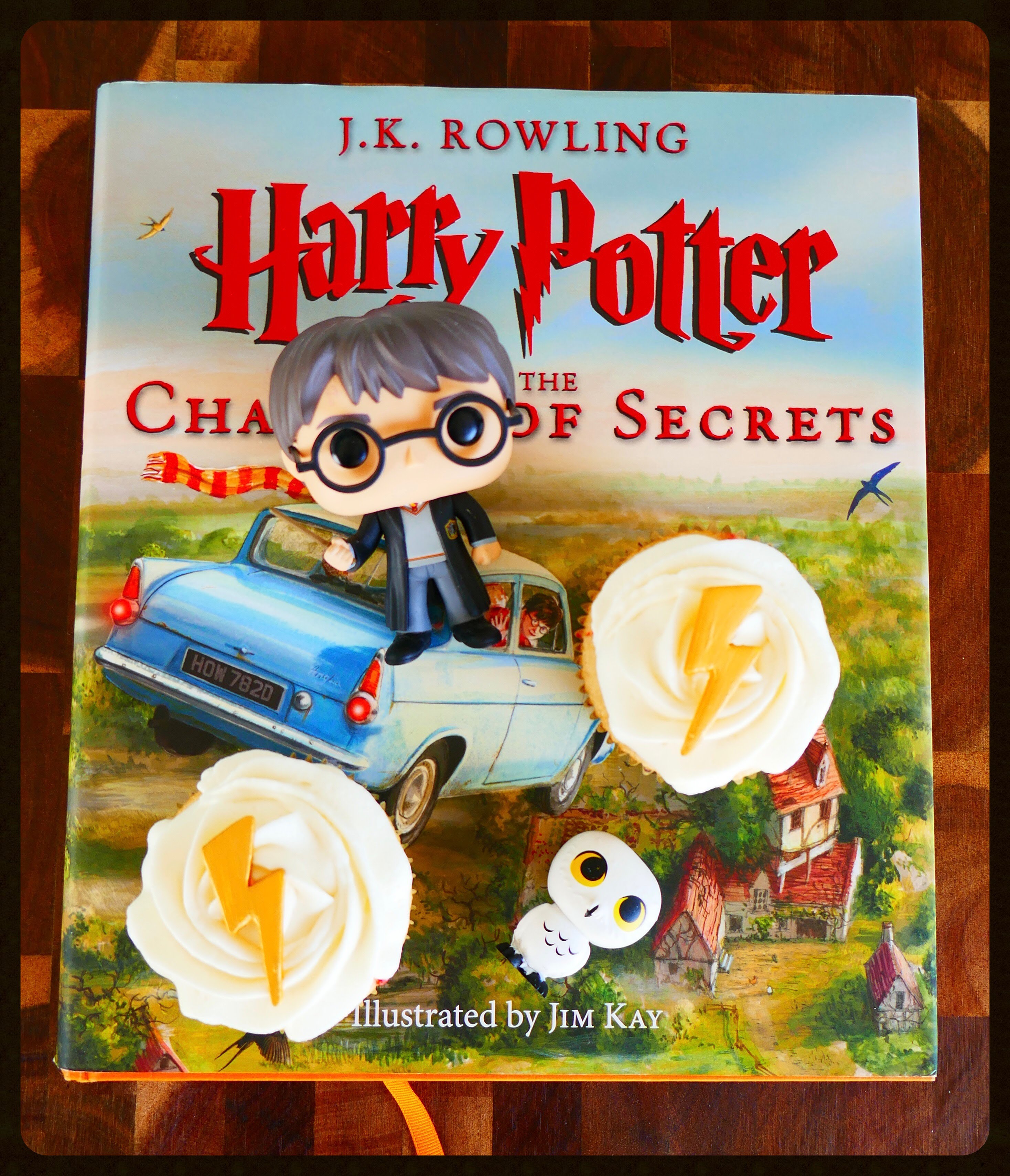 Harry Potter Lightning Bolt Cupcakes
Harry Potter Lightning Bolt Cupcakes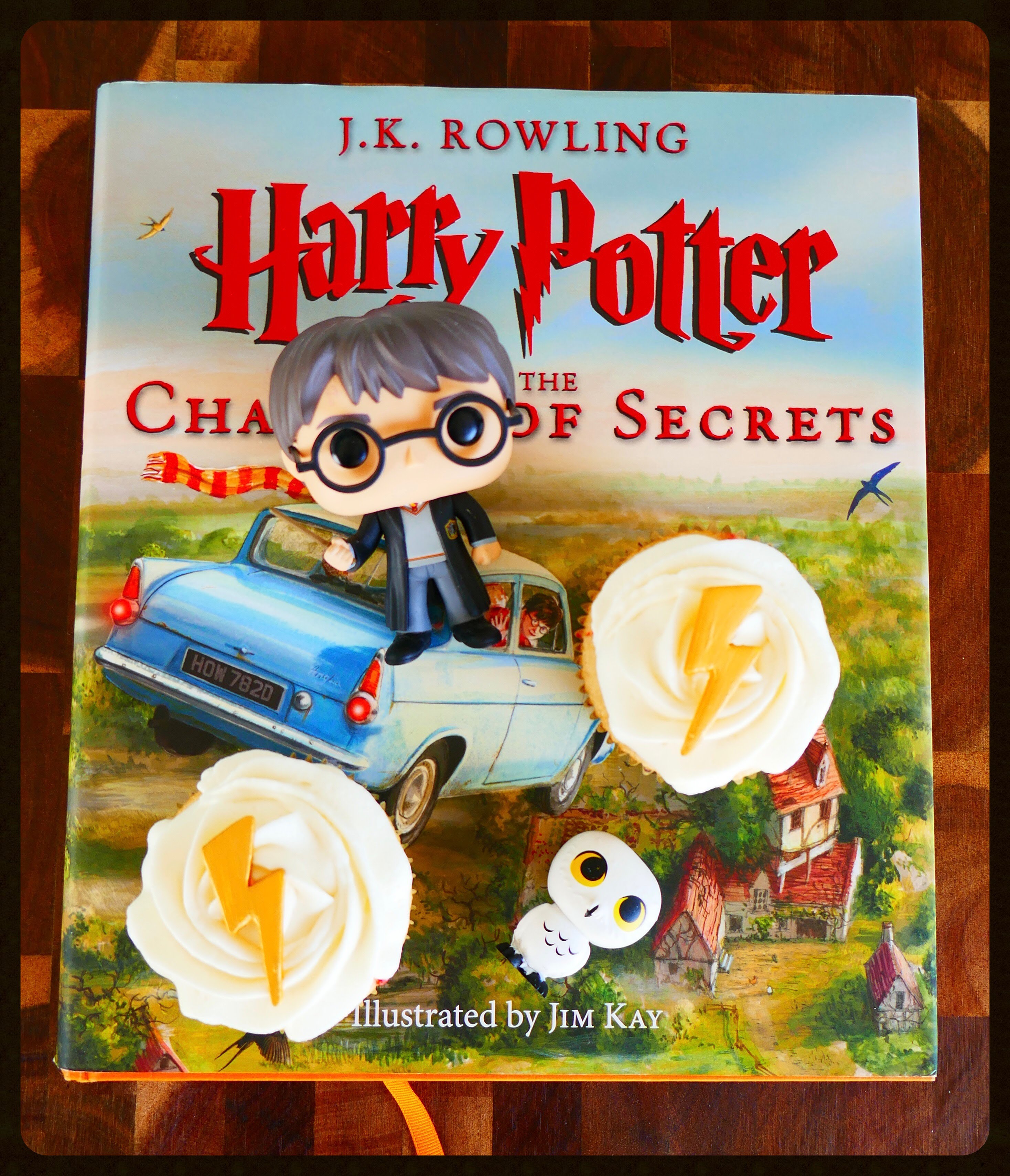 Once more, it has been a while since I made a cupcake post. I certainly make these tiny tasty treats more often than I blog about them. My latest brought together two of my favorite things. Harry Potter and cupcakes. In celebration of the new Fantastic Beasts: The Crimes of Grindelwald movie coming out later this year, and the 20th anniversary of the books, there's no time like now to plan the perfect themed treat. Harry Potter Lightning Bolt Cupcakes were inspired by my favorite YouTube channel Nerdy Nummies. I took the idea, products and inspiration from various videos to make this simple cupcake. Harry Potter Lightning Bolt Cupcakes are so simple, you won't even need magic!
The materials to make Harry Potter lightning bolt cupcakes is a short list. All you need is some prepared cupcakes, frosting, lightning bolt decorations, gold metallic food paint, wax paper, and a food safe paintbrush. The metallic food paint is completely optional. I've made these cupcakes with it and without it and truth be told the gold is better, but the lightning bolt decorations are perfect without it too. It was the ultimate decision of what is right and what is easy…if you catch my drift. 😉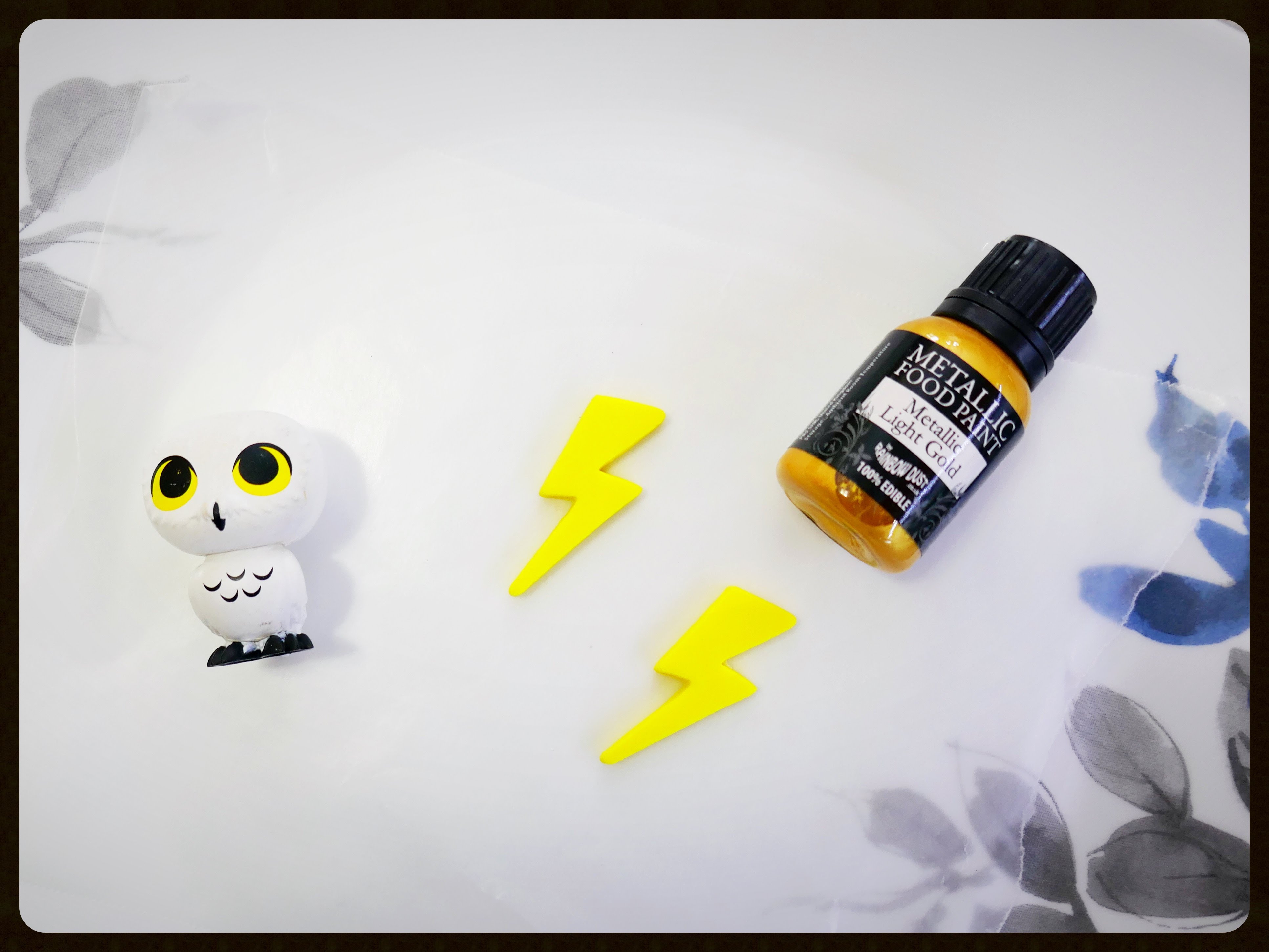 If you choose to use the metallic food paint, let's start by painting our icing decorations first. The paint will need a few coats so the cupcakes can be baked and frosted between the coats of paint. Place your wax paper down on your work surface and space out the lightning bolts you'll use. Set out as many as you'd like. Pour a little of the metallic food paint into a small plastic cup. I had a clean medicine cap cup laying around which is the perfect size. Paint a thin even layer all over the sides and top of the lightning bolt. Allow to dry completely.
Each coat of metallic food paint should dry completely, which takes about 30 minutes. Bake your cupcakes and prepare your frosting now. Any cupcake flavor you like is perfect, but check out my Vanilla Butterscotch cupcake for some extra Harry Potter baking vibes. The only frosting I use is my whipped cream/cream cheese frosting of course. This creamy versatile frosting suits whatever flavor cake you have. Trust me, it tastes like pure magic. If you've never tried it before, now's the time!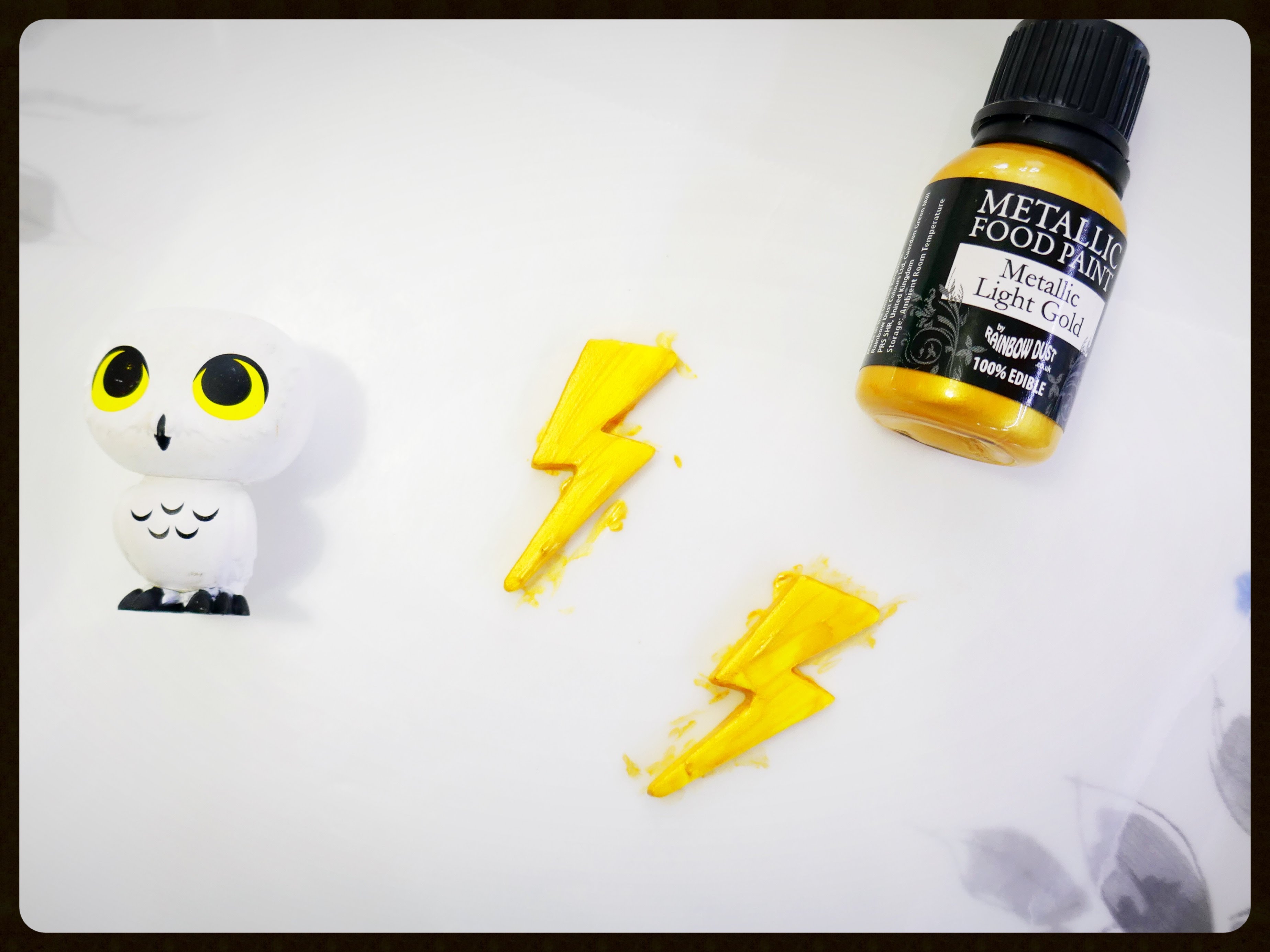 The photo above shows the first coat of metallic food paint. I ended up using 3 coats to reach the coverage I was after. The bright yellow of the lightning bolt decorations still showed through from fewer coats as you can see. I was going for a good solid gold to match the coloring of the Harry Potter universe. Be patient and make sure the coats are completely dry. For more details on using metallic food paint, see my other post: Rainbow Dust Metallic Food Paint Tips and Tricks.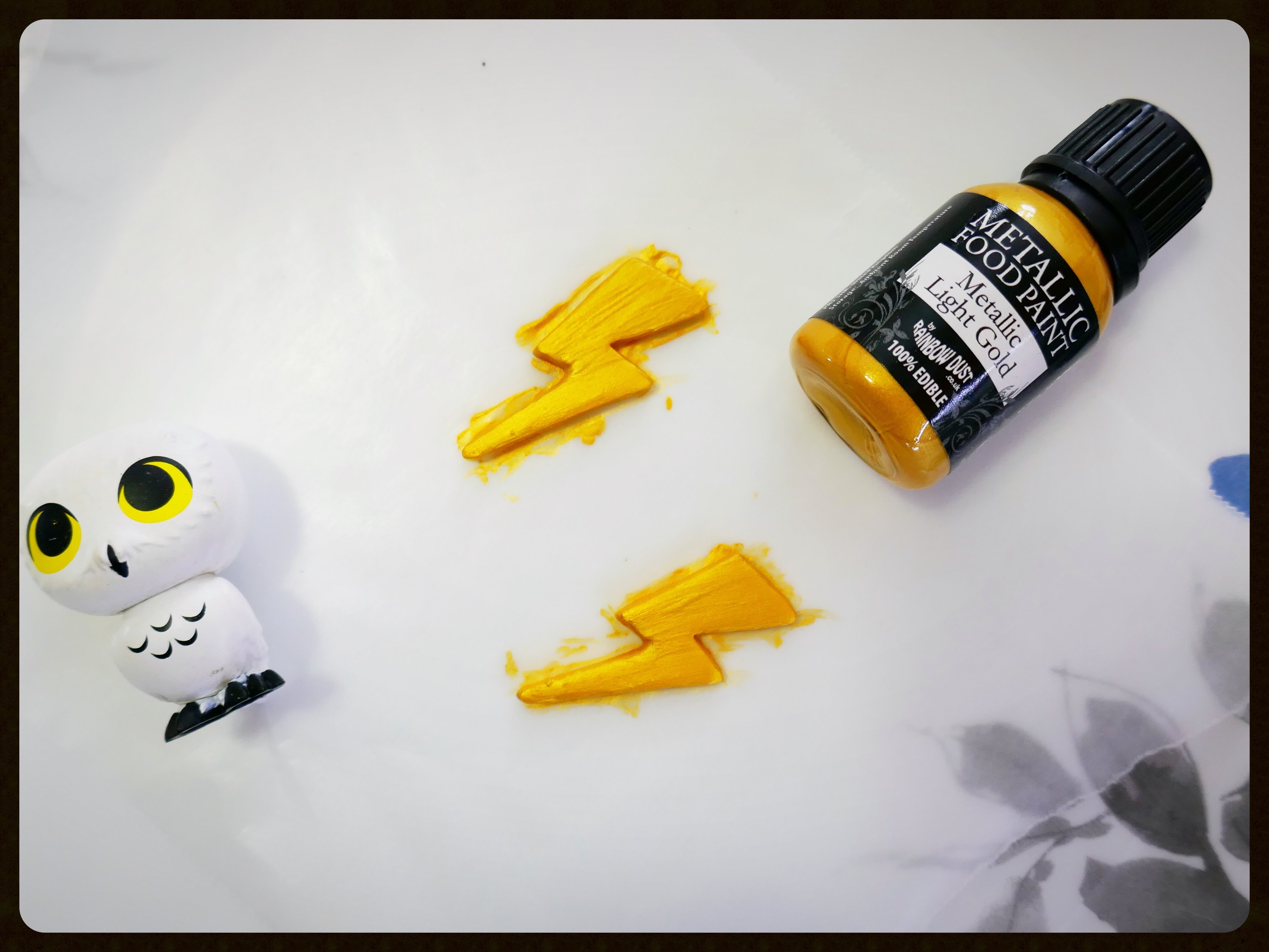 Here we have our finished lightning bolts. Time to create our Harry Potter Lightning Bolt Cupcakes! The hardest part of decorating these is already done. Pipe your frosting on each cupcake. Any swirl will work so use your favorite piping tip to pipe your favorite swirl. This sets up the perfect foundation for the lightning bolt decorations. I like the look of the rose swirl made with a Wilton tip 2D. With the cupcakes frosted and the lightning bolts painted, time to put them both together! Carefully lift the lightning bolts from the wax paper and place in the center of each cupcake. As a disillusioned Professor Lockhart would say, "Amazing! It's just like magic!"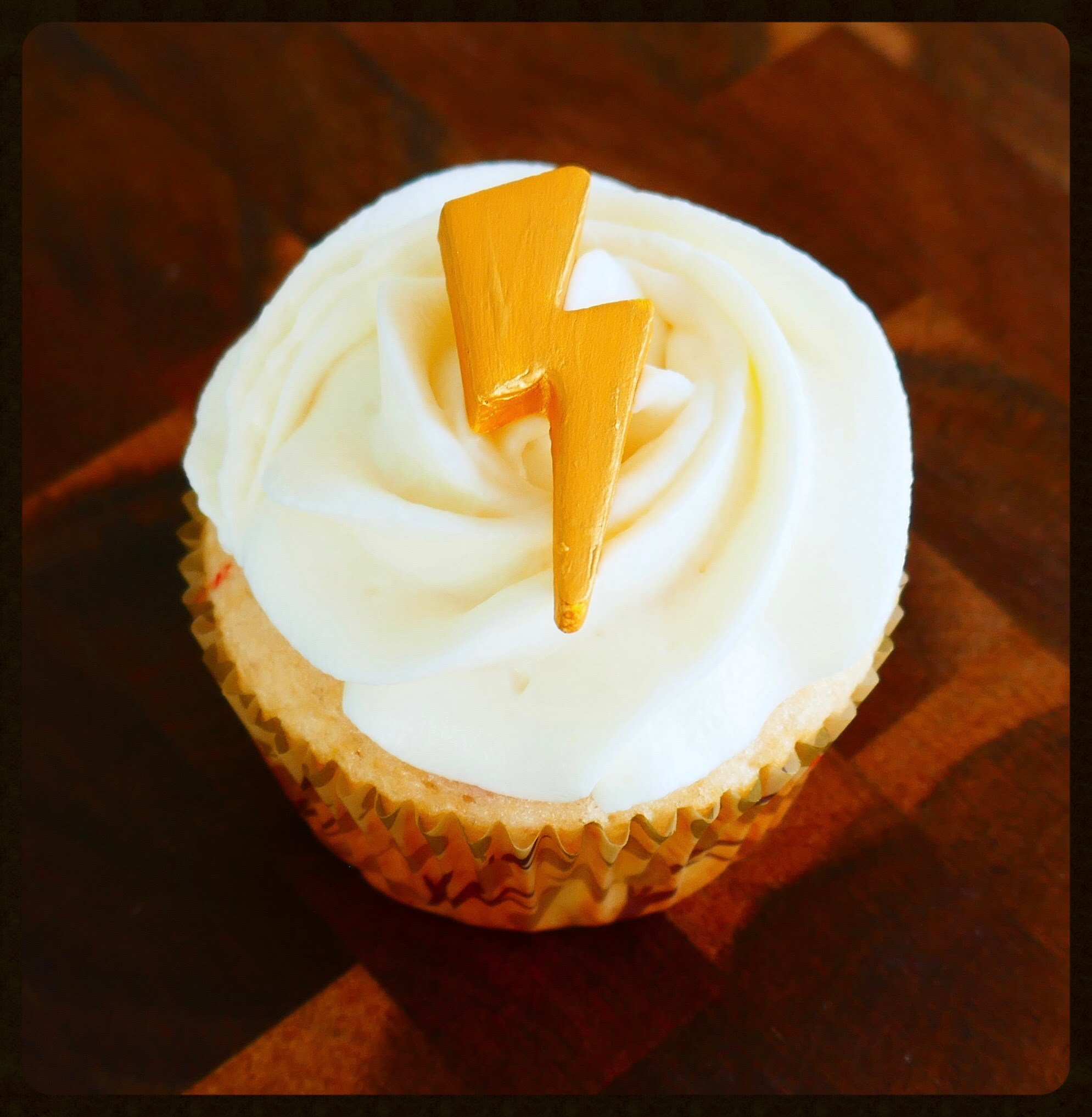 Harry Potter Lightning Bolt Cupcakes look great themselves and accessorized with your favorite Harry Potter merchandise. The simple design allows the beauty of the books and toys to stand out while perfectly matching with the iconic symbol of literature's most famous wizard.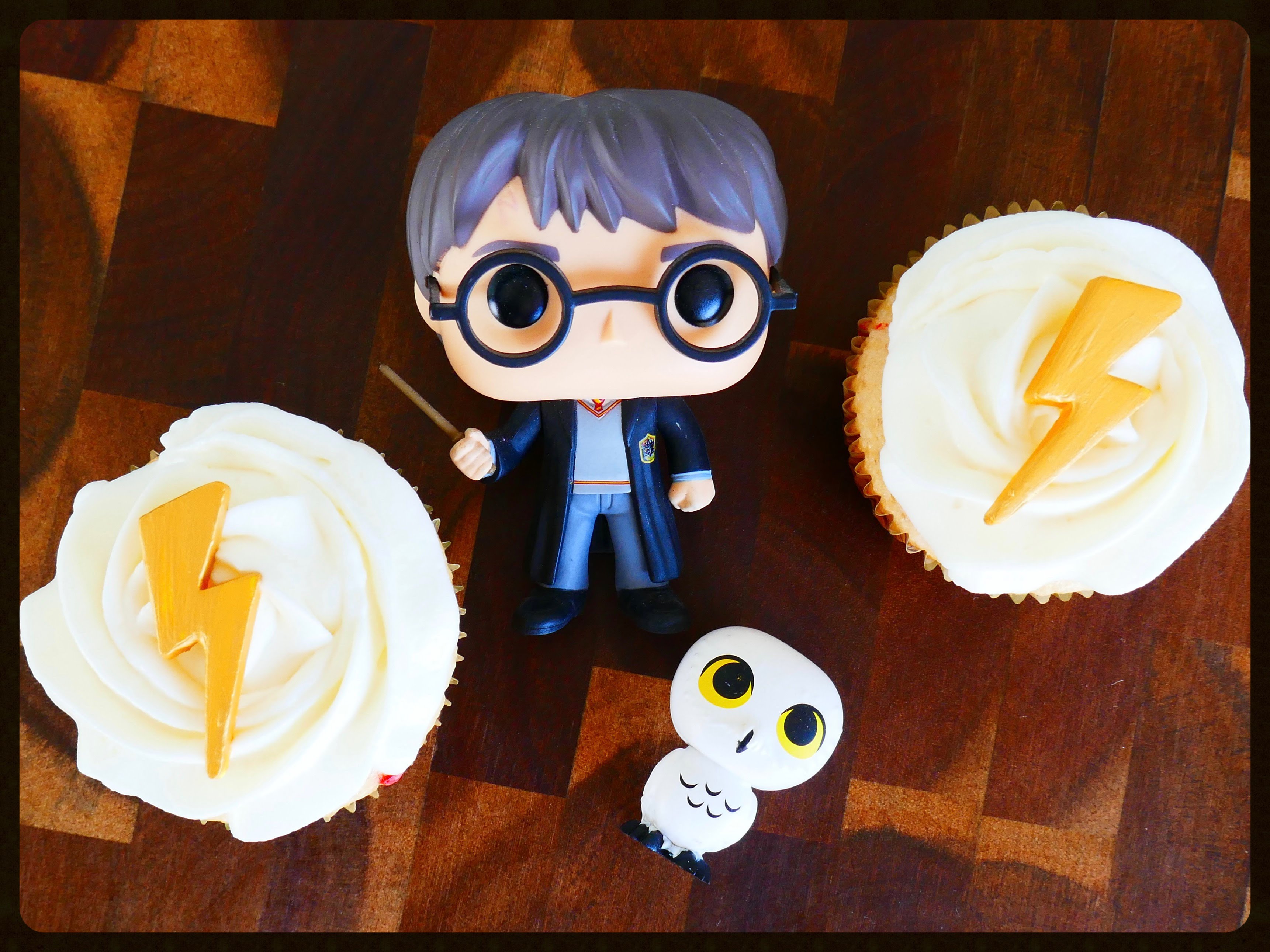 For even more Harry Potter inspiration, see my other posts: Harry Potter Class Valentines and Harry Potter Party Favors.
#wizardingworld #HarryPotter20